Cytoplasmic Inter-Subunit Interface Controls Use-Dependence of Thermal Activation of TRPV3 Channel
1
Department of Cellular Neurophysiology, Institute of Physiology Czech Academy of Sciences, 142 20 Prague, Czech Republic
2
Department of Physiology, Faculty of Science, Charles University, 128 00 Prague, Czech Republic
3
Division of Biomolecular Physics, Institute of Physics, Faculty of Mathematics and Physics, Charles University, 121 16 Prague, Czech Republic
4
Department of Biochemistry and Molecular Biophysics, Columbia University, New York, NY 10032, USA
*
Author to whom correspondence should be addressed.
Received: 23 July 2019 / Revised: 12 August 2019 / Accepted: 13 August 2019 / Published: 16 August 2019
Abstract
The vanilloid transient receptor potential channel TRPV3 is a putative molecular thermosensor widely considered to be involved in cutaneous sensation, skin homeostasis, nociception, and pruritus. Repeated stimulation of TRPV3 by high temperatures above 50 °C progressively increases its responses and shifts the activation threshold to physiological temperatures. This use-dependence does not occur in the related heat-sensitive TRPV1 channel in which responses decrease, and the activation threshold is retained above 40 °C during activations. By combining structure-based mutagenesis, electrophysiology, and molecular modeling, we showed that chimeric replacement of the residues from the TRPV3 cytoplasmic inter-subunit interface (N251–E257) with the homologous residues of TRPV1 resulted in channels that, similarly to TRPV1, exhibited a lowered thermal threshold, were sensitized, and failed to close completely after intense stimulation. Crosslinking of this interface by the engineered disulfide bridge between substituted cysteines F259C and V385C (or, to a lesser extent, Y382C) locked the channel in an open state. On the other hand, mutation of a single residue within this region (E736) resulted in heat resistant channels. We propose that alterations in the cytoplasmic inter-subunit interface produce shifts in the channel gating equilibrium and that this domain is critical for the use-dependence of the heat sensitivity of TRPV3.
View Full-Text
►

▼

Figures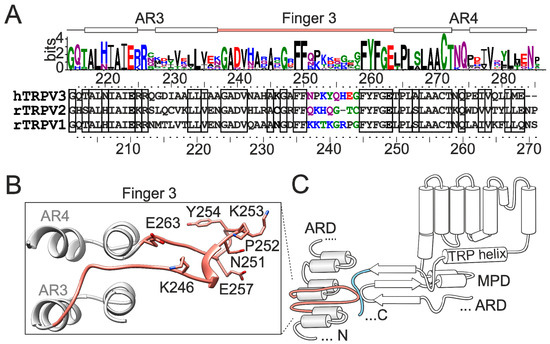 Figure 1
This is an open access article distributed under the
Creative Commons Attribution License
which permits unrestricted use, distribution, and reproduction in any medium, provided the original work is properly cited (CC BY 4.0).

Share & Cite This Article
MDPI and ACS Style
Macikova, L.; Vyklicka, L.; Barvik, I.; Sobolevsky, A.I.; Vlachova, V. Cytoplasmic Inter-Subunit Interface Controls Use-Dependence of Thermal Activation of TRPV3 Channel. Int. J. Mol. Sci. 2019, 20, 3990.
Note that from the first issue of 2016, MDPI journals use article numbers instead of page numbers. See further details here.
Related Articles
Comments
[Return to top]