Durum Wheat Stress Tolerance Induced by Endophyte
Pantoea agglomerans

with Genes Contributing to Plant Functions and Secondary Metabolite Arsenal

1

Laboratory of Applied Microbiology, Department of Microbiology, Faculty of Natural and Life Sciences, Ferhat Abbas University, Setif 19000, Algeria

2

School of Computing, Engineering and Physical Sciences, University of the West of Scotland, PA12BE Paisley, UK

3

Plant Protection Research Department, East Azarbaijan Agricultural and Natural Resources Research and Education Center, AREEO, Tabriz 5355179854, Iran

4

Food Science and Technology Department, Faculty of Agriculture, University of Tripoli, Tripoli 13275, Libya

5

NextBiotech, 98 Rue Ali Belhouane, Agareb 3030, Tunisia

6

Neuchâtel Platform of Analytical Chemistry, Institute of Chemistry, University of Neuchâtel, 2000 Neuchâtel, Switzerland

7

Department of Biology and Genetics, Institute of Biology, University of Veterinary Medicine and Pharmacy, Zoology and Radiobiology, Komenského, 04181 Kosice, Slovakia

8

CONIPHY, Parc d'activitésen Chuel, Route de Chasselay, 69650 Quincieux, France

9

Laboratory of Soil Biology, University of Neuchatel, 2000 Neuchatel, Switzerland

*

Author to whom correspondence should be addressed.

†

All of three co-authors contributed equally to the work.

‡

Current address: Department of Environmental Technology Management, College of Life Sciences, Kuwait University, 13060 Safat, Kuwait.

Int. J. Mol. Sci. 2019, 20(16), 3989; https://doi.org/10.3390/ijms20163989 (registering DOI)

Received: 27 May 2019 / Revised: 12 August 2019 / Accepted: 14 August 2019 / Published: 16 August 2019
Abstract
In the arid region Bou-Saâda at the South of Algeria, durum wheat
Triticum durum
L. cv Waha production is severely threatened by abiotic stresses, mainly drought and salinity. Plant growth-promoting rhizobacteria (PGPR) hold promising prospects towards sustainable and environmentally-friendly agriculture. Using habitat-adapted symbiosis strategy, the PGPR
Pantoea agglomerans
strain Pa was recovered from wheat roots sampled in Bou-Saâda, conferred alleviation of salt stress in durum wheat plants and allowed considerable growth in this unhostile environment. Strain Pa showed growth up to 35 °C temperature, 5–10 pH range, and up to 30% polyethylene glycol (PEG), as well as 1 M salt concentration tolerance. Pa strain displayed pertinent plant growth promotion (PGP) features (direct and indirect) such as hormone auxin biosynthesis, production of 1-aminocyclopropane-1-carboxylate (ACC) deaminase, and ammonia and phosphate solubilization. PGPR features were stable over wide salt concentrations (0–400 mM). Pa strain was also able to survive in seeds, in the non-sterile and sterile wheat rhizosphere, and was shown to have an endophytic life style. Phylogenomic analysis of strain Pa indicated that
Pantoea
genus suffers taxonomic imprecision which blurs species delimitation and may have impacted their practical use as biofertilizers. When applied to plants, strain Pa promoted considerable growth of wheat seedlings, high chlorophyll content, lower accumulation of proline, and favored K
+
accumulation in the inoculated plants when compared to Na
+
in control non-inoculated plants. Metabolomic profiling of strain Pa under one strain many compounds (OSMAC) conditions revealed a wide diversity of secondary metabolites (SM) with interesting salt stress alleviation and PGP activities. All these findings strongly promote the implementation of
Pantoea agglomerans
strain Pa as an efficient biofertilizer in wheat plants culture in arid and salinity-impacted regions.
View Full-Text
►

▼

Figures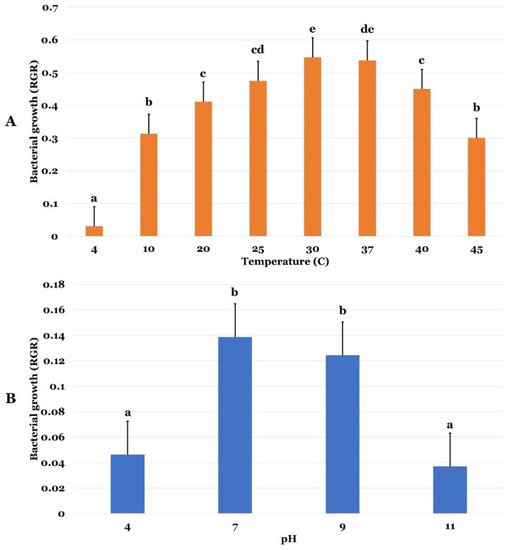 Figure 1
This is an open access article distributed under the
Creative Commons Attribution License
which permits unrestricted use, distribution, and reproduction in any medium, provided the original work is properly cited (CC BY 4.0).
Share & Cite This Article
MDPI and ACS Style
Cherif-Silini, H.; Thissera, B.; Bouket, A.C.; Saadaoui, N.; Silini, A.; Eshelli, M.; Alenezi, F.N.; Vallat, A.; Luptakova, L.; Yahiaoui, B.; Cherrad, S.; Vacher, S.; Rateb, M.E.; Belbahri, L. Durum Wheat Stress Tolerance Induced by Endophyte Pantoea agglomerans with Genes Contributing to Plant Functions and Secondary Metabolite Arsenal. Int. J. Mol. Sci. 2019, 20, 3989.
Note that from the first issue of 2016, MDPI journals use article numbers instead of page numbers. See further details here.
Related Articles
Comments
[Return to top]