Protection of Male Rat Offspring against Hypertension Programmed by Prenatal Dexamethasone Administration and Postnatal High-Fat Diet with the Nrf2 Activator Dimethyl Fumarate during Pregnancy
1
Department of Pharmacy, Kaohsiung Chang Gung Memorial Hospital, Kaohsiung 833, Taiwan
2
Department of Obstetrics and Gynecology, Kaohsiung Chang Gung Memorial Hospital and Chang Gung University College of Medicine, Kaohsiung 833, Taiwan
3
Department of Pediatrics, Kaohsiung Chang Gung Memorial Hospital and Chang Gung University College of Medicine, Kaohsiung 833, Taiwan
4
Department of Pediatrics, Chiayi Chang Gung Memorial Hospital and Chang Gung University College of Medicine, Kaohsiung 833, Taiwan
5
Department of Traditional Chinese Medicine, Chang Gung University, Linkow 244, Taiwan
*
Author to whom correspondence should be addressed.
Received: 16 May 2019 / Revised: 12 August 2019 / Accepted: 13 August 2019 / Published: 14 August 2019
Abstract
Hypertension can originate from early-life exposure to oxidative stress. As reported, dimethyl fumarate (DMF) activates nuclear factor erythroid-derived 2-related factor 2 (Nrf2) and protects against oxidative stress damage. We examined whether maternal DMF therapy protects adult offspring against hypertension programmed by prenatal dexamethasone (DEX) and postnatal high-fat (HF) diet exposure. We examined male Sprague Dawley rat offspring at 4 months of age from five groups (
n
= 11–13/group): control, DEX (0.1mg/kg i.p. from gestational day 16 to 22), HF (D12331 diet from weaning to 16 weeks of age), DEX+HF, and DEX+HF+DMF (50mg/kg/day via gastric gavage for 3 weeks during pregnancy). Maternal DMF therapy prevented male offspring against hypertension programmed by combined DEX and HF exposures. The protective effects of maternal DMF include reduced oxidative stress, decreased plasma asymmetric dimethylarginine (ADMA) levels, downregulated the renin-angiotensin system (i.e.
Ren
,
Agt
,
Ace
, and
Agtr1a
), increased renal protein levels of certain nutrient-sensing signals, and promoted autophagy. In conclusion, maternal Nrf2 activation by DMF protects male adult offspring against hypertension programmed by combined DEX and HF exposures. Our results cast a new light on the therapeutic potential of targeting Nrf2 signaling pathway as reprogramming strategies to prevent programmed hypertension in children exposed to antenatal corticosteroids and postnatally excessive consumption of fat.
View Full-Text
►

▼

Figures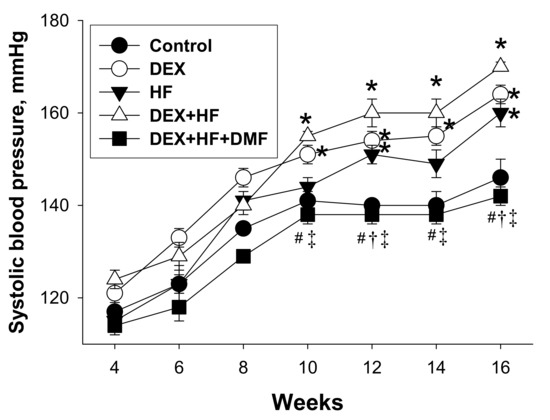 Figure 1
This is an open access article distributed under the
Creative Commons Attribution License
which permits unrestricted use, distribution, and reproduction in any medium, provided the original work is properly cited (CC BY 4.0).

Share & Cite This Article
MDPI and ACS Style
Hsu, C.-N.; Lin, Y.-J.; Yu, H.-R.; Lin, I.-C.; Sheen, J.-M.; Huang, L.-T.; Tain, Y.-L. Protection of Male Rat Offspring against Hypertension Programmed by Prenatal Dexamethasone Administration and Postnatal High-Fat Diet with the Nrf2 Activator Dimethyl Fumarate during Pregnancy. Int. J. Mol. Sci. 2019, 20, 3957.
Note that from the first issue of 2016, MDPI journals use article numbers instead of page numbers. See further details here.
Related Articles
Comments
[Return to top]