Hydrolysed Collagen from Sheepskins as a Source of Functional Peptides with Antioxidant Activity
1
Universidad Autónoma del Estado de Hidalgo, Instituto de Ciencias Agropecuarias, Av. Universidad Km. 1 Rancho Universitario, Tulancingo, Hidalgo 43600, Mexico
2
Instituto Tecnológico Superior del Oriente del Estado de Hidalgo, Carretera Apan-Tepeapulco Km 3.5, Las Peñitas, Ápan, Hidalgo 43900, Mexico
*
Author to whom correspondence should be addressed.
Received: 5 July 2019 / Revised: 23 July 2019 / Accepted: 29 July 2019 / Published: 13 August 2019
Abstract
The extraction and enzymatic hydrolysis of collagen from sheepskins at different times of hydrolysis (0, 10, 15, 20, 30 min, 1, 2, 3 and 4 h) were investigated in terms of amino acid content (hydroxyproline), isoelectric point, molecular weight (Mw) by sodium dodecyl sulphate polyacrylamide gel electrophoresis (SDS-PAGE) method, viscosity, Fourier-transform infrared (FTIR) spectroscopy, antioxidant capacity by 2,2′-azino-bis(3-ethylbenzothiazoline-6-sulphonic acid) (ABTS) and 2,2-diphenyl-1-picrylhydrazyl (DPPH) assays, thermal properties (Differential Scanning Calorimetry) and morphology by scanning electron microscopy (SEM) technique. The kinetics of hydrolysis showed an increase in the protein and hydroxyproline concentration as the hydrolysis time increased to 4 h. FTIR spectra allowed us to identify the functional groups of hydrolysed collagen (HC) in the amide I region for collagen. The isoelectric point shifted to lower values compared to the native collagen precursor. The change in molecular weight and viscosity from time 0 min to 4 h promoted important antioxidant activity in the resulting HC. The lower the Mw, the greater the ability to donate an electron or hydrogen to stabilize radicals. From the SEM images it was evident that HC after 2 h had a porous and spongy structure. These results suggest that HC could be a good alternative to replace HC from typical sources like pigs, cows and fish.
View Full-Text
►

▼

Figures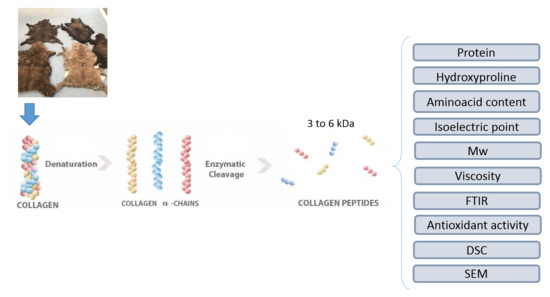 Graphical abstract
This is an open access article distributed under the
Creative Commons Attribution License
which permits unrestricted use, distribution, and reproduction in any medium, provided the original work is properly cited (CC BY 4.0).

Share & Cite This Article
MDPI and ACS Style
León-López, A.; Fuentes-Jiménez, L.; Hernández-Fuentes, A.D.; Campos-Montiel, R.G.; Aguirre-Álvarez, G. Hydrolysed Collagen from Sheepskins as a Source of Functional Peptides with Antioxidant Activity. Int. J. Mol. Sci. 2019, 20, 3931.
Note that from the first issue of 2016, MDPI journals use article numbers instead of page numbers. See further details here.
Related Articles
Comments
[Return to top]