Serum Chemerin Does Not Differentiate Colorectal Liver Metastases from Hepatocellular Carcinoma
1
Department of Internal Medicine I, Regensburg University Hospital, 93053 Regensburg, Germany
2
Children's University Hospital (KUNO), Regensburg University Hospital, 93053 Regensburg, Germany
*
Author to whom correspondence should be addressed.
Received: 31 July 2019 / Revised: 9 August 2019 / Accepted: 10 August 2019 / Published: 12 August 2019
Abstract
The chemoattractant adipokine chemerin is related to the metabolic syndrome, which is a risk factor for different cancers. Recent studies provide evidence that chemerin is an important molecule in colorectal cancer (CRC) and hepatocellular carcinoma (HCC). Serum chemerin is high in CRC patients and low in HCC patients and may serve as a differential diagnostic marker for HCC and liver metastases from CRC. To this end, serum chemerin was measured in 36 patients with CRC metastases, 32 patients with HCC and 49 non-tumor patients by ELISA. Chemerin serum protein levels were, however, similar in the three cohorts. Serum chemerin was higher in hypertensive than normotensive tumor patients but not controls. Cancer patients with hypercholesterolemia or hyperuricemia also had increased serum chemerin. When patients with these comorbidities were excluded from the calculation, chemerin was higher in CRC than HCC patients but did not differ from controls. Chemerin did not correlate with the tumor markers carcinoembryonic antigen, carbohydrate antigen 19-9 and alpha-fetoprotein in both cohorts and was not changed with tumor-node-metastasis stage in HCC. Chemerin was not associated with hepatic fat, liver inflammation and fibrosis. To conclude, systemic chemerin did not discriminate between CRC metastases and HCC. Comorbidities among tumor patients were linked with elevated systemic chemerin.
View Full-Text
►

▼

Figures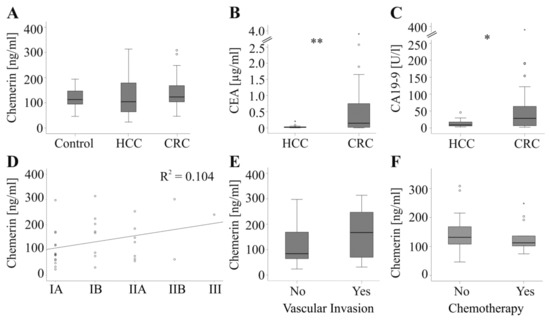 Figure 1
This is an open access article distributed under the
Creative Commons Attribution License
which permits unrestricted use, distribution, and reproduction in any medium, provided the original work is properly cited (CC BY 4.0).

Share & Cite This Article
MDPI and ACS Style
Feder, S.; Kandulski, A.; Schacherer, D.; Weiss, T.S.; Buechler, C. Serum Chemerin Does Not Differentiate Colorectal Liver Metastases from Hepatocellular Carcinoma. Int. J. Mol. Sci. 2019, 20, 3919.
Note that from the first issue of 2016, MDPI journals use article numbers instead of page numbers. See further details here.
Related Articles
Comments
[Return to top]