Epigenetic Regulation of Adipogenic Differentiation by Histone Lysine Demethylation
1
CONACYT-Facultad de Ingeniería Química, Universidad Autónoma de Yucatán.; Periférico Norte Kilómetro 33.5, Tablaje Catastral 13615, Chuburná de Hidalgo Inn, Mérida 97203, Yucatán, Mexico
2
Laboratorio Translacional de Células Troncales-Facultad de Odontología, Universidad Autónoma de Yucatán, Calle 61-A X Av, Itzaes Costado Sur "Parque de la Paz", Col. Centro, Mérida 97000, Yucatán, Mexico
3
Facultad de Ingeniería Química, Universidad Autónoma de Yucatán.; Periférico Norte Kilómetro 33.5, Tablaje Catastral 13615, Chuburná de Hidalgo Inn, Mérida 97203, Yucatán, Mexico
*
Author to whom correspondence should be addressed.
Received: 18 July 2019 / Accepted: 29 July 2019 / Published: 12 August 2019
Abstract
Obesity is a rising public health problem that contributes to the development of several metabolic diseases and cancer. Adipocyte precursors outside of adipose depots that expand due to overweight and obesity may have a negative impact on human health. Determining how progenitor cells acquire a preadipocyte commitment and become mature adipocytes remains a significant challenge. Over the past several years, we have learned that the establishment of cellular identity is widely influenced by changes in histone marks, which in turn modulate chromatin structure. In this regard, histone lysine demethylases (KDMs) are now emerging as key players that shape chromatin through their ability to demethylate almost all major histone methylation sites. Recent research has shown that KDMs orchestrate the chromatin landscape, which mediates the activation of adipocyte-specific genes. In addition, KDMs have functions in addition to their enzymatic activity, which are beginning to be revealed, and their dysregulation seems to be related to the development of metabolic disorders. In this review, we highlight the biological functions of KDMs that contribute to the establishment of a permissive or repressive chromatin environment during the mesenchymal stem cell transition into adipocytes. Understanding how KDMs regulate adipogenesis might prompt the development of new strategies for fighting obesity-related diseases.
View Full-Text
►

▼

Figures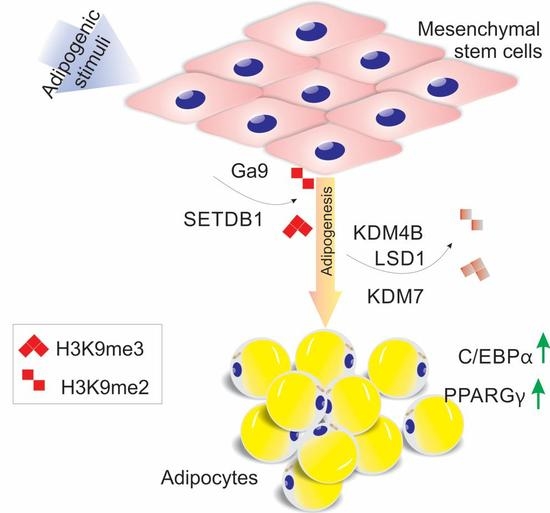 Graphical abstract
This is an open access article distributed under the
Creative Commons Attribution License
which permits unrestricted use, distribution, and reproduction in any medium, provided the original work is properly cited (CC BY 4.0).

Share & Cite This Article
MDPI and ACS Style
Nic-Can, G.I.; Rodas-Junco, B.A.; Carrillo-Cocom, L.M.; Zepeda-Pedreguera, A.; Peñaloza-Cuevas, R.; Aguilar-Ayala, F.J.; Rojas-Herrera, R.A. Epigenetic Regulation of Adipogenic Differentiation by Histone Lysine Demethylation. Int. J. Mol. Sci. 2019, 20, 3918.
Note that from the first issue of 2016, MDPI journals use article numbers instead of page numbers. See further details here.
Related Articles
Comments
[Return to top]