AtCRK5 Protein Kinase Exhibits a Regulatory Role in Hypocotyl Hook Development during Skotomorphogenesis
1
Institute of Plant Biology, Biological Research Centre, Hungarian Academy of Sciences, 6726 Szeged, Hungary
2
Doctoral School in Biology, Faculty of Science and Informatics, University of Szeged, 6720 Szeged, Hungary
3
Agricultural Biotechnology Institute, Szent-Györgyi Albert u. 4, H-2100 Gödöllő, Hungary
4
Developmental and Cell Biology of Plants, CEITEC Masaryk University, 62500 Brno, Czech Republic
5
Department of Plant Biology, University of Szeged, 52. Közép fasor, H-6726 Szeged, Hungary
*
Authors to whom correspondence should be addressed.
Received: 7 June 2019 / Revised: 5 July 2019 / Accepted: 8 July 2019 / Published: 12 July 2019
Abstract
Seedling establishment following germination requires the fine tuning of plant hormone levels including that of auxin. Directional movement of auxin has a central role in the associated processes, among others, in hypocotyl hook development. Regulated auxin transport is ensured by several transporters (PINs, AUX1, ABCB) and their tight cooperation. Here we describe the regulatory role of the
Arabidopsis thaliana
CRK5 protein kinase during hypocotyl hook formation/opening influencing auxin transport and the auxin-ethylene-GA hormonal crosstalk. It was found that the At
crk5-1
mutant exhibits an impaired hypocotyl hook establishment phenotype resulting only in limited bending in the dark. The At
crk5-1
mutant proved to be deficient in the maintenance of local auxin accumulation at the concave side of the hypocotyl hook as demonstrated by decreased fluorescence of the auxin sensor DR5::GFP. Abundance of the polar auxin transport (PAT) proteins PIN3, PIN7, and AUX1 were also decreased in the At
crk5-1
hypocotyl hook. The AtCRK5 protein kinase was reported to regulate PIN2 protein activity by phosphorylation during the root gravitropic response. Here it is shown that AtCRK5 can also phosphorylate in vitro the hydrophilic loops of PIN3. We propose that AtCRK5 may regulate hypocotyl hook formation in
Arabidopsis thaliana
through the phosphorylation of polar auxin transport (PAT) proteins, the fine tuning of auxin transport, and consequently the coordination of auxin-ethylene-GA levels.
View Full-Text
►

▼

Figures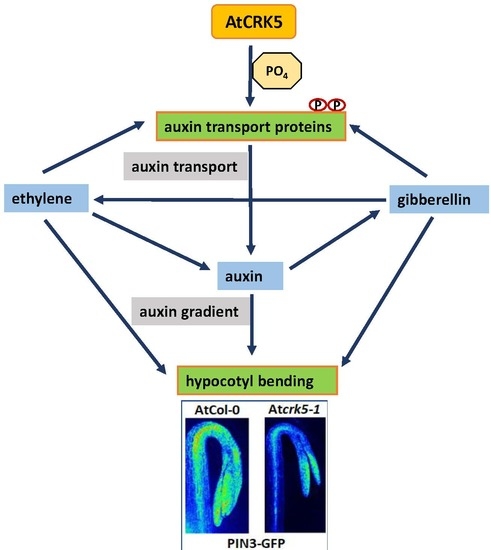 Graphical abstract
This is an open access article distributed under the
Creative Commons Attribution License
which permits unrestricted use, distribution, and reproduction in any medium, provided the original work is properly cited (CC BY 4.0).

Share & Cite This Article
MDPI and ACS Style
Baba, A.I.; Andrási, N.; Valkai, I.; Gorcsa, T.; Koczka, L.; Darula, Z.; Medzihradszky, K.F.; Szabados, L.; Fehér, A.; Rigó, G.; Cséplő, Á. AtCRK5 Protein Kinase Exhibits a Regulatory Role in Hypocotyl Hook Development during Skotomorphogenesis. Int. J. Mol. Sci. 2019, 20, 3432.
Note that from the first issue of 2016, MDPI journals use article numbers instead of page numbers. See further details here.
Related Articles
Comments
[Return to top]