Pathological Characteristics of Periodontal Disease in Patients with Chronic Kidney Disease and Kidney Transplantation
1
Department of Nephrology, Nagasaki University Hospital, Nagasaki 852-8501, Japan
2
Division of Blood Purification, Nagasaki University Hospital, Nagasaki 852-8501, Japan
3
Department of Urology, Nagasaki University Graduate School of Biomedical Sciences, Nagasaki 852-8501, Japan
4
Department of Respiratory Medicine, Unit of Basic Medical Sciences, Nagasaki University Graduate School of Biomedical Sciences, Nagasaki 852-8501, Japan
5
Department of Periodontology and Endodontology, Nagasaki University Graduate School of Biomedical Sciences, Nagasaki 852-8501, Japan
*
Author to whom correspondence should be addressed.
Received: 9 June 2019 / Revised: 6 July 2019 / Accepted: 10 July 2019 / Published: 11 July 2019
Abstract
Chronic kidney disease (CKD) is recognized as an irreversible reduction of functional nephrons and leads to an increased risk of various pathological conditions, including cardiovascular disease and neurological disorders, such as coronary artery calcification, hypertension, and stroke. In addition, CKD patients have impaired immunity against bacteria and viruses. Conversely, kidney transplantation (KT) is performed for patients with end-stage renal disease as a renal replacement therapy. Although kidney function is almost normalized by KT, immunosuppressive therapy is essential to maintain kidney allograft function and to prevent rejection. However, these patients are more susceptible to infection due to the immunosuppressive therapy required to maintain kidney allograft function. Thus, both CKD and KT present disadvantages in terms of suppression of immune function. Periodontal disease is defined as a chronic infection and inflammation of oral and periodontal tissues. Periodontal disease is characterized by the destruction of connective tissues of the periodontium and alveolar bone, which may lead to not only local symptoms but also systemic diseases, such as cardiovascular diseases, diabetes, liver disease, chronic obstructive pulmonary disease, and several types of cancer. In addition, the prevalence and severity of periodontal disease are significantly associated with mortality. Many researchers pay special attention to the pathological roles and clinical impact of periodontal disease in patients with CKD or KT. In this review, we provide information regarding important modulators of periodontal disease to better understand the relationship between periodontal disease and CKD and/or KT. Furthermore; we evaluate the impact of periodontal disease on various pathological conditions in patients with CKD and KT. Moreover, pathogens of periodontal disease common to CKD and KT are also discussed. Finally, we examine the importance of periodontal care in these patients. Thus, this review provides a comprehensive overview of the pathological roles and clinical significance of periodontal disease in patients with CKD and KT.
View Full-Text
►

▼

Figures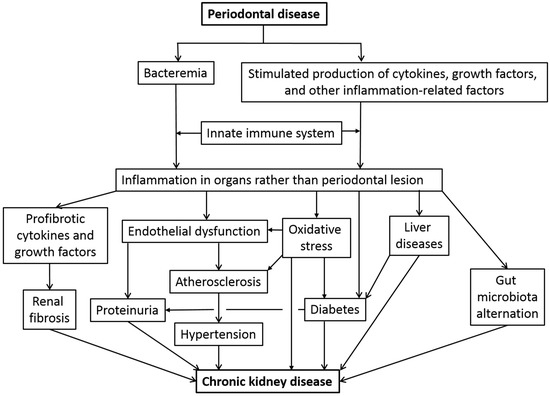 Figure 1
This is an open access article distributed under the
Creative Commons Attribution License
which permits unrestricted use, distribution, and reproduction in any medium, provided the original work is properly cited (CC BY 4.0).

Share & Cite This Article
MDPI and ACS Style
Kitamura, M.; Mochizuki, Y.; Miyata, Y.; Obata, Y.; Mitsunari, K.; Matsuo, T.; Ohba, K.; Mukae, H.; Yoshimura, A.; Nishino, T.; Sakai, H. Pathological Characteristics of Periodontal Disease in Patients with Chronic Kidney Disease and Kidney Transplantation. Int. J. Mol. Sci. 2019, 20, 3413.
Note that from the first issue of 2016, MDPI journals use article numbers instead of page numbers. See further details here.
Related Articles
Comments
[Return to top]