Open Access This article is
freely available
re-usable
Review
Adipose-Derived Stem Cells in Cancer Progression: New Perspectives and Opportunities
1
Anatomic Pathology Institute, Department of Biomedicine and Prevention, Tor Vergata University of Rome, 00133 Rome, Italy
2
Plastic and Reconstructive Surgery, Department of Surgical Sciences, Tor Vergata University of Rome, 00133 Rome, Italy
3
Division of Plastic Surgery and Hand Surgery, University Hospital Zurich, 8091 Zurich, Switzerland
†
These authors contributed equally to this work.

Received: 7 May 2019 / Accepted: 2 July 2019 / Published: 4 July 2019
Abstract
:
Growing importance has been attributed to interactions between tumors, the stromal microenvironment and adult mesenchymal stem cells. Adipose-derived stem cells (ASCs) are routinely employed in regenerative medicine and in autologous fat transfer procedures. To date, clinical trials have failed to demonstrate the potential pro-oncogenic role of ASC enrichment. Nevertheless, some pre-clinical studies from in vitro and in vivo models have suggested that ASCs act as a potential tumor promoter for different cancer cell types, and support tumor progression and invasiveness through the activation of several intracellular signals. Interaction with the tumor microenvironment and extracellular matrix remodeling, the exosomal release of pro-oncogenic factors as well as the induction of epithelial-mesenchymal transitions are the most investigated mechanisms. Moreover, ASCs have also demonstrated an elective tumor homing capacity and this tumor-targeting capacity makes them a suitable carrier for anti-cancer drug delivery. New genetic and applied nanotechnologies may help to design promising anti-cancer cell-based approaches through the release of loaded intracellular nanoparticles. These new anti-cancer therapies can more effectively target tumor cells, reaching higher local concentrations even in pharmacological sanctuaries, and thus minimizing systemic adverse drug effects. The potential interplay between ASCs and tumors and potential ASCs-based therapeutic approaches are discussed.
Keywords:
cancer progression; metastasis; microenvironment; adipose-derived stem cells; ASC-based drug delivery; oncological safety
2. Interplay between ASCs and Cancer Cells: Mechanisms Underlying Tumor Progression in Experimental Models
2.1. The Role of ASCs in the Tumor Microenvironment and Cancer Progression
Different and conflicting data from the literature indicate that ASCs can favor tumor growth and progression. As reported above, among these studies, the hypothesis of a possible interaction of ASCs with tumor microenvironment is the most endorsed. The cross-talk between mesenchymal cells, including ASCs, and cancer cells is not yet fully understood. ASCs are located in perivascular niches contributing to cell turn-over and stem cell homeostasis [
57
]. Dynamic and reciprocal interactions between epithelial and stromal cells occur during cancer progression by the exchange of cytokines, chemokines and growth factors, which develops a favorable microenvironment for cancer growth [
58
]. In addition, several secreted factors such as MCP-1 and SDF-1 produced by cancer and inflammatory cells, induce the homing and migration of non-resident ASCs into the tumor microenvironment [
55
]. Their recruitment into the tumor microenvironment promotes cancer growth, metastasis and stroma formation [
59
]. Several conflicting pre-clinical results come from studies about the influence of ASCs in cancer progression. Proangiogenic factors and chemokines expressed by ASCs, such as c-Kit, PDGF, VEGF favor endothelial proliferation and neoangiogenesis, thus supporting tumor growth [
36
,
37
,
38
]. As reported, ASCs express the surface marker CD44 that anchors some matrix-metalloproteinases (MMPs). This binding CD44-matrix-MMPs has been demonstrated to influence the ECM reorganization [
22
]. Moreover, experiments in vivo and in vitro have reported that ASCs favor tumor growth, ECM deposition and neoangiogenesis, and promote the formation of a complex network among fibroblasts together with desmoplastic reactions [
60
]. The latter, which cause rupture of the basement membrane and an inflammatory remodeling of the ECM, are a stromal response to cancer cell infiltration [
61
]. This process requires the MMP activity that is increased in vitro by the co-culture of human ASCs and breast cancer cells [
62
].
It has been reported that ASCs promoted endothelial cell vascular sprouting when embedded within 3D collagen type I hydrogel. These data indicate the angiogenic capability of ASCs [
63
]. This phenomenon has also been reported in epithelial ovarian cancer (EOC) cells, whose proliferation and invasion were promoted by the ASC co-culture, which induced the secretion of high MMP levels [
64
]. Enhanced EOC growth and metastatic potential were also found in mouse xenografts, mediated by an increase in MMP2 and MMP9 expression [
64
]. The same increase in MMP activity, tumor growth and invasion was obtained through a ASC co-culture with osteosarcoma (OS) tumor cells via STAT3 activation [
65
]. These results were also confirmed in a mouse model of osteosarcoma, in which human ASCs promoted STAT3 activity, eliciting tumor proliferation, invasion and metastasis [
66
]. The effect of ASCs on ECM remodeling has been reported to be dependent on the donor's obesity status and on the cell harvesting site [
67
]. In fact, ASCs isolated from the subcutaneous abdominal adipose tissue of obese patients demonstrated an increased invasion through Matrigel as well as through a chick chorioallantoic membrane. This effect depended on calpain-4, calpastatin, and MMP15 activity [
68
]. The co-culture of ASCs with melanoma cell lines significantly increased tumor migration and invasion capacity [
38
]. The analysis of gene expression in co-cultures has highlighted an increase in the expression of different tumor-promoting genes such as CXCL12, PTGS2, IL-6, and HGF, as well as the upregulation of numerous tumor-associated proteins, e.g., several pro-angiogenic factors such as VEGF, IL-8, CCL2, and of different MMPs, especially MMP2 [
38
].
2.2. Exosome Releasing
Recently, particular attention has been paid to exosomes, since it is known that they contribute to the paracrine effects of MSCs [
69
]. Exosomes are small, intraluminal vesicles (<100 nm) released by their fusion with the plasma membrane [
70
]. They are secreted by cells in order to exert regulatory functions and to release bioactive molecules such as RNA, DNA and enzymes [
71
]. The importance of ASC-secreted exosomes in cancer biology has been recently reported. Seo et al. described the inhibitory effect of exosomal miR-503-3p from ASC-conditioned medium on breast cancer cell proliferation, and the self-renewal of cancer stem cells (CSC). These miRNAs downregulate the expression of cancer stemness markers. In breast cancer xenografts, tumor growth was counteracted by the presence of miR-503-3p, supporting the role of this miRNA as a specific CSC inhibitor [
72
]. ASC exosomes affected tumor grading and growth in rats with N1S1-induced hepatocellular carcinoma (HCC) and increased the number of circulating and intra-tumoral natural killer T (NKT) cells, thus demonstrating the anti-cancer immunomodulatory function of ASC exosomes [
73
]. Exosomes from ASC conditioned medium showed an inhibitory effect on ovarian tumor cells A2780 and SKOV-3, decreasing cancer growth, migration and colony formation [
74
]. In addition, exosomes from ASC-conditioned medium induced cancer cell apoptosis by the upregulation of pro-apoptotic genes and downregulation of the anti-apoptotic BCL2. In fact, by sequencing exosomal RNAs, a rich population of miRNAs with anti-cancer activities has been identified [
74
]. ASC-conditioned medium inhibited the proliferation of metastatic prostate cancer (PCa) by induction of cell apoptosis through exosomal miR-145, whose knockdown reverted the anti-tumor effect of ASC-conditioned medium [
75
]. However, some authors reported that ASC exosomes favored breast cancer cells invasion through Wnt signaling [
44
].
Data from the literature has reported conflicting results about the role of ASCs in glioma and glioblastoma behavior [
76
,
77
,
78
,
79
]. In particular, it has been demonstrated that ASC-conditioned medium promoted the epithelial-to-mesenchymal-like transition in glioma cells in vitro [
76
] as well as the migration of glioblastoma cells [
77
], likely due to tumor release of migration-promoting chemokines [
78
]. A study by Yang et al. reported the pro-apoptotic activity of ASC-conditioned medium on U251 glioma cell culture, instead [
79
]. However, a study on U87MG glioblastoma cells showed that ASC exosomes, when up-taken by tumor cells were not effective in tumor growth inhibition [
80
].
Several conditions could influence the interaction between ASCs and cancer cells; in particular, cancer origin and histotype, as well as different treatment protocols (e.g., ASCs/cancer cells ratio, injection modality, kinetics of carcinogenesis) can potentially affect standardization [
50
]. However, it is commonly agreed that cancer and inflammatory cells release molecules that induce ASC homing and migration into tumor microenvironment [
55
].
2.3. Functional Changes in ASCs Induced by Cancer Cells
Even though ASCs can influence tumor tropism, some researchers have postulated the existence of a bidirectional effect. According to this hypothesis, the tumor exerts a paracrine effect on ASCs, thus determining phenotypic and functional changes in these cells. As previously reported, ASCs in co-culture with H358 lung cancer cells differentiate into myofibroblasts [
81
]. The same myofibroblastic differentiation is demonstrated in ASCs exposed to breast cancer exosomes [
47
] and to breast tumor-derived factors [
45
]. In addition, breast cancer-derived exosomes seem to induce the myofibroblastic phenotype of ASCs via the SMAD-mediated signaling pathway [
82
]. Furthermore, exosomes from ovarian cancer cells stimulate ASC transformation into tumor-supporting myofibroblasts [
83
].
It has been reported that ASCs isolated from sub-abdominal adipose tissue of patients with urological neoplasms show similar growth kinetics, equivalent mesenchymal surface markers and differentiation potential similar to ASCs from adipose tissue of age-matched non-oncogenic participants [
84
]. Molecular karyotyping of expanded patient ASCs did not show alterations related to the oncological disease. In addition, exosomes show equivalent miRNA content from both cancer patients and from non-oncogenic participants, thus indicating a possible use for autologous stem cell transplantation in clinical settings [
84
]. However, in a study conducted on prostate cancer patients, ASCs primed with prostate cancer cell-conditioned medium formed prostate-like neoplastic lesions in vivo and reproduced aggressive tumors in secondary recipients [
85
]. Moreover, primed ASCs acquire cytogenetic aberrations and EMT, expressing epithelial, neoplastic, and vasculogenic markers similar to prostate tumor xenografts. The authors postulate that the tumorigenic reprogramming of ASCs is due to the oncogenic factors contained in prostate cancer cell-derived exosomes, including H-ras and K-ras transcripts, oncomiRNAs miR-125b, miR-130b, and miR-155 as well as the Ras superfamily of GTPases Rab1a, Rab1b, and Rab11a [
85
]. Wang et al. report that lung cancer exosomes could be internalized by ASCs, significantly inhibiting their adipogenesis and adipogenic-specific genes through a TGFβ-mediated signaling pathway [
86
].
3. ASCs as Anti-Tumor Agent Carriers: A "Trojan Horse" Against Cancer Progression
Although ASCs have been proven to be good carriers for anti-cancer drug delivery, several issues remain to be clarified. ASCs' ability to home to and interact with the tumor microenvironment represents a double-edged sword. The clinical safety of ASC-based therapies represents an important question that remains open. The fate of these cells once they have reached the tumor site and released anti-cancer drugs is unknown. Studies in the literature mainly draw their evidence from pre-clinical models and the few clinical studies that have been undertaken (particularly in the field of regenerative medicine) have used native ASCs with no manipulation.
4. Oncological Safety of ASC Clinical Applications
Further studies are needed to evaluate distant recurrences more carefully before being able to declare the use of ASCs to be completely safe. More prospective, multicentric, randomized clinical studies with longer follow ups are required for more solid results and for detecting the potential risks underlying ASC clinical use and the specific at-risk categories of patients. These issues concerning the oncological safety of ASCs should definitely be clarified, especially because ASCs are used more and more often in many oncological settings and are potential carriers for new anticancer drug-delivery systems in the relatively-near future.
5. Conclusions and Future Perspectives
Different and conflicting data from the literature indicate that ASCs can favor tumor growth and progression. A possible explanation for these conflicting results can be found in the multiplicity of factors that influence the interaction between ASCs and cancer cells, such as their origin and pre-treatments, cancer type and different experimental conditions, which may affect standardization. However, the interaction of ASCs with the tumor microenvironment has been clearly demonstrated. The precise mechanisms related to cancer invasion and metastasis are far from being completely defined. This is mainly due to the complexity of the molecular pathways involved and to the limitations of preclinical investigation on tumor evolution. Appropriate models considering not only tumor cells, but also the surrounding microenvironment should be developed for this purpose.
On the other hand, the tumor-homing properties of ASCs could also be exploited in a therapeutic way. ASCs could be the "Trojan horse" that delivers anti-neoplastic agents directly into the cancer microenvironment, especially in the case of tumors located in surgically inaccessible areas and pharmacological sanctuaries. In this sense, ASC-based therapies represent a promising strategy against brain tumors. ASCs have been tested in preclinical models as vectors for several innovative cancer therapies such as drug-loaded exosomes and nanoparticles, micro-RNAs, viral vectors encoding tumor suppressor genes and many others.
Nevertheless, up-to-date clinical data does not allow strong statements about the safety of ASC use in cancer patients. Further studies with more robust evidence are needed to clarify the oncological safety of ASC-based therapies in order to fully exploit their encouraging potential in cancer treatment and to translate these results in clinical settings.
Funding
This research received no external funding
Conflicts of Interest
The authors declare no conflict of interest.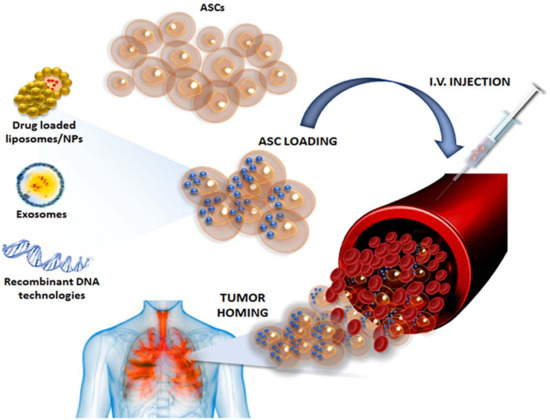 Figure 1. A schematic representation of new anti-cancer strategies based on adipose-derived stem cell delivery systems.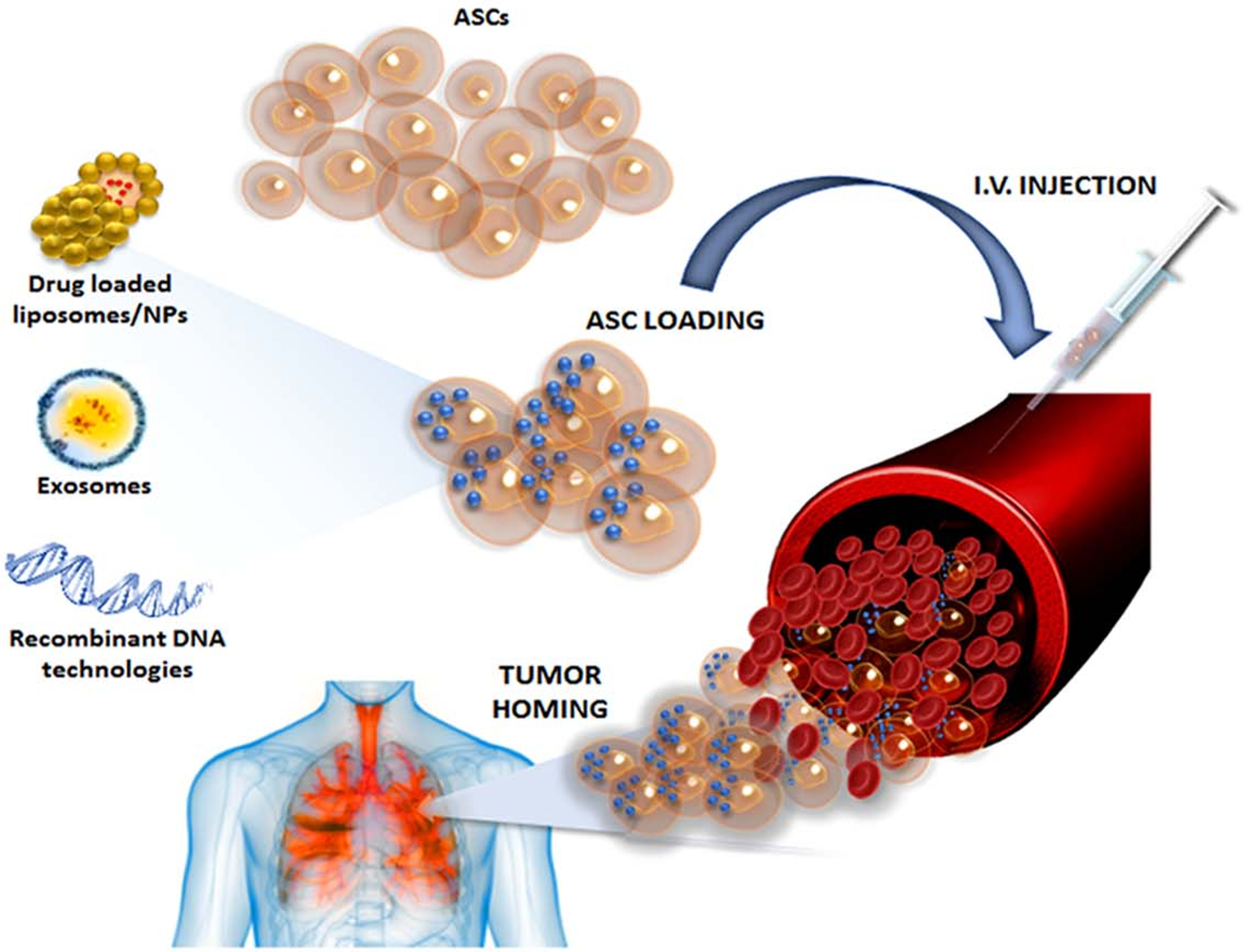 Category
Type
Mechanism of Action
Target
References
Drug loading
PTX
anti-mitotic activity
human leukaemia MOLT-4 cells
human osteosarcoma SK-ES-I cells
human prostatic carcinoma DU145 cells
human neuroblastoma GI-LI-N and SH-SY5Y
human breast cancer CG5 cells
[89]
[89]
[89]
[89]
[94]
Drug-loaded NPs
PTX
anti-mitotic activity + high frequency magnetic field
murine brain astrocytoma ALTS1C1
[96]
Gene delivery by viral vectors
TRAIL overexpression
suicide inductor
primary patient-derived glioblastoma
human glioma U-87MG
primary patient-derived glioblastoma
[97]
[98]
[99]
TNF-α overexpression
apoptotic activity
human breast cancer SKBR3 cells
human melanoma A375 cells
[110]
IP-10 overexpression
antitumor activity
murine metastatic melanoma
[101]
cytosine deaminase
cytotoxicity to 5-fluorouracil
human colon cancer HT-29 cells
rattus brain glioma C6 cells
human melanoma A375 cells
[102]
[103]
[104]
thymidine kinase
cytotoxicity to ganciclovir
human glioblastoma cells 8-MG-BA, 42-MG-BA and U-118 MG
[105]
modified E6/E7 antigen
immunomodulatory activity
murine lung carcinoma LLC1 cells
murine colon carcinoma CT26 cells
[106]
Gene delivery by non-viral vectors
BMP4 plasmid-loaded NPs
antitumor activity
primary patient-derived glioma
[107]
TRAIL plasmid-loaded NPs
suicide inductor
primary patient-derived glioblastoma
[108]
Micro-RNA transfection
miR-124 e miR-145
reducing cell migration and self-renewal
primary patient-derived glioma and glioma stem cells
[110]
miR-122
apoptotic activity
human hepatocellular carcinoma HepG2 cells
[111]
miR-150
immunomodulatory activity
human pancreatic cancer cells PANC1
[112]
Abbreviations: LR, local recurrence; DM, distant metastasis; HT, hormonal therapy.
Clinical study
Year
Design of the Study
Control
N° Patients
Median Follow-Up (Months)
Results with fat Grafting
Reference
Osteosarcoma and soft tissue sarcomas
2015
Retrospective case series
no
17
32.5
LR and DM not reported
[118]
2018
Retrospective case series
no
60
28.6
not increased recurrence risk (LR and DM)
[119]
Radiotherapy induced xerosthomia
2018
Randomized placebo controlled phase I/II
yes
30
4
LR and DM not reported
[116]
Pulmonary metastasis
2017
Prospective cohort study
yes
40
61
LR and DM not reported
[120]
Breast cancer
2010
Retrospective cohort
no
137
91
not increased LR, DM not reported
[126]
2012
Retrospective matched cohort
yes
321
26
not increased recurrence risk, higher risk of LR for in-situ cancer subgroup
[127]
2012
Prospective single-arm trial
no
67
12
no LR, DM not reported
[128]
2013
Retrospective matched cohort
yes
59
42
increased LR for in-situ cancer patients, DM not reported
[129]
2015
Retrospective matched cohort
yes
211
32
not increased recurrence risk (LR and DM)
[130]
2016
Retrospective matched cohort
yes
719
60
not increased recurrence risk, higher risk of LR for HT subgroup
[131]
2017
Retrospective case-control
yes
225
/
cases are cancer recurrence (2006-2011), not increased recurrence risk
[132]
2017
Retrospective cohort
yes
248
45.6
not increased recurrence risk (LR and DM)
[133]
2017
Retrospective matched cohort
yes
100
31
increased LR for positive nodal status and high-grade neoplasia, DM not reported, similar disease-free survival and overall recurrence
[134]
Abbreviations: NPs, nanoparticles.

© 2019 by the authors. Licensee MDPI, Basel, Switzerland. This article is an open access article distributed under the terms and conditions of the Creative Commons Attribution (CC BY) license (http://creativecommons.org/licenses/by/4.0/).