Telomeres and Longevity: A Cause or an Effect?
1
Department of Human Biology, University of Haifa, Haifa 3498838, Israel
2
Institute of Evolution and Department of Evolutionary and Environmental Biology, University of Haifa, Haifa 3498838, Israel
3
Faculty of Life Sciences, Bar-Ilan University, Ramat-Gan 5290002, Israel
4
Leibniz Institute for Zoo and Wildlife Research, D-10315 Berlin, Germany
5
Departments of Molecular Pharmacology, Medicine, and the Institute for Aging Research, Albert Einstein College of Medicine, Bronx, NY 10461, USA
6
Freie Universität Berlin, D-14195 Berlin, Germany
*
Author to whom correspondence should be addressed.
†
These authors contributed equally to this work.
Received: 2 May 2019 / Revised: 25 June 2019 / Accepted: 29 June 2019 / Published: 1 July 2019
Abstract
Telomere dynamics have been found to be better predictors of survival and mortality than chronological age. Telomeres, the caps that protect the end of linear chromosomes, are known to shorten with age, inducing cell senescence and aging. Furthermore, differences in age-related telomere attrition were established between short-lived and long-lived organisms. However, whether telomere length is a "biological thermometer" that reflects the biological state at a certain point in life or a biomarker that can influence biological conditions, delay senescence and promote longevity is still an ongoing debate. We cross-sectionally tested telomere length in different tissues of two long-lived (naked mole-rat and
Spalax
) and two short-lived (rat and mice) species to tease out this enigma. While blood telomere length of the naked mole-rat (NMR) did not shorten with age but rather showed a mild elongation, telomere length in three tissues tested in the Spalax declined with age, just like in short-lived rodents. These findings in the NMR, suggest an age buffering mechanism, while in
Spalax
tissues the shortening of the telomeres are in spite of its extreme longevity traits. Therefore, using long-lived species as models for understanding the role of telomeres in longevity is of great importance since they may encompass mechanisms that postpone aging.
View Full-Text
►

▼

Figures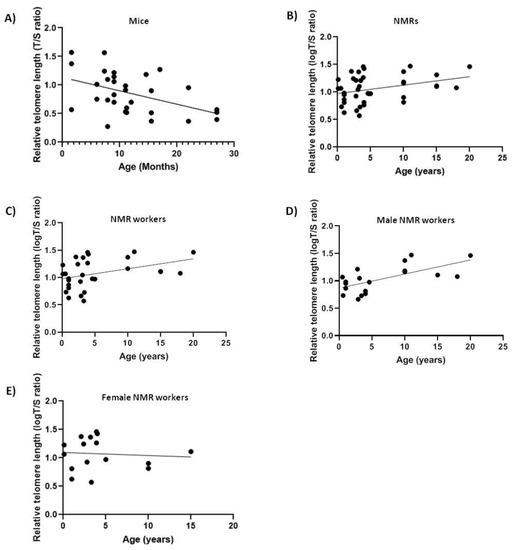 Figure 1
This is an open access article distributed under the
Creative Commons Attribution License
which permits unrestricted use, distribution, and reproduction in any medium, provided the original work is properly cited (CC BY 4.0).

Share & Cite This Article
MDPI and ACS Style
Adwan Shekhidem, H.; Sharvit, L.; Leman, E.; Manov, I.; Roichman, A.; Holtze, S.; M. Huffman, D.; Y. Cohen, H.; Bernd Hildebrandt, T.; Shams, I.; Atzmon, G. Telomeres and Longevity: A Cause or an Effect? Int. J. Mol. Sci. 2019, 20, 3233.
Note that from the first issue of 2016, MDPI journals use article numbers instead of page numbers. See further details here.
Related Articles
Comments
[Return to top]