Relevance of Receptor for Advanced Glycation end Products (RAGE) in Murine Antibody-Mediated Autoimmune Diseases
1
Department of Rheumatology and Clinical Immunology, Medical Centre—University of Freiburg, Faculty of Medicine, 79106 Freiburg, Baden-Wuerttemberg, Germany
2
Department of Nephropathology, Friedrich-Alexander University (FAU) of Erlangen-Nuremberg, 91054 Erlangen, Bavaria, Germany
3
Department of Biology, Friedrich-Alexander University (FAU) of Erlangen-Nuremberg, 91058 Erlangen, Bavaria, Germany
*
Author to whom correspondence should be addressed.
Received: 22 May 2019 / Revised: 25 June 2019 / Accepted: 26 June 2019 / Published: 1 July 2019
Abstract
It is incompletely understood how self-antigens become targets of humoral immunity in antibody-mediated autoimmune diseases. In this context, alarmins are discussed as an important level of regulation. Alarmins are recognized by various receptors, such as receptor for advanced glycation end products (RAGE). As RAGE is upregulated under inflammatory conditions, strongly binds nucleic acids and mediates pro-inflammatory responses upon alarmin recognition, our aim was to examine its contribution to immune complex-mediated autoimmune diseases. This question was addressed employing RAGE−/− animals in murine models of pristane-induced lupus, collagen-induced, and serum-transfer arthritis. Autoantibodies were assessed by enzyme-linked immunosorbent assay, renal disease by quantification of proteinuria and histology, arthritis by scoring joint inflammation. The associated immune status was determined by flow cytometry. In both disease entities, we detected tendentiously decreased autoantibody levels in RAGE−/− mice, however no differences in clinical outcome. In accordance with autoantibody levels, a subgroup of the RAGE−/− animals showed a decrease in plasma cells, and germinal center B cells and an increase in follicular B cells. Based on our results, we suggest that RAGE deficiency alone does not significantly affect antibody-mediated autoimmunity. RAGE may rather exert its effects along with other receptors linking environmental factors to auto-reactive immune responses.
View Full-Text
►

▼

Figures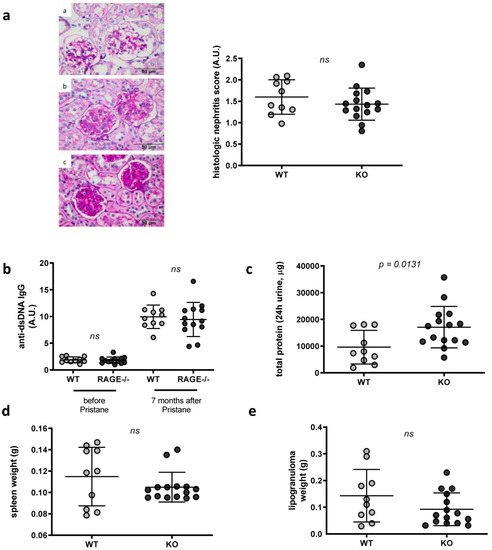 Figure 1
This is an open access article distributed under the
Creative Commons Attribution License
which permits unrestricted use, distribution, and reproduction in any medium, provided the original work is properly cited (CC BY 4.0).

Share & Cite This Article
MDPI and ACS Style
Eichhorst, A.; Daniel, C.; Rzepka, R.; Sehnert, B.; Nimmerjahn, F.; Voll, R.E.; Chevalier, N. Relevance of Receptor for Advanced Glycation end Products (RAGE) in Murine Antibody-Mediated Autoimmune Diseases. Int. J. Mol. Sci. 2019, 20, 3234.
Note that from the first issue of 2016, MDPI journals use article numbers instead of page numbers. See further details here.
Related Articles
Comments
[Return to top]