Distribution and Diversity of Cytochrome P450 Monooxygenases in the Fungal Class
Tremellomycetes
1
Department of Biochemistry and Microbiology, Faculty of Science and Agriculture, University of Zululand, KwaDlangezwa 3886, South Africa
2
College of Food Science and Technology, Huazhong Agricultural University, Wuhan 430070, China
3
Department of Bacteriology, University of Wisconsin-Madison, 3155 MSB, 1550 Linden Drive, Madison, WI 53706, USA
4
Department of Systems Biotechnology, Konkuk University, Seoul 05029, Korea
5
Department of Microbiology, Immunology and Biochemistry, University of Tennessee Health Science Center, Memphis, TN 38163, USA
*
Authors to whom correspondence should be addressed.
Received: 20 April 2019 / Revised: 25 May 2019 / Accepted: 30 May 2019 / Published: 13 June 2019
Abstract
Tremellomycetes
, a fungal class in the subphylum
Agaricomycotina
, contain well-known opportunistic and emerging human pathogens. The azole drug fluconazole, used in the treatment of diseases caused by some species of
Tremellomycetes
, inhibits cytochrome P450 monooxygenase CYP51, an enzyme that converts lanosterol into an essential component of the fungal cell membrane ergosterol. Studies indicate that mutations and over-expression of CYP51 in species of
Tremellomycetes
are one of the reasons for fluconazole resistance. Moreover, the novel drug, VT-1129, that is in the pipeline is reported to exert its effect by binding and inhibiting CYP51. Despite the importance of CYPs, the CYP repertoire in species of
Tremellomycetes
has not been reported to date. This study intends to address this research gap. Comprehensive genome-wide CYP analysis revealed the presence of 203 CYPs (excluding 16 pseudo-CYPs) in 23 species of
Tremellomycetes
that can be grouped into 38 CYP families and 72 CYP subfamilies. Twenty-three CYP families are new and three CYP families (CYP5139, CYP51 and CYP61) were conserved across 23 species of
Tremellomycetes
. Pathogenic cryptococcal species have 50% fewer CYP genes than non-pathogenic species. The results of this study will serve as reference for future annotation and characterization of CYPs in species of
Tremellomycetes
.
View Full-Text
►

▼

Figures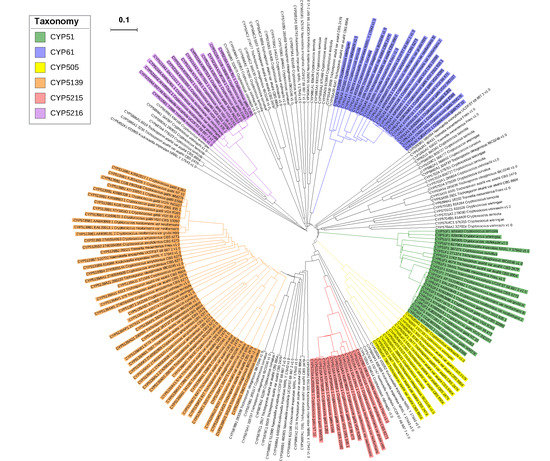 Graphical abstract
This is an open access article distributed under the
Creative Commons Attribution License
which permits unrestricted use, distribution, and reproduction in any medium, provided the original work is properly cited (CC BY 4.0).

Share & Cite This Article
MDPI and ACS Style
Akapo, O.O.; Padayachee, T.; Chen, W.; Kappo, A.P.; Yu, J.-H.; Nelson, D.R.; Syed, K. Distribution and Diversity of Cytochrome P450 Monooxygenases in the Fungal Class Tremellomycetes. Int. J. Mol. Sci. 2019, 20, 2889.
Note that from the first issue of 2016, MDPI journals use article numbers instead of page numbers. See further details here.
Related Articles
Comments
[Return to top]