Cytochrome P450 Monooxygenase CYP139 Family Involved in the Synthesis of Secondary Metabolites in 824 Mycobacterial Species
1
Department of Pharmaceutical Chemistry, College of Health Sciences, University of KwaZulu-Natal, Durban 4000, South Africa
2
College of Food Science and Technology, Huazhong Agricultural University, Wuhan 430070, China
3
Department of Microbiology, Immunology and Biochemistry, University of Tennessee Health Science Center, Memphis, TN 38163, USA
4
Department of Biochemistry and Microbiology, Faculty of Science and Agriculture, University of Zululand, KwaDlangezwa 3886, South Africa
5
Department of Bacteriology, University of Wisconsin-Madison, 3155 MSB, 1550 Linden Drive, Madison, WI 53706, USA
6
Department of Systems Biotechnology, Konkuk University, Seoul 05029, Korea
*
Authors to whom correspondence should be addressed.
Received: 1 April 2019 / Revised: 10 May 2019 / Accepted: 11 May 2019 / Published: 31 May 2019
Abstract
Tuberculosis (TB) is one of the top infectious diseases causing numerous human deaths in the world. Despite enormous efforts, the physiology of the causative agent,
Mycobacterium tuberculosis
, is poorly understood. To contribute to better understanding the physiological capacity of these microbes, we have carried out extensive in silico analyses of the 1111 mycobacterial species genomes focusing on revealing the role of the orphan cytochrome P450 monooxygenase (CYP) CYP139 family. We have found that CYP139 members are present in 894 species belonging to three mycobacterial groups:
M. tuberculosis
complex (850-species),
Mycobacterium avium
complex (34-species), and non-tuberculosis mycobacteria (10-species), with all CYP139 members belonging to the subfamily "A". CYP139 members have unique amino acid patterns at the CXG motif. Amino acid conservation analysis placed this family in the 8th among CYP families belonging to different biological domains and kingdoms. Biosynthetic gene cluster analyses have revealed that 92% of CYP139As might be associated with producing different secondary metabolites. Such enhanced secondary metabolic potentials with the involvement of CYP139A members might have provided mycobacterial species with advantageous traits in diverse niches competing with other microbial or viral agents, and might help these microbes infect hosts by interfering with the hosts' metabolism and immune system.
View Full-Text
►

▼

Figures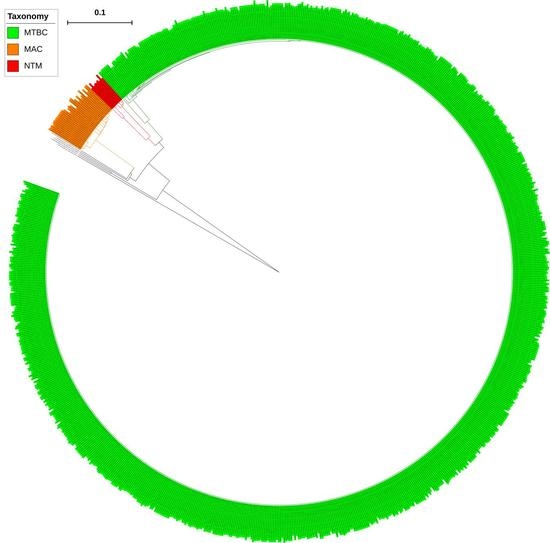 Graphical abstract
This is an open access article distributed under the
Creative Commons Attribution License
which permits unrestricted use, distribution, and reproduction in any medium, provided the original work is properly cited (CC BY 4.0).

Share & Cite This Article
MDPI and ACS Style
Syed, P.R.; Chen, W.; Nelson, D.R.; Kappo, A.P.; Yu, J.-H.; Karpoormath, R.; Syed, K. Cytochrome P450 Monooxygenase CYP139 Family Involved in the Synthesis of Secondary Metabolites in 824 Mycobacterial Species. Int. J. Mol. Sci. 2019, 20, 2690.
Note that from the first issue of 2016, MDPI journals use article numbers instead of page numbers. See further details here.
Related Articles
Comments
[Return to top]