Role of Major Endocannabinoid-Binding Receptors during Mouse Oocyte Maturation
1
Department of Life, Health and Environmental Sciences, University of L'Aquila, 67100 L'Aquila, Italy
2
Faculty of Veterinary Medicine, University of Teramo, 64100 Teramo, Italy
3
European Center for Brain Research, Santa Lucia Foundation IRCCS, 00142 Rome, Italy
4
Department of Medicine, Campus Bio-Medico University of Rome, 00128 Rome, Italy
*
Author to whom correspondence should be addressed.
†
These authors contributed equally to this work.
Received: 21 May 2019 / Revised: 6 June 2019 / Accepted: 8 June 2019 / Published: 12 June 2019
Abstract
Endocannabinoids are key-players of female fertility and potential biomarkers of reproductive dysfunctions. Here, we investigated localization and expression of cannabinoid receptor type-1 and -2 (CB
1
R and CB
2
R), G-protein coupled receptor 55 (GPR55), and transient receptor potential vanilloid type 1 channel (TRPV1) in mouse oocytes collected at different stages of in vivo meiotic maturation (germinal vesicle, GV; metaphase I, MI; metaphase II, MII) through qPCR, confocal imaging, and western blot. Despite the significant decrease in CB
1
R, CB
2
R, and GPR55 mRNAs occurring from GV to MII, CB
2
R and GPR55 protein contents increased during the same period. At GV, only CB
1
R was localized in oolemma, but it completely disappeared at MI. TRPV1 was always undetectable. When oocytes were in vitro matured with CB
1
R and CB
2
R but not GPR55 antagonists, a significant delay of GV breakdown occurred, sustained by elevated intraoocyte cAMP concentration. Although CBRs antagonists did not affect polar body I emission or chromosome alignment, GPR55 antagonist impaired in ~75% of oocytes the formation of normal-sized MI and MII spindles. These findings open a new avenue to interrogate oocyte pathophysiology and offer potentially new targets for the therapy of reproductive alterations.
View Full-Text
►

▼

Figures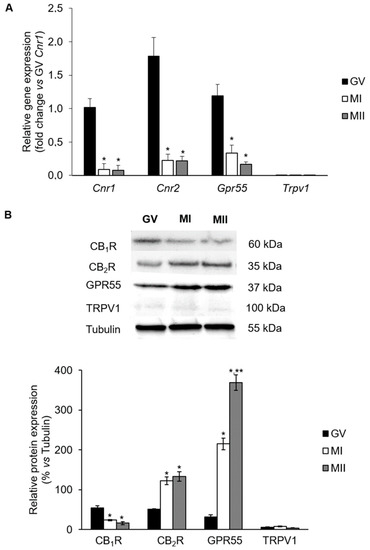 Figure 1
This is an open access article distributed under the
Creative Commons Attribution License
which permits unrestricted use, distribution, and reproduction in any medium, provided the original work is properly cited (CC BY 4.0).

Share & Cite This Article
MDPI and ACS Style
Cecconi, S.; Rossi, G.; Oddi, S.; Di Nisio, V.; Maccarrone, M. Role of Major Endocannabinoid-Binding Receptors during Mouse Oocyte Maturation. Int. J. Mol. Sci. 2019, 20, 2866.
Note that from the first issue of 2016, MDPI journals use article numbers instead of page numbers. See further details here.
Related Articles
Comments
[Return to top]