Comprehensive Analysis of lncRNAs and circRNAs Reveals the Metabolic Specialization in Oxidative and Glycolytic Skeletal Muscles
1
College of Animal Science and Technology, Sichuan Agricultural University, Chengdu 611130, China
2
College of Life and Science, Sichuan Agricultural University, Chengdu 611130, China
3
Institute of Swine Science, Chongqing Academy of Animal Sciences, Chongqing 402460, China
4
Bashan Animal Husbandry Technology Co., LTD, Tongjiang 636700, China
*
Authors to whom correspondence should be addressed.
†
These authors contributed equally to this work.
Received: 30 April 2019 / Revised: 31 May 2019 / Accepted: 8 June 2019 / Published: 12 June 2019
Abstract
The biochemical and functional differences between oxidative and glycolytic muscles could affect human muscle health and animal meat quality. However, present understanding of the epigenetic regulation with respect to lncRNAs and circRNAs is rudimentary. Here, porcine oxidative and glycolytic skeletal muscles, which were at the growth curve inflection point, were sampled to survey variant global expression of lncRNAs and circRNAs using RNA-seq. A total of 4046 lncRNAs were identified, including 911 differentially expressed lncRNAs (
p
< 0.05). The
cis
-regulatory analysis identified target genes that were enriched for specific GO terms and pathways (
p
< 0.05), including the oxidation-reduction process, glycolytic process, and fatty acid metabolic. All these were closely related to different phenotypes between oxidative and glycolytic muscles. Additionally, 810 circRNAs were identified, of which 137 were differentially expressed (
p
< 0.05). Interestingly, some circRNA-miRNA-mRNA networks were found, which were closely linked to muscle fiber-type switching and mitochondria biogenesis in muscles. Furthermore, 44.69%, 39.19%, and 54.01% of differentially expressed mRNAs, lncRNAs, and circRNAs respectively were significantly enriched in pig quantitative trait loci (QTL) regions for growth and meat quality traits. This study reveals a mass of candidate lncRNAs and circRNAs involved in muscle physiological functions, which may improve understanding of muscle metabolism and development from an epigenetic perspective.
View Full-Text
►

▼

Figures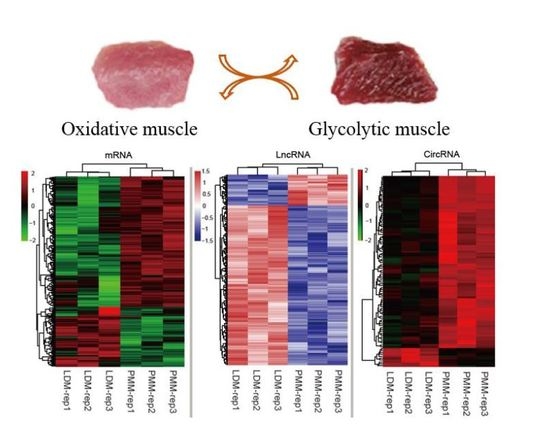 Graphical abstract
This is an open access article distributed under the
Creative Commons Attribution License
which permits unrestricted use, distribution, and reproduction in any medium, provided the original work is properly cited (CC BY 4.0).

Share & Cite This Article
MDPI and ACS Style
Shen, L.; Gan, M.; Tang, Q.; Tang, G.; Jiang, Y.; Li, M.; Chen, L.; Bai, L.; Shuai, S.; Wang, J.; Li, X.; Liao, K.; Zhang, S.; Zhu, L. Comprehensive Analysis of lncRNAs and circRNAs Reveals the Metabolic Specialization in Oxidative and Glycolytic Skeletal Muscles. Int. J. Mol. Sci. 2019, 20, 2855.
Note that from the first issue of 2016, MDPI journals use article numbers instead of page numbers. See further details here.
Related Articles
Comments
[Return to top]