RTA 408 Inhibits Interleukin-1β-Induced MMP-9 Expression via Suppressing Protein Kinase-Dependent NF-κB and AP-1 Activation in Rat Brain Astrocytes
1
Department of Traditional Chinese Medicine, Chang Gung Memorial Hospital at Tao-Yuan, Kwei-San, Tao-Yuan 333, Taiwan
2
School of Traditional Chinese Medicine, College of Medicine, Chang Gung University, Kwei-San, Tao-Yuan 333, Taiwan
3
Department of Anesthetics, Chang Gung Memorial Hospital at Linkuo, and College of Medicine, Chang Gung University, Kwei-San, Tao-Yuan 333, Taiwan
4
Department of Physiology and Pharmacology and Health Ageing Research Center, College of Medicine, Chang Gung University, Kwei-San, Tao-Yuan 333, Taiwan
5
Research Center for Industry of Human Ecology and Graduate Institute of Health Industry Technology, Chang Gung University of Science and Technology, Tao-Yuan 333, Taiwan
*
Author to whom correspondence should be addressed.
†
These authors contributed equally to this work.
Received: 20 May 2019 / Revised: 3 June 2019 / Accepted: 7 June 2019 / Published: 10 June 2019
Abstract
Neuroinflammation is characterized by the elevated expression of various inflammatory proteins, including matrix metalloproteinases (MMPs), induced by various pro-inflammatory mediators, which play a critical role in neurodegenerative disorders. Interleukin-1β (IL-1β) has been shown to induce the upregulation of MMP-9 through nicotinamide adenine dinucleotide phosphate (NADPH) oxidase (NOX)-reactive oxygen species (ROS)-dependent signaling pathways. N-(2-cyano-3,12-dioxo-28-noroleana-1,9(11)-dien-17-yl)-2-2-difluoropropanamide (RTA 408), a novel synthetic triterpenoid, has been shown to possess anti-oxidant and anti-inflammatory properties in various types of cells. Here, we evaluated the effects of RTA 408 on IL-1β-induced inflammatory responses by suppressing MMP-9 expression in a rat brain astrocyte (RBA-1) line. IL-1β-induced MMP-9 protein and mRNA expression, and promoter activity were attenuated by RTA 408. The increased level of ROS generation in RBA-1 cells exposed to IL-1β was attenuated by RTA 408, as determined by using 2′,7′-dichlorodihydrofluorescein diacetate (DCFH-DA) and CellROX. In addition, the inhibitory effects of RTA 408 on MMP-9 expression resulted from the suppression of the IL-1β-stimulated activation of Pyk2 (proline-rich tyrosine kinase), platelet-derived growth factor receptor β (PDGFRβ), Akt, ROS, and mitogen-activated protein kinases (MAPKs). Pretreatment with RTA 408 attenuated the IL-1β-induced c-Jun phosphorylation, mRNA expression, and promoter activity. IL-1β-stimulated nuclear factor-κB (NF-κB) p65 phosphorylation, translocation, and promoter activity were also attenuated by RTA 408. Furthermore, IL-1β-induced glial fibrillary acidic protein (GFAP) protein and mRNA expression, and cell migration were attenuated by pretreatment with RTA 408. These results provide new insights into the mechanisms by which RTA 408 attenuates IL-1β-mediated inflammatory responses and exerts beneficial effects for the management of brain diseases.
View Full-Text
►

▼

Figures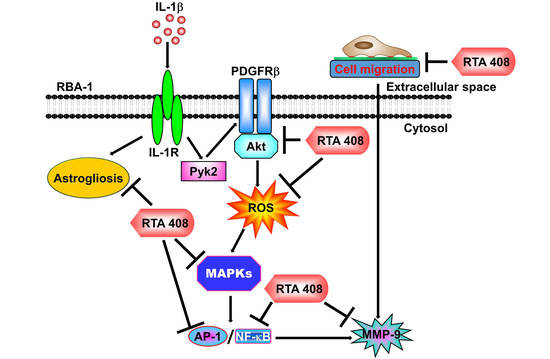 Graphical abstract
This is an open access article distributed under the
Creative Commons Attribution License
which permits unrestricted use, distribution, and reproduction in any medium, provided the original work is properly cited (CC BY 4.0).

Share & Cite This Article
MDPI and ACS Style
Yang, C.-C.; Lin, C.-C.; Jou, M.-J.; Hsiao, L.-D.; Yang, C.-M. RTA 408 Inhibits Interleukin-1β-Induced MMP-9 Expression via Suppressing Protein Kinase-Dependent NF-κB and AP-1 Activation in Rat Brain Astrocytes. Int. J. Mol. Sci. 2019, 20, 2826.
Note that from the first issue of 2016, MDPI journals use article numbers instead of page numbers. See further details here.
Related Articles
Comments
[Return to top]