The Role of Heme Oxygenase 1 in the Protective Effect of Caloric Restriction against Diabetic Cardiomyopathy
1
Cardiac Research Laboratory, Felsenstein Medical Research Institute Petah-Tikva, Sackler Faculty of Medicine, Tel Aviv University, Tel Aviv 49100, Israel
2
Levied Heart Center, Sheba Medical Center, Tel Hashomer and Sackler School of Medicine, Tel Aviv University, Ramat Gan 52621, Israel
3
Faculty of Life Sciences, Bar Ilan University, Ramat Gan 5290002, Israel
4
Department of Medicine, New York Presbyterian Brooklyn Methodist Hospital, Brooklyn, NY 11215, USA
5
Department of Medicine, Weill Cornell Medicine, New York, NY 14853, USA
*
Authors to whom correspondence should be addressed.
†
These authors equally contributed to this work.
Received: 21 February 2019 / Revised: 1 April 2019 / Accepted: 10 May 2019 / Published: 16 May 2019
Abstract
Type 2 diabetes mellitus (DM2) leads to cardiomyopathy characterized by cardiomyocyte hypertrophy, followed by mitochondrial dysfunction and interstitial fibrosis, all of which are exacerbated by angiotensin II (AT). SIRT1 and its transcriptional coactivator target PGC-1α (peroxisome proliferator-activated receptor-γ coactivator), and heme oxygenase-1 (HO-1) modulates mitochondrial biogenesis and antioxidant protection. We have previously shown the beneficial effect of caloric restriction (CR) on diabetic cardiomyopathy through intracellular signaling pathways involving the SIRT1–PGC-1α axis. In the current study, we examined the role of HO-1 in diabetic cardiomyopathy in mice subjected to CR. Methods: Cardiomyopathy was induced in obese diabetic (
db/db
) mice by AT infusion. Mice were either fed ad libitum or subjected to CR. In an in vitro study, the reactive oxygen species (ROS) level was determined in cardiomyocytes exposed to different glucose levels (7.5–33 mM). We examined the effects of Sn(tin)-mesoporphyrin (SnMP), which is an inhibitor of HO activity, the HO-1 inducer cobalt protoporphyrin (CoPP), and the SIRT1 inhibitor (EX-527) on diabetic cardiomyopathy. Results: Diabetic mice had low levels of HO-1 and elevated levels of the oxidative marker malondialdehyde (MDA). CR attenuated left ventricular hypertrophy (LVH), increased HO-1 levels, and decreased MDA levels. SnMP abolished the protective effects of CR and caused pronounced LVH and cardiac metabolic dysfunction represented by suppressed levels of adiponectin, SIRT1, PPARγ, PGC-1α, and increased MDA. High glucose (33 mM) increased ROS in cultured cardiomyocytes, while SnMP reduced SIRT1, PGC-1α levels, and HO activity. Similarly, SIRT1 inhibition led to a reduction in PGC-1α and HO-1 levels. CoPP increased HO-1 protein levels and activity, SIRT1, and PGC-1α levels, and decreased ROS production, suggesting a positive feedback between SIRT1 and HO-1. Conclusion: These results establish a link between SIRT1, PGC-1α, and HO-1 signaling that leads to the attenuation of ROS production and diabetic cardiomyopathy. CoPP mimicked the beneficial effect of CR, while SnMP increased oxidative stress, aggravating cardiac hypertrophy. The data suggest that increasing HO-1 levels constitutes a novel therapeutic approach to protect the diabetic heart. Brief Summary: CR attenuates cardiomyopathy, and increases HO-1, SIRT activity, and PGC-1α protein levels in diabetic mice. High glucose reduces adiponectin, SIRT1, PGC1-1α, and HO-1 levels in cardiomyocytes, resulting in oxidative stress. The pharmacological activation of HO-1 activity mimics the effect of CR, while SnMP increased oxidative stress and cardiac hypertrophy. These data suggest the critical role of HO-1 in protecting the diabetic heart.
View Full-Text
►

▼

Figures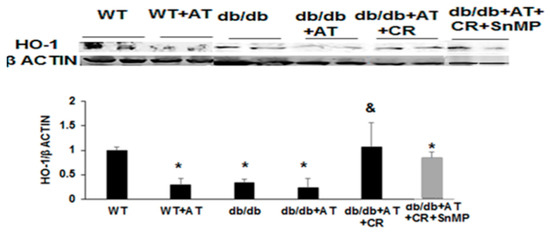 Figure 1
This is an open access article distributed under the
Creative Commons Attribution License
which permits unrestricted use, distribution, and reproduction in any medium, provided the original work is properly cited (CC BY 4.0).

Share & Cite This Article
MDPI and ACS Style
Waldman, M.; Nudelman, V.; Shainberg, A.; Zemel, R.; Kornwoski, R.; Aravot, D.; Peterson, S.J.; Arad, M.; Hochhauser, E. The Role of Heme Oxygenase 1 in the Protective Effect of Caloric Restriction against Diabetic Cardiomyopathy. Int. J. Mol. Sci. 2019, 20, 2427.
Note that from the first issue of 2016, MDPI journals use article numbers instead of page numbers. See further details here.
Related Articles
Comments
[Return to top]