Identification and Characterization of Novel Fusion Genes with Potential Clinical Applications in Mexican Children with Acute Lymphoblastic Leukemia
1
CONACyT-Unidad de Investigacion Medica en Epidemiologia Clinica, Hospital de Pediatria, Centro Medico Siglo XXI, IMSS, 06720 Mexico City, Mexico
2
Unidad de Investigacion Medica en Genética Humana, Hospital de Pediatria, Centro Medico Nacional Siglo XXI, IMSS, 06720 Mexico City, Mexico
3
Coordinacion de Investigacion en Salud, Unidad Habilitada de Apoyo al Predictamen, Centro Medico Siglo XXI, IMSS, 06720 Mexico City, Mexico
4
Servicio de Hematologia Pediatrica, Hospital General "Gaudencio González Garza", Centro Medico Nacional (CMN) "La Raza", IMSS, 02990 Mexico City, Mexico
5
Servicio de Oncología, Hospital Pediatrico de Moctezuma, Secretaria de Salud de la Ciudad de Mexico, Ciudad de Mexico, 15530 Mexico City, Mexico
6
Unidad de Investigacion Medico en Epidemiologia Clinica, Hospital de Pediatria, Centro Medico Nacional Siglo XXI, IMSS, 06720 Mexico City, Mexico
7
Laboratorio de Secuenciación, Division de Desarrollo de la Investigacion, Centro Medico Nacional Siglo XXI, IMSS, 06720 Mexico City, Mexico
8
Servicio de Hematologia, UMAE Hospital de Pediatria, Centro Medico Nacional Siglo XXI, IMSS, 06720 Mexico City, Mexico
9
Servicio de Oncología, Hospital Infantil de Mexico Federico Gómez, Secretaria de Salud, 06720 Mexico City, Mexico
10
Servicio de Onco-Pediatria, Hospital Juarez de Mexico, Secretaria de Salud, 07760 Mexico City, Mexico
11
Servicio de Hematologia Pediatrica, Hospital General de Mexico, Secretaria de Salud, 06726 Mexico City, Mexico
12
Servicio de Hematologia Pediatrica, Centro Medico Nacional "20 de Noviembre", ISSSTE, 03229 Mexico City, Mexico
13
Unidad de Investigacion Medico en Inmunologia e Infectologia, Hospital de Infectologia "Dr. Daniel Méndez Hernández", "La Raza", IMSS, 02990 Mexico City, Mexico
14
Servicio de Hematologia Pediatrica, Hospital General Regional "Carlos McGregor Sanchez Navarro", IMSS, 03100 Mexico City, Mexico
15
Laboratorio de Genomica del Cancer del Instituto Nacional de Medicina Genomica (INMEGEN), 14610 Mexico City, Mexico
16
Servicio de Hemato-Oncologia Pediatrica, Hospital Regional 1° de Octubre, ISSSTE, 07300 Mexico City, Mexico
17
Coordinación de Investigacion en Salud, IMSS, Torre Academia Nacional de Medicina, 06720 Mexico City, Mexico
*
Authors to whom correspondence should be addressed.
Received: 9 November 2018 / Revised: 27 November 2018 / Accepted: 30 November 2018 / Published: 15 May 2019
Abstract
Acute lymphoblastic leukemia is the most common type of childhood cancer worldwide. Mexico City has one of the highest incidences and mortality rates of this cancer. It has previously been recognized that chromosomal translocations are important in cancer etiology. Specific fusion genes have been considered as important treatment targets in childhood acute lymphoblastic leukemia (ALL). The present research aimed at the identification and characterization of novel fusion genes with potential clinical implications in Mexican children with acute lymphoblastic leukemia. The RNA-sequencing approach was used. Four fusion genes not previously reported were identified:
CREBBP-SRGAP2B
,
DNAH14-IKZF1
,
ETV6-SNUPN
,
ETV6-NUFIP1
. Although a fusion gene is not sufficient to cause leukemia, it could be involved in the pathogenesis of the disease. Notably, these new translocations were found in genes encoding for hematopoietic transcription factors which are known to play an important role in leukemogenesis and disease prognosis such as
IKZF1
,
CREBBP
, and
ETV6
. In addition, they may have an impact on the prognosis of Mexican pediatric patients with ALL, with the potential to be included in the current risk stratification schemes or used as therapeutic targets.
View Full-Text
►

▼

Figures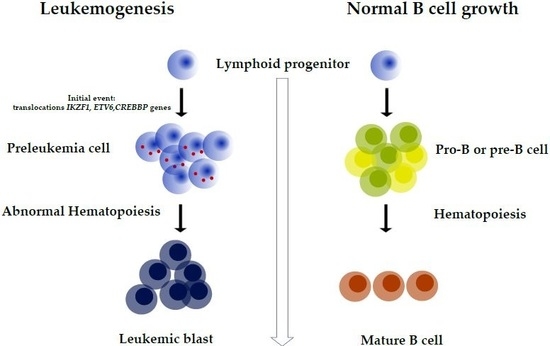 Graphical abstract
This is an open access article distributed under the
Creative Commons Attribution License
which permits unrestricted use, distribution, and reproduction in any medium, provided the original work is properly cited (CC BY 4.0).

Share & Cite This Article
MDPI and ACS Style
Mata-Rocha, M.; Rangel-López, A.; Jiménez-Hernández, E.; Morales-Castillo, B.A.; González-Torres, C.; Gaytan-Cervantes, J.; Álvarez-Olmos, E.; Núñez-Enríquez, J.C.; Fajardo-Gutiérrez, A.; Martín-Trejo, J.A.; Solís-Labastida, K.A.; Medina-Sansón, A.; Flores-Lujano, J.; Sepúlveda-Robles, O.A.; Peñaloza-González, J.G.; Espinoza-Hernández, L.E.; Núñez-Villegas, N.N.; Espinosa-Elizondo, R.M.; Cortés-Herrera, B.; Torres-Nava, J.R.; Flores-Villegas, L.V.; Merino-Pasaye, L.E.; Bekker-Méndez, V.C.; Velázquez-Aviña, M.M.; Pérez-Saldívar, M.L.; Bautista-Martínez, B.A.; Amador-Sánchez, R.; González-Avila, A.I.; Jiménez-Morales, S.; Duarte-Rodríguez, D.A.; Santillán-Juárez, J.D.; García-Velázquez, A.J.; Rosas-Vargas, H.; Mejía-Aranguré, J.M. Identification and Characterization of Novel Fusion Genes with Potential Clinical Applications in Mexican Children with Acute Lymphoblastic Leukemia. Int. J. Mol. Sci. 2019, 20, 2394.
Note that from the first issue of 2016, MDPI journals use article numbers instead of page numbers. See further details here.
Related Articles
Comments
[Return to top]