The Triple Amino Acid Substitution TAP-IVS in the
EPSPS

Gene Confers High Glyphosate Resistance to the Superweed

Amaranthus hybridus

1

Department of Botany, Ecology and Plant Physiology, University of Cordoba, 14071 Córdoba, Spain

2

Department of Agricultural Chemistry and Edaphology, University of Cordoba, 14071 Cordoba, Spain

3

Faculty of Agricultural Sciences, National University of Cordoba (UNC), 5001 Cordoba, Argentina

4

Department of Biosciences, Research Center for Endogenous Resource Valorization's, Polytechnic Institute of Beja, 7800-295 Beja, Portugal

5

Departamento de Química, Universidade Federal de São Carlos, 13565-905 São Carlos, Brazil

*

Author to whom correspondence should be addressed.

Received: 8 April 2019 / Revised: 8 May 2019 / Accepted: 9 May 2019 / Published: 15 May 2019
Abstract
The introduction of glyphosate-resistant (GR) crops revolutionized weed management; however, the improper use of this technology has selected for a wide range of weeds resistant to glyphosate, referred to as superweeds. We characterized the high glyphosate resistance level of an
Amaranthus hybridus
population (GRH)—a superweed collected in a GR-soybean field from Cordoba, Argentina—as well as the resistance mechanisms that govern it in comparison to a susceptible population (GSH). The GRH population was 100.6 times more resistant than the GSH population. Reduced absorption and metabolism of glyphosate, as well as gene duplication of 5-enolpyruvylshikimate-3-phosphate synthase (EPSPS) or its overexpression did not contribute to this resistance. However, GSH plants translocated at least 10% more
14
C-glyphosate to the rest of the plant and roots than GRH plants at 9 h after treatment. In addition, a novel triple amino acid substitution from TAP (wild type, GSH) to IVS (triple mutant, GRH) was identified in the EPSPS gene of the GRH. The nucleotide substitutions consisted of ATA
102
, GTC
103
and TCA
106
instead of ACA
102
, GCG
103
, and CCA
106
, respectively. The hydrogen bond distances between Gly-101 and Arg-105 positions increased from 2.89 Å (wild type) to 2.93 Å (triple-mutant) according to the EPSPS structural modeling. These results support that the high level of glyphosate resistance of the GRH
A. hybridus
population was mainly governed by the triple mutation TAP-IVS found of the EPSPS target site, but the impaired translocation of herbicide also contributed in this resistance.
View Full-Text
►

▼

Figures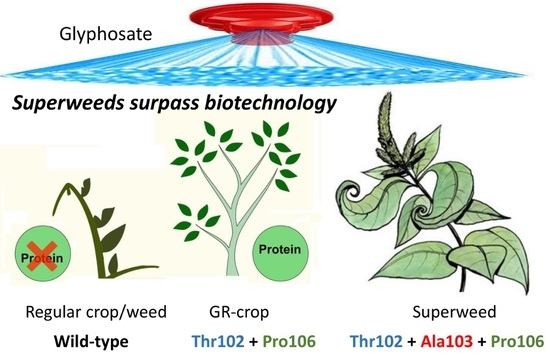 Graphical abstract
This is an open access article distributed under the
Creative Commons Attribution License
which permits unrestricted use, distribution, and reproduction in any medium, provided the original work is properly cited (CC BY 4.0).

Share & Cite This Article
MDPI and ACS Style
García, M.J.; Palma-Bautista, C.; Rojano-Delgado, A.M.; Bracamonte, E.; Portugal, J.; Alcántara-de la Cruz, R.; De Prado, R. The Triple Amino Acid Substitution TAP-IVS in the EPSPS Gene Confers High Glyphosate Resistance to the Superweed Amaranthus hybridus. Int. J. Mol. Sci. 2019, 20, 2396.
Note that from the first issue of 2016, MDPI journals use article numbers instead of page numbers. See further details here.
Related Articles
Comments
[Return to top]