Cadmium Complexed with β2-Microglubulin, Albumin and Lipocalin-2 rather than Metallothionein Cause Megalin:Cubilin Dependent Toxicity of the Renal Proximal Tubule
1
Department of Physiology, Pathophysiology & Toxicology and ZBAF (Centre for Biomedical Education and Research), Faculty of Health, School of Medicine, Witten/Herdecke University, D-58453 Witten, Germany
2
Departamento de Toxicología, Centro de Investigación y de Estudios Avanzados del Instituto Politécnico Nacional (CINVESTAV-IPN), Mexico 07360, México
*
Author to whom correspondence should be addressed.
†
These authors contributed equally to this work.
Received: 31 March 2019 / Revised: 3 May 2019 / Accepted: 9 May 2019 / Published: 14 May 2019
Abstract
Cadmium (Cd
2+
) in the environment is a significant health hazard. Chronic low Cd
2+
exposure mainly results from food and tobacco smoking and causes kidney damage, predominantly in the proximal tubule. Blood Cd
2+
binds to thiol-containing high (e.g., albumin, transferrin) and low molecular weight proteins (e.g., the high-affinity metal-binding protein metallothionein, β2-microglobulin, α1-microglobulin and lipocalin-2). These plasma proteins reach the glomerular filtrate and are endocytosed at the proximal tubule via the multiligand receptor complex megalin:cubilin. The current dogma of chronic Cd
2+
nephrotoxicity claims that Cd
2+
-metallothionein endocytosed via megalin:cubilin causes renal damage. However, a thorough study of the literature strongly argues for revision of this model for various reasons, mainly: (i) It relied on studies with unusually high Cd
2+
-metallothionein concentrations; (ii) the
KD
of megalin for metallothionein is ~10
5
-times higher than (Cd
2+
)-metallothionein plasma concentrations. Here we investigated the uptake and toxicity of ultrafiltrated Cd
2+
-binding protein ligands that are endocytosed via megalin:cubilin in the proximal tubule. Metallothionein, β2-microglobulin, α1-microglobulin, lipocalin-2, albumin and transferrin were investigated, both as apo- and Cd
2+
-protein complexes, in a rat proximal tubule cell line (WKPT-0293 Cl.2) expressing megalin:cubilin at low passage, but is lost at high passage. Uptake was determined by fluorescence microscopy and toxicity by MTT cell viability assay. Apo-proteins in low and high passage cells as well as Cd
2+
-protein complexes in megalin:cubilin deficient high passage cells did not affect cell viability. The data prove Cd
2+
-metallothionein is not toxic, even at >100-fold physiological metallothionein concentrations in the primary filtrate. Rather, Cd
2+
-β2-microglobulin, Cd
2+
-albumin and Cd
2+
-lipocalin-2 at concentrations present in the primary filtrate are taken up by low passage proximal tubule cells and cause toxicity. They are therefore likely candidates of Cd
2+
-protein complexes damaging the proximal tubule via megalin:cubilin at concentrations found in the ultrafiltrate.
View Full-Text
►

▼

Figures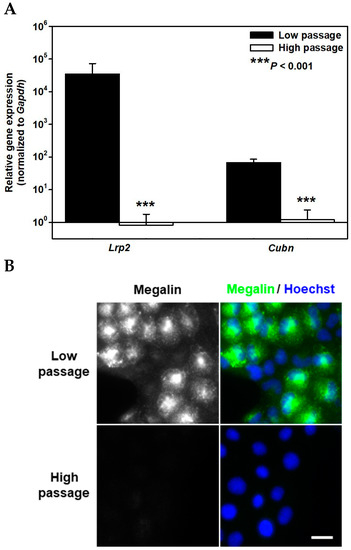 Figure 1
This is an open access article distributed under the
Creative Commons Attribution License
which permits unrestricted use, distribution, and reproduction in any medium, provided the original work is properly cited (CC BY 4.0).

Share & Cite This Article
MDPI and ACS Style
Fels, J.; Scharner, B.; Zarbock, R.; Zavala Guevara, I.P.; Lee, W.-K.; Barbier, O.C.; Thévenod, F. Cadmium Complexed with β2-Microglubulin, Albumin and Lipocalin-2 rather than Metallothionein Cause Megalin:Cubilin Dependent Toxicity of the Renal Proximal Tubule. Int. J. Mol. Sci. 2019, 20, 2379.
Note that from the first issue of 2016, MDPI journals use article numbers instead of page numbers. See further details here.
Related Articles
Comments
[Return to top]