HPV-Mediated Resistance to TNF and TRAIL Is Characterized by Global Alterations in Apoptosis Regulatory Factors, Dysregulation of Death Receptors, and Induction of ROS/RNS
1
Department of Microbiology, Institute of Biomedical Sciences, University of São Paulo, 05508-900 São Paulo, Brazil
2
Laboratório de Inovação em Câncer, Centro de Investigação Translacional em Oncologia (LIM24), Instituto do Câncer do Estado de São Paulo (ICESP), 01246-000 São Paulo, Brazil
3
Departamento de Radiologia e Oncologia, Faculdade de Medicina da Universidade de São Paulo (USP), 01246-903 São Paulo, Brazil
4
Department of Basic and Clinical Oncology, Faculty of Medicine, University of Chile, 8389100 Santiago, Chile
5
Advanced Center for Chronic Diseases (ACCDiS), Universidad de Chile, 8389100 Santiago, Chile
6
Department of Immunology, Institute of Biomedical Sciences, University of São Paulo, 05508-900 São Paulo, Brazil
*
Author to whom correspondence should be addressed.
†
These authors contributed equally to this work.
Received: 8 December 2018 / Revised: 23 December 2018 / Accepted: 29 December 2018 / Published: 8 January 2019
Abstract
Persistent infection with high-risk human papilloma virus (HR-HPV) is the main risk factor for the development of invasive cervical cancer although is not sufficient to cause cervical cancer. Several host and environmental factors play a key role in cancer initiation/progression, including cytokines and other immune-response mediators. Here, we characterized the response to the individual and combined action of the pro-inflammatory cytokines tumor necrosis factor (TNF) and TNF-related apoptosis-inducing ligand (TRAIL) on HPV-transformed cells and human keratinocytes ectopically expressing E6 and E7 early proteins from different HPV types. We showed that keratinocytes expressing HPV early proteins exhibited global alterations in the expression of proteins involved in apoptosis regulation/execution, including TNF and TRAIL receptors. Besides, we provided evidence that TNF receptor 1 (TNFR1) was down-regulated and may be retained in the cytoplasm of keratinocytes expressing HPV16 oncoproteins. Finally, fluorescence analysis demonstrated that cytokine treatment induced the production and release of reactive oxygen and nitrogen species (ROS/RNS) in cells expressing HPV oncogenes. Alterations in ROS/RNS production and apoptosis regulatory factors expression in response to inflammatory mediators may favor the accumulation of genetic alterations in HPV-infected cells. Altogether, our results suggested that these events may contribute to lesion progression and cancer onset.
View Full-Text
►

▼

Figures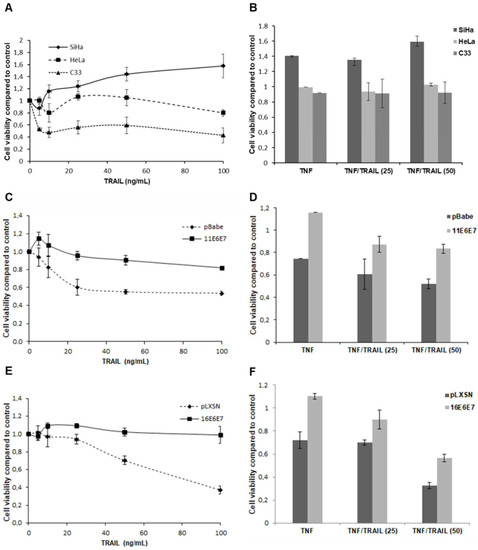 Figure 1
This is an open access article distributed under the
Creative Commons Attribution License
which permits unrestricted use, distribution, and reproduction in any medium, provided the original work is properly cited (CC BY 4.0).

Share & Cite This Article
MDPI and ACS Style
Cabeça, T.K.; De Mello Abreu, A.; Andrette, R.; De Souza Lino, V.; Morale, M.G.; Aguayo, F.; Termini, L.; Villa, L.L.; Lepique, A.P.; Boccardo, E. HPV-Mediated Resistance to TNF and TRAIL Is Characterized by Global Alterations in Apoptosis Regulatory Factors, Dysregulation of Death Receptors, and Induction of ROS/RNS. Int. J. Mol. Sci. 2019, 20, 198.
Note that from the first issue of 2016, MDPI journals use article numbers instead of page numbers. See further details here.
Related Articles
Comments
[Return to top]