Long-Term Changes in Cognition and Physiology after Low-Dose 16O Irradiation
1
Division of Radiation Health, University of Arkansas for Medical Sciences, Little Rock, AR 72205, USA
2
Department of Pharmaceutical Sciences, University of Arkansas for Medical Sciences, Little Rock, AR 72205, USA
3
Neurobiology & Developmental Sciences, University of Arkansas for Medical Sciences, Little Rock, AR 72205, USA
4
Department of Neurosurgery, University of Arkansas for Medical Sciences, Little Rock, AR 72205, USA
*
Author to whom correspondence should be addressed.
Received: 15 December 2018 / Revised: 30 December 2018 / Accepted: 3 January 2019 / Published: 7 January 2019
Abstract
Astronauts traveling to Mars will be exposed to high levels of ionizing radiation upon leaving low-Earth orbit. During prolonged space travel, astronauts are exposed to galactic cosmic rays (GCRs) composed of protons; oxygen molecules; and high energy, high mass charged particles. Notably, oxygen molecules can travel through the shielding of spacecraft, potentially impacting 25% of the hippocampus. The aim of the current study was to assess whether
16
O-particle radiation induced a behavioral deficit and histological changes in mice. Mice were sent to the National Aeronautics and Space Administration (NASA) Space Radiation Laboratory at Brookhaven National Laboratory and exposed to particulate
16
O radiation at doses of 0 and 0.05 Gy. Nine months after irradiation, the mice were tested for novel object recognition and in the Y-maze, after which the animals were sacrificed. The brains were then dissected along the midsagittal plane for Golgi staining. Exposure to 0.05 Gy significantly impaired novel object recognition. However, short term memory and exploratory activity in the Y-maze were not affected. Micromorphometric analysis revealed significant decreases in mushroom spine density in the dentate gyrus and cornu Ammonis-1 and -3 of the hippocampus. Sholl analysis revealed a significant decrease in dendritic complexity in the dentate gyrus. The present data provide evidence that space radiation has deleterious effects on mature neurons associated with hippocampal learning and memory.
View Full-Text
►

▼

Figures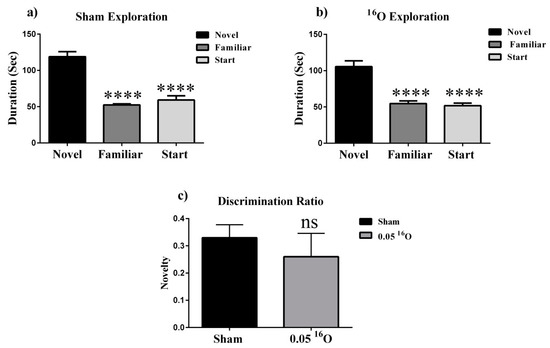 Figure 1
This is an open access article distributed under the
Creative Commons Attribution License
which permits unrestricted use, distribution, and reproduction in any medium, provided the original work is properly cited (CC BY 4.0).

Share & Cite This Article
MDPI and ACS Style
Howe, A.; Kiffer, F.; Alexander, T.C.; Sridharan, V.; Wang, J.; Ntagwabira, F.; Rodriguez, A.; Boerma, M.; Allen, A.R. Long-Term Changes in Cognition and Physiology after Low-Dose 16O Irradiation. Int. J. Mol. Sci. 2019, 20, 188.
Note that from the first issue of 2016, MDPI journals use article numbers instead of page numbers. See further details here.
Related Articles
Comments
[Return to top]