Ethanol-Induced Autophagy in Sertoli Cells Is Specifically Marked at Androgen-Dependent Stages of the Spermatogenic Cycle: Potential Mechanisms and Implications
1
Kubomizuki Lady's Clinic 3-13-8, Mikatadai, Nishi-ku, Kobe, Hyogo 651-2277, Japan
2
Department of Anatomy and Cell Biology, Division of Life Sciences, Osaka Medical College, 2-7 Daigaku-machi, Takatsuki, Osaka 569-8686, Japan
3
Osaka Medical College, Takatsuki, Osaka 569-8686, Japan
*
Author to whom correspondence should be addressed.
Received: 10 December 2018 / Revised: 22 December 2018 / Accepted: 1 January 2019 / Published: 6 January 2019
Abstract
In a recent study, we reported that acute ethanol exposure enhanced autophagy in Sertoli cells (SCs) of adult rats. However, further research is needed to clarify the specific spermatogenic stage exhibiting the highest autophagic response, the mechanisms behind such specificity, and the related relevance to sperm. This brief report provides results indicating that stages VII–VIII (androgen-dependent or spermiation stages) of the spermatogenic cycle exhibited more marked autophagic response in acute-ethanol treated rats (ETRs) than other stages based on suppression of androgen receptor (AR), analysis of microtubule-associated protein 1 light chain 3 (LC3) (an autophagosomal marker) immunostaining in SCs, double labeling of LC3 and lysosomal proteins and electron microscopy. Ultrastructural observations and TUNEL method revealed a notable presence of phagocytosed apoptotic germ cells and retained sperm in SCs of ETRs at these specific stages—a finding rarely observed in control testes. In addition, PTEN-induced putative kinase 1 ( PINK1) (a sensor of mitochondrial damage and mitophagy) and giant lipid droplets were found to have accumulated in SCs of ETRs at same stages. Our data show novel findings indicating that stages VII–VIII of the spermatogenic cycle exhibit high levels of autophagy, specifically under stress conditions, as expressed by the term
autophagic stages
. This stage-specific upregulation of autophagy in SCs may be related to AR suppression, mitochondrial damage, lipid accumulation, and phagocytosis of apoptotic cells. The phenomenon may be an essential part of ensuring the viability of SCs and supporting germ cells in toxic environments.
View Full-Text
►

▼

Figures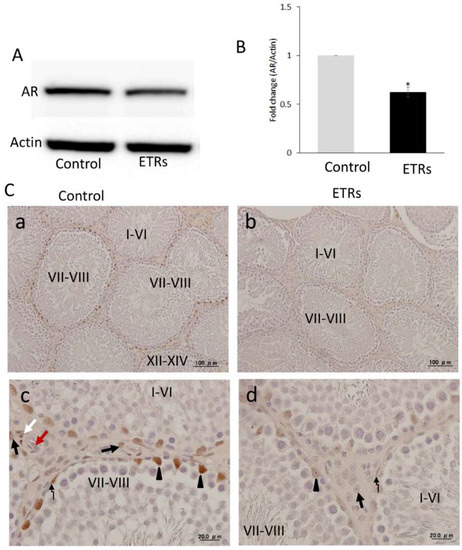 Figure 1
This is an open access article distributed under the
Creative Commons Attribution License
which permits unrestricted use, distribution, and reproduction in any medium, provided the original work is properly cited (CC BY 4.0).

Share & Cite This Article
MDPI and ACS Style
Horibe, A.; Eid, N.; Ito, Y.; Otsuki, Y.; Kondo, Y. Ethanol-Induced Autophagy in Sertoli Cells Is Specifically Marked at Androgen-Dependent Stages of the Spermatogenic Cycle: Potential Mechanisms and Implications. Int. J. Mol. Sci. 2019, 20, 184.
Note that from the first issue of 2016, MDPI journals use article numbers instead of page numbers. See further details here.
Related Articles
Comments
[Return to top]