NFκB Inhibition Mitigates Serum Amyloid A-Induced Pro-Atherogenic Responses in Endothelial Cells and Leukocyte Adhesion and Adverse Changes to Endothelium Function in Isolated Aorta
1
Discipline of Pathology, Sydney Medical School, The University of Sydney, Camperdown, NSW 2006, Australia
2
Heart Research Institute, Newton, NSW 2053, Australia
3
Baker Heart and Diabetes Institute, Victoria 3004, Australia
4
Department of Medicine, Monash University, Victoria 3500, Australia
5
Cardiovascular Disease Program, Biomedicine Discovery Institute, Monash University £Department of Pharmacology, Monash University, Victoria 3800, Australia
6
Department of Immunology, Monash University, Victoria 3004, Australia
7
Department of Physiology, Anatomy & Microbiology, School of Life Sciences, La Trobe University, Bundoora, VIC 3083, Australia
*
Author to whom correspondence should be addressed.
Received: 31 October 2018 / Revised: 14 December 2018 / Accepted: 18 December 2018 / Published: 28 December 2018
Abstract
The acute phase protein serum amyloid A (SAA) is associated with endothelial dysfunction and early-stage atherogenesis. Stimulation of vascular cells with SAA increases gene expression of pro-inflammation cytokines and tissue factor (TF). Activation of the transcription factor, nuclear factor kappa-B (NFκB), may be central to SAA-mediated endothelial cell inflammation, dysfunction and pro-thrombotic responses, while targeting NFκB with a pharmacologic inhibitor, BAY11-7082, may mitigate SAA activity. Human carotid artery endothelial cells (HCtAEC) were pre-incubated (1.5 h) with 10 μM BAY11-7082 or vehicle (control) followed by SAA (10 μg/mL; 4.5 h). Under these conditions gene expression for TF and Tumor Necrosis Factor (TNF) increased in SAA-treated HCtAEC and pre-treatment with BAY11-7082 significantly (TNF) and marginally (TF) reduced mRNA expression. Intracellular TNF and interleukin 6 (IL-6) protein also increased in HCtAEC supplemented with SAA and this expression was inhibited by BAY11-7082. Supplemented BAY11-7082 also significantly decreased SAA-mediated leukocyte adhesion to apolipoprotein E-deficient mouse aorta in
ex
vivo
vascular flow studies. In vascular function studies, isolated aortic rings pre-treated with BAY11-7082 prior to incubation with SAA showed improved endothelium-dependent vasorelaxation and increased vascular cyclic guanosine monophosphate (cGMP) content. Together these data suggest that inhibition of NFκB activation may protect endothelial function by inhibiting the pro-inflammatory and pro-thrombotic activities of SAA.
View Full-Text
►

▼

Figures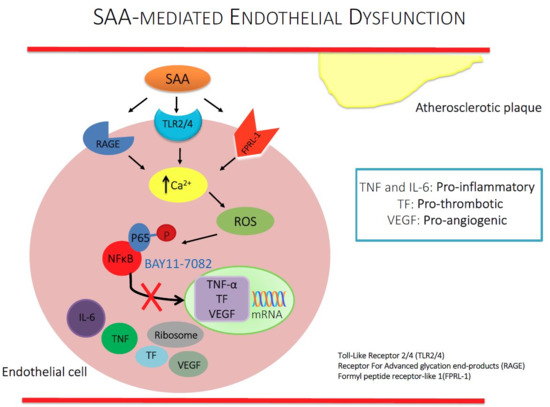 Graphical abstract
This is an open access article distributed under the
Creative Commons Attribution License
which permits unrestricted use, distribution, and reproduction in any medium, provided the original work is properly cited (CC BY 4.0).

Share & Cite This Article
MDPI and ACS Style
Vallejo, A.; Chami, B.; Dennis, J.M.; Simone, M.; Ahmad, G.; Abdo, A.I.; Sharma, A.; Shihata, W.A.; Martin, N.; Chin-Dusting, J.P.F.; De Haan, J.B.; Witting, P.K. NFκB Inhibition Mitigates Serum Amyloid A-Induced Pro-Atherogenic Responses in Endothelial Cells and Leukocyte Adhesion and Adverse Changes to Endothelium Function in Isolated Aorta. Int. J. Mol. Sci. 2019, 20, 105.
Note that from the first issue of 2016, MDPI journals use article numbers instead of page numbers. See further details here.
Related Articles
Comments
[Return to top]