Diet-Independent Correlations between Bacteria and Dysfunction of Gut, Adipose Tissue, and Liver: A Comprehensive Microbiota Analysis in Feces and Mucosa of the Ileum and Colon in Obese Mice with NAFLD
1
Department of Metabolic Health Research, The Netherlands Organization for Applied Scientific Research (TNO), 2333 CK Leiden, The Netherlands
2
Human and Animal Physiology, Wageningen University, 6708 WD Wageningen, The Netherlands
3
Department of Microbiology and Systems Biology, The Netherlands Organization for Applied Scientific Research (TNO), 3704 HE Zeist, The Netherlands
4
Department of Vascular Surgery, Leiden University Medical Center, 2333 ZA Leiden, The Netherlands
*
Author to whom correspondence should be addressed.
Received: 6 November 2018 / Revised: 4 December 2018 / Accepted: 15 December 2018 / Published: 20 December 2018
Abstract
Development of non-alcoholic fatty liver disease (NAFLD) is linked to obesity, adipose tissue inflammation, and gut dysfunction, all of which depend on diet. So far, studies have mainly focused on diet-related fecal microbiota changes, but other compartments may be more informative on host health. We present a first systematic analysis of microbiota changes in the ileum and colon using multiple diets and investigating both fecal and mucosal samples. Ldlr−/−.Leiden mice received one of three different energy-dense (ED)-diets (
n
= 15/group) for 15 weeks. All of the ED diets induced obesity and metabolic risk factors, altered short-chain fatty acids (SCFA), and increased gut permeability and NAFLD to various extents. ED diets reduced the diversity of high-abundant bacteria and increased the diversity of low-abundant bacteria in all of the gut compartments. The ED groups showed highly variable, partially overlapping microbiota compositions that differed significantly from chow. Correlation analyses demonstrated that (1) specific groups of bacteria correlate with metabolic risk factors, organ dysfunction, and NAFLD endpoints, (2) colon mucosa had greater predictive value than other compartments, (3) correlating bacteria differed per compartment, and (4) some bacteria correlated with plasma SCFA levels. In conclusion, this comprehensive microbiota analysis demonstrates correlations between the microbiota and dysfunctions of gut, adipose tissue, and liver, independent of a specific disease-inducing diet.
View Full-Text
►

▼

Figures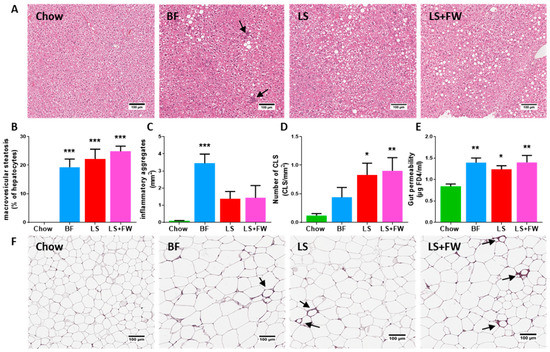 Figure 1
This is an open access article distributed under the
Creative Commons Attribution License
which permits unrestricted use, distribution, and reproduction in any medium, provided the original work is properly cited (CC BY 4.0).

Share & Cite This Article
MDPI and ACS Style
Gart, E.; Souto Lima, E.; Schuren, F.; De Ruiter, C.G.F.; Attema, J.; Verschuren, L.; Keijer, J.; Salic, K.; Morrison, M.C.; Kleemann, R. Diet-Independent Correlations between Bacteria and Dysfunction of Gut, Adipose Tissue, and Liver: A Comprehensive Microbiota Analysis in Feces and Mucosa of the Ileum and Colon in Obese Mice with NAFLD. Int. J. Mol. Sci. 2019, 20, 1.
Note that from the first issue of 2016, MDPI journals use article numbers instead of page numbers. See further details here.
Related Articles
Comments
[Return to top]