Beeswax by-Products Efficiently Counteract the Oxidative Damage Induced by an Oxidant Agent in Human Dermal Fibroblasts
1
Dipartimento di Scienze Cliniche Specialistiche ed Odontostomatologiche (DISCO)-Sez. Biochimica, Facoltà di Medicina, Università Politecnica delle Marche, 60131 Ancona, Italy
2
Departamento de Química Analítica y Alimentaria, Grupo de Nutrición y Bromatología, Universidade de Vigo, 32004 Ourense, Spain
3
Department of Physiology, Institute of Nutrition and Food Technology "José Mataix", Biomedical Research Center, University of Granada, Avda del Conocimiento sn., Armilla, 18100 Granada, Spain
4
Apinevada Analytical Laboratory of Bee Products, Barrancos s/n, Lanjarón, 18420 Granada, Spain
5
Dipartimento di Scienze Biomediche e Sanità Pubblica, Università Politecnica delle Marche, 60131 Ancona, Italy
*
Authors to whom correspondence should be addressed.
†
These authors have contributed equally to this work.
Received: 26 August 2018 / Revised: 13 September 2018 / Accepted: 18 September 2018 / Published: 19 September 2018
Abstract
The antioxidant capacity and the phytochemical composition of two by-products from beeswax recycling processes were recently investigated. The aim of the present work was to evaluate the efficacy of one of these by-products, MUD1, against the oxidative stress induced by 2,2′-azobis(2-amidinopropane) dihydrochloride (AAPH) in human dermal fibroblast (HDF) cells. After a preliminary viability assay, the protective effect of MUD1 was investigated through the measurement of apoptosis level, the reactive oxygen species (ROS) and nitrite (NO
2
−
) production, the level of protein and lipid biomarkers (carbonyl groups, total glutathione and thiobarbituric acid-reactive substance) of oxidative damage, and the measurement of antioxidant enzymes activities (glutatione peroxidase, glutathione reductase, glutathione transferase, superoxide dismutase and catalase). The obtained results showed that MUD1 exerted protective effects on HDF, increasing cell viability and counteracted the oxidative stress promoted by AAPH-treatment, and improved mitochondria functionality and wound healing capacities. This work shows the antioxidant effects exerted by beeswax by-products, demonstrating for the first time their potential against oxidative stress in human dermal fibroblast cells; however, further research will be necessary to evaluate their potentiality for human health by more deeply in vitro and in vivo studies.
View Full-Text
►

▼

Figures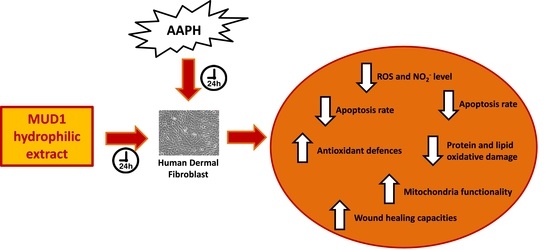 Graphical abstract
This is an open access article distributed under the
Creative Commons Attribution License
which permits unrestricted use, distribution, and reproduction in any medium, provided the original work is properly cited (CC BY 4.0).

Share & Cite This Article
MDPI and ACS Style
Giampieri, F.; Gasparrini, M.; Forbes-Hernández, T.Y.; Manna, P.P.; Zhang, J.; Reboredo-Rodríguez, P.; Cianciosi, D.; Quiles, J.L.; Torres Fernández-Piñar, C.; Orantes-Bermejo, F.J.; Bompadre, S.; Afrin, S.; Battino, M. Beeswax by-Products Efficiently Counteract the Oxidative Damage Induced by an Oxidant Agent in Human Dermal Fibroblasts. Int. J. Mol. Sci. 2018, 19, 2842.
Note that from the first issue of 2016, MDPI journals use article numbers instead of page numbers. See further details here.
Related Articles
Comments
[Return to top]