The Role of Sugarcane Catalase Gene
ScCAT2

in the Defense Response to Pathogen Challenge and Adversity Stress

1

Key Laboratory of Sugarcane Biology and Genetic Breeding, Ministry of Agriculture, Fujian Agriculture and Forestry University, Fuzhou 350002, China

2

Key Laboratory of Ministry of Education for Genetics, Breeding and Multiple Utilization of Crops, College of Crop Science, Fujian Agriculture and Forestry University, Fuzhou 350002, China

*

Author to whom correspondence should be addressed.

Received: 5 August 2018 / Revised: 30 August 2018 / Accepted: 6 September 2018 / Published: 10 September 2018
Abstract
Catalases, which consist of multiple structural isoforms, catalyze the decomposition of hydrogen peroxide in cells to prevent membrane lipid peroxidation. In this study, a group II catalase gene
ScCAT2
(GenBank Accession No. KF528830) was isolated from sugarcane genotype Yacheng05-179.
ScCAT2
encoded a predicted protein of 493 amino acid residues, including a catalase active site signature (FARERIPERVVHARGAS) and a heme-ligand signature (RVFAYADTQ). Subcellular localization experiments showed that the ScCAT2 protein was distributed in the cytoplasm, plasma membrane, and nucleus of
Nicotiana benthamiana
epidermal cells. Quantitative real-time polymerase chain reaction (qRT-PCR) analysis indicated that the
ScCAT2
gene was ubiquitously expressed in sugarcane tissues, with expression levels from high to low in stem skin, stem pith, roots, buds, and leaves.
ScCAT2
mRNA expression was upregulated after treatment with abscisic acid (ABA), sodium chloride (NaCl), polyethylene glycol (PEG), and 4 °C low temperature, but downregulated by salicylic acid (SA), methyl jasmonate (MeJA), and copper chloride (CuCl
2
). Moreover, tolerance of
Escherichia coli
Rosetta cells carrying pET-32a-
ScCAT2
was enhanced by NaCl stress, but not by CuCl
2
stress.
Sporisorium scitamineum
infection of 10 different sugarcane genotypes showed that except for YZ03-258, FN40, and FN39,
ScCAT2
transcript abundance in four smut-resistant cultivars (Yacheng05-179, YZ01-1413, YT96-86, and LC05-136) significantly increased at the early stage (1 day post-inoculation), and was decreased or did not change in the two smut-medium-susceptibility cultivars (ROC22 and GT02-467), and one smut-susceptible cultivar (YZ03-103) from 0 to 3 dpi. Meanwhile, the
N. benthamiana
leaves that transiently overexpressed
ScCAT2
exhibited less severe disease symptoms, more intense 3,3′-diaminobenzidine (DAB) staining, and higher expression levels of tobacco immune-related marker genes than the control after inoculation with tobacco pathogen
Ralstonia solanacearum
or
Fusarium solani
var.
coeruleum
. These results indicate that
ScCAT2
plays a positive role in immune responses during plant–pathogen interactions, as well as in salt, drought, and cold stresses.
View Full-Text
►

▼

Figures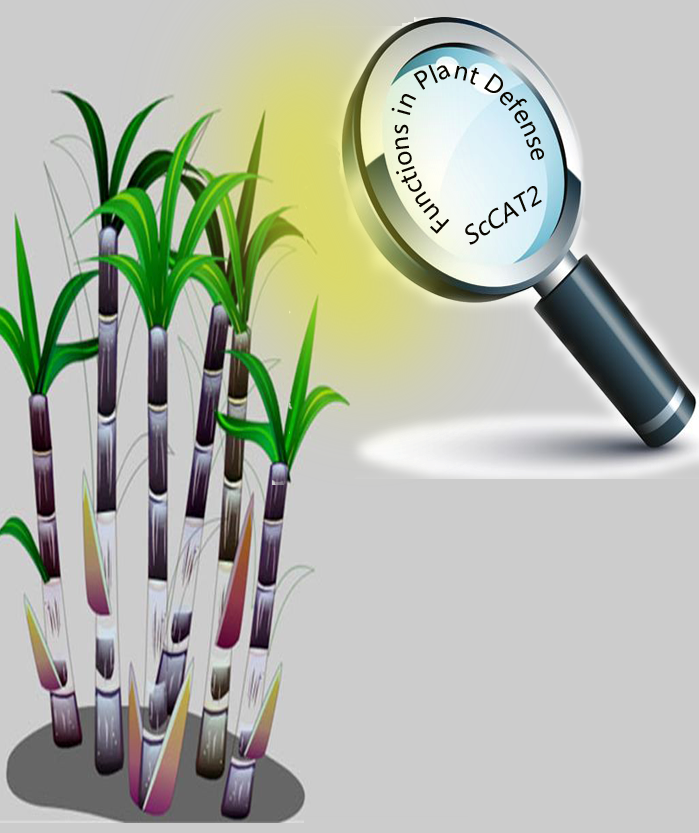 Graphical abstract
This is an open access article distributed under the
Creative Commons Attribution License
which permits unrestricted use, distribution, and reproduction in any medium, provided the original work is properly cited (CC BY 4.0).

Share & Cite This Article
MDPI and ACS Style
Sun, T.; Liu, F.; Wang, W.; Wang, L.; Wang, Z.; Li, J.; Que, Y.; Xu, L.; Su, Y. The Role of Sugarcane Catalase Gene ScCAT2 in the Defense Response to Pathogen Challenge and Adversity Stress. Int. J. Mol. Sci. 2018, 19, 2686.
Note that from the first issue of 2016, MDPI journals use article numbers instead of page numbers. See further details here.
Related Articles
Comments
[Return to top]