A Synthetic Peptide AWRK6 Alleviates Lipopolysaccharide-Induced Liver Injury
1
School of Life Science, Liaoning University, Shenyang 110036, China
2
Research Center for Computer Simulating and Information Processing of Bio-macromolecules of Liaoning Province, Liaoning University, Shenyang 110036, China
3
Department of Stem Cells and Regenerative Medicine, Key Laboratory of Cell Biology, National Health Commission of China and Key Laboratory of Medical Cell Biology, Ministry of Education of China, China Medical University, Shenyang 110122, China
*
Author to whom correspondence should be addressed.
Received: 24 July 2018 / Revised: 24 August 2018 / Accepted: 5 September 2018 / Published: 7 September 2018
Abstract
During lipopolysaccharide (LPS)-induced sepsis, the liver plays central roles in toxins phagocytosis and clearance to protect the whole body. The liver cells were constantly irritated by LPS which leads to liver injury. While most anti-LPS agents showed little clinical activity against LPS-induced liver injury. Here, the protective effects of the synthetic peptide AWRK6 against LPS-induced liver injury have been investigated in vivo and in vitro. In mice liver homogenate, LPS administration elevated ALT (alanine aminotransferase), iNOS (inducible nitric oxide synthase) and repressed SOD (superoxide dismutase) activities and these changes were remarkably reversed by AWRK6. Histologically, AWRK6 effectively alleviated the histological changes and repressed LPS-induced neutrophils infiltration. By TUNEL assay on liver sections, AWRK6 was proven to inhibit apoptosis induced by LPS in mice livers, which was also verified by the protein levels of cleaved-caspase 9, Bax and Bcl-2. In addition, by in vitro study using HepG2 cells, AWRK6 was found to recover the LPS-reduced cell viability and reduce LPS-induced apoptosis. For mechanisms, AWRK6 was demonstrated to alleviate the LPS-induced phosphorylation of ERK, JNK and p38 MAPK, indicating the involvement of MAPKs in the protection of AWRK6 against liver injury. In summary, we have found the synthetic peptide AWRK6 as a promising novel agent for LPS-induced liver injury, by inhibiting cell apoptosis through MAPK signaling pathways, which might bring new strategies for the treatment of acute and chronic liver injuries.
View Full-Text
►

▼

Figures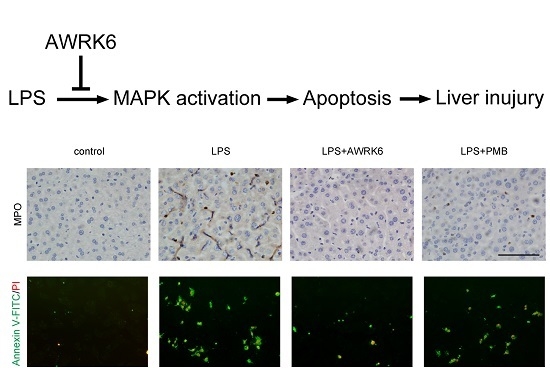 Graphical abstract
This is an open access article distributed under the
Creative Commons Attribution License
which permits unrestricted use, distribution, and reproduction in any medium, provided the original work is properly cited (CC BY 4.0).

Share & Cite This Article
MDPI and ACS Style
Jin, L.; Wang, Q.; Zhang, H.; Tai, S.; Liu, H.; Zhang, D. A Synthetic Peptide AWRK6 Alleviates Lipopolysaccharide-Induced Liver Injury. Int. J. Mol. Sci. 2018, 19, 2661.
Note that from the first issue of 2016, MDPI journals use article numbers instead of page numbers. See further details here.
Related Articles
Comments
[Return to top]