Low Infection of
Phelipanche aegyptiaca

in Micro-Tom Mutants Deficient in

CAROTENOID

CLEAVAGE DIOXYGENASE 8

1

Graduate School of Life Sciences, Toyo University, Itakura-machi, Ora-gun, Gunma 374-0193, Japan

2

Department of Applied Biosciences, Toyo University, Itakura-machi, Ora-gun, Gunma 374-0193, Japan

3

Faculty of Life and Environmental Sciences, University of Tsukuba, Tsukuba, Ibaraki 305-8572, Japan

4

Tsukuba Plant Innovation Research Center, University of Tsukuba, Tsukuba, Ibaraki 305-8572, Japan

5

Graduate School of Life and Environmental Sciences, Osaka Prefecture University, Naka-ku, Sakai, Osaka 599-8531, Japan

6

College of Life, Environment, and Advanced Sciences, Osaka Prefecture University, Naka-ku, Sakai, Osaka 599-8531, Japan

7

Graduate School of Agriculture, Ehime University, Matsuyama, Ehime 790-8566, Japan

8

Precursory Research for Embryonic Science and Technology (PRESTO), Japan Science and Technology Agency, Kawaguchi, Saitama 332-0012, Japan

9

Graduate School of Life Sciences, Tohoku University, Katahira, Aoba-ku, Sendai 980-8577, Japan

*

Author to whom correspondence should be addressed.

Received: 8 August 2018 / Revised: 1 September 2018 / Accepted: 4 September 2018 / Published: 6 September 2018
Abstract
Strigolactones (SLs), a group of plant hormones, induce germination of root-parasitic plants and inhibit shoot branching in many plants. Shoot branching is an important trait that affects the number and quality of flowers and fruits. Root-parasitic plants, such as
Phelipanche
spp., infect tomato roots and cause economic damage in Europe and North Africa—hence why resistant tomato cultivars are needed. In this study, we found
carotenoid cleavage dioxygenase 8-
defective mutants of Micro-Tom tomato (
slccd8
) by the "targeting induced local lesions in genomes" (TILLING) method. The mutants showed excess branching, which was suppressed by exogenously applied SL. Grafting shoot scions of the
slccd8
mutants onto wild-type (WT) rootstocks restored normal branching in the scions. The levels of endogenous orobanchol and solanacol in WT were enough detectable, whereas that in the
slccd8
mutants were below the detection limit of quantification analysis. Accordingly, root exudates of the
slccd8
mutants hardly stimulated seed germination of root parasitic plants. In addition, SL deficiency did not critically affect the fruit traits of Micro-Tom. Using a rhizotron system, we also found that
Phelipanche aegyptiaca
infection was lower in the
slccd8
mutants than in wild-type Micro-Tom because of the low germination. We propose that the
slccd8
mutants might be useful as new tomato lines resistant to
P. aegyptiaca
.
View Full-Text
►

▼

Figures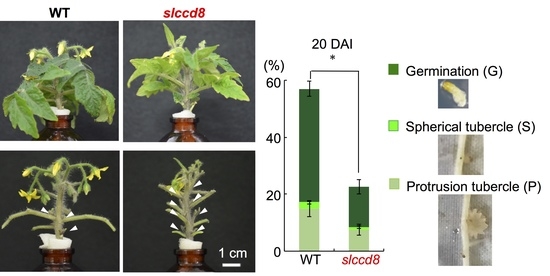 Graphical abstract
This is an open access article distributed under the
Creative Commons Attribution License
which permits unrestricted use, distribution, and reproduction in any medium, provided the original work is properly cited (CC BY 4.0).

Share & Cite This Article
MDPI and ACS Style
Hasegawa, S.; Tsutsumi, T.; Fukushima, S.; Okabe, Y.; Saito, J.; Katayama, M.; Shindo, M.; Yamada, Y.; Shimomura, K.; Yoneyama, K.; Akiyama, K.; Aoki, K.; Ariizumi, T.; Ezura, H.; Yamaguchi, S.; Umehara, M. Low Infection of Phelipanche aegyptiaca in Micro-Tom Mutants Deficient in CAROTENOID CLEAVAGE DIOXYGENASE 8. Int. J. Mol. Sci. 2018, 19, 2645.
Note that from the first issue of 2016, MDPI journals use article numbers instead of page numbers. See further details here.
Related Articles
Comments
[Return to top]