Structural Prediction of the Dimeric Form of the Mammalian Translocator Membrane Protein TSPO: A Key Target for Brain Diagnostics
1
Institute for Advanced Simulations (IAS)-5/Institute for Neuroscience and Medicine (INM)-9, Forschungszentrum Jülich, 52428 Jülich, Germany
2
Laboratory of Computational Chemistry and Drug Design, Laboratory of Chemical Genomics, Peking University Shenzhen Graduate School, 518055 Shenzhen, China
3
Department of Biotechnology, University of Verona, Strada Le Grazie 15, 37134 Verona, Italy
4
Neurobiology, International School for Advanced Studies (SISSA), 34136 Trieste, Italy
5
Grünenthal Innovation, Translational Science & Intelligence, Grünenthal GmbH, 52078 Aachen, Germany
6
Institute for Neuroscience and Medicine (INM)-5, Forschungszentrum Jülich, 52428 Jülich, Germany
7
Institute for Neuroscience and Medicine (INM)-2, Forschungszentrum Jülich, 52428 Jülich, Germany
8
RWTH Aachen University, Department of Physics, 52078 Aachen, Germany
9
Jülich Supercomputing Center (JSC), Forschungszentrum Jülich, 52428 Jülich, Germany
10
University Hospital Aachen, RWTH Aachen University, 52078 Aachen, Germany
*
Authors to whom correspondence should be addressed.
†
These authors contributed equally to this work.
Received: 25 July 2018 / Revised: 21 August 2018 / Accepted: 28 August 2018 / Published: 31 August 2018
Abstract
Positron emission tomography (PET) radioligands targeting the human translocator membrane protein (TSPO) are broadly used for the investigations of neuroinflammatory conditions associated with neurological disorders. Structural information on the mammalian protein homodimers—the suggested functional state of the protein—is limited to a solid-state nuclear magnetic resonance (NMR) study and to a model based on the previously-deposited solution NMR structure of the monomeric mouse protein. Computational studies performed here suggest that the NMR-solved structure in the presence of detergents is not prone to dimer formation and is furthermore unstable in its native membrane environment. We, therefore, propose a new model of the functionally-relevant dimeric form of the mouse protein, based on a prokaryotic homologue. The model, fully consistent with solid-state NMR data, is very different from the previous predictions. Hence, it provides, for the first time, structural insights into this pharmaceutically-important target which are fully consistent with experimental data.
View Full-Text
►

▼

Figures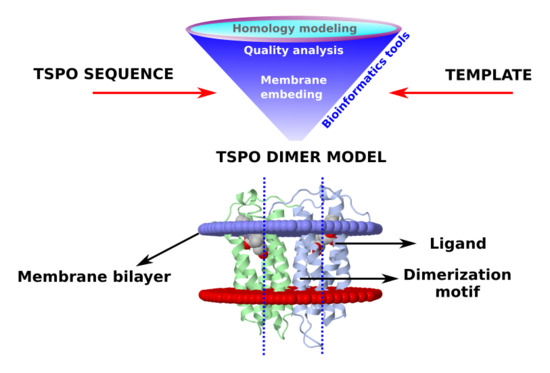 Graphical abstract
This is an open access article distributed under the
Creative Commons Attribution License
which permits unrestricted use, distribution, and reproduction in any medium, provided the original work is properly cited (CC BY 4.0).

Share & Cite This Article
MDPI and ACS Style
Zeng, J.; Guareschi, R.; Damre, M.; Cao, R.; Kless, A.; Neumaier, B.; Bauer, A.; Giorgetti, A.; Carloni, P.; Rossetti, G. Structural Prediction of the Dimeric Form of the Mammalian Translocator Membrane Protein TSPO: A Key Target for Brain Diagnostics. Int. J. Mol. Sci. 2018, 19, 2588.
Note that from the first issue of 2016, MDPI journals use article numbers instead of page numbers. See further details here.
Related Articles
Comments
[Return to top]