Impact of Spaceflight and Artificial Gravity on the Mouse Retina: Biochemical and Proteomic Analysis
1
Department of Basic Sciences, Division of Biomedical Engineering Sciences (BMES), Loma Linda University School of Medicine and Medical Center, Loma Linda, CA 92350, USA
2
Department of Biochemistry and Molecular Biology, University of Arkansas for Medical Sciences, Little Rock, AR 72205, USA.
3
Arkansas Children's Research Institute, Little Rock, AR 72202, USA
4
Division of Radiation Health, Department of Pharmaceutical Sciences, University of Arkansas for Medical Sciences, Little Rock, AR 72205, USA
5
JEM Utilization Center, Human Spaceflight Technology Directorate, JAXA, Tsukuba 305-8505, Japan
6
Department of Anatomy and Embryology, University of Tsukuba, Tsukuba 305-8575, Japan
7
Department of Nutrition, Food and Exercise Sciences, Florida State University, Tallahassee, FL 32306, USA
*
Author to whom correspondence should be addressed.
Received: 28 June 2018 / Revised: 22 August 2018 / Accepted: 24 August 2018 / Published: 28 August 2018
Abstract
Astronauts are reported to have experienced some impairment in visual acuity during their mission on the International Space Station (ISS) and after they returned to Earth. There is emerging evidence that changes in vision may involve alterations in ocular structure and function. To investigate possible mechanisms, changes in protein expression profiles and oxidative stress-associated apoptosis were examined in mouse ocular tissue after spaceflight. Nine-week-old male C57BL/6 mice (
n
= 12) were launched from the Kennedy Space Center on a SpaceX rocket to the ISS for a 35-day mission. The animals were housed in the mouse Habitat Cage Unit (HCU) in the Japan Aerospace Exploration Agency (JAXA) "Kibo" facility on the ISS. The flight mice lived either under an ambient microgravity condition (µg) or in a centrifugal habitat unit that produced 1
g
artificial gravity (µg + 1
g
). Habitat control (HC) and vivarium control mice lived on Earth in HCUs or normal vivarium cages, respectively. Quantitative assessment of ocular tissue demonstrated that the µg group induced significant apoptosis in the retina vascular endothelial cells compared to all other groups (
p
< 0.05) that was 64% greater than that in the HC group. Proteomic analysis showed that many key pathways responsible for cell death, cell repair, inflammation, and metabolic stress were significantly altered in µg mice compared to HC animals. Additionally, there were more significant changes in regulated protein expression in the µg group relative to that in the µg + 1
g
group. These data provide evidence that spaceflight induces retinal apoptosis of vascular endothelial cells and changes in retinal protein expression related to cellular structure, immune response and metabolic function, and that artificial gravity (AG) provides some protection against these changes. These retinal cellular responses may affect blood–retinal barrier (BRB) integrity, visual acuity, and impact the potential risk of developing late retinal degeneration.
View Full-Text
►

▼

Figures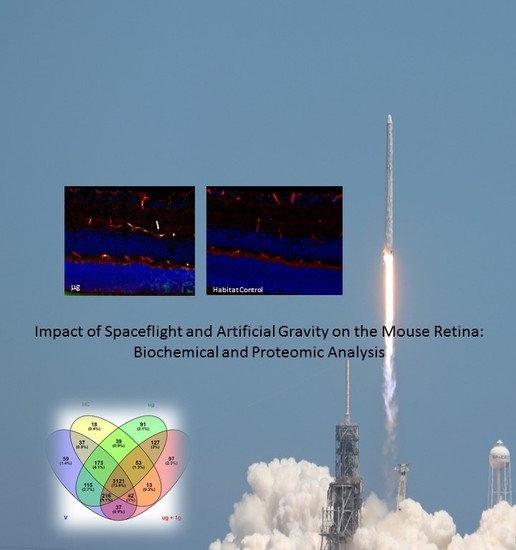 Graphical abstract
This is an open access article distributed under the
Creative Commons Attribution License
which permits unrestricted use, distribution, and reproduction in any medium, provided the original work is properly cited (CC BY 4.0).

Share & Cite This Article
MDPI and ACS Style
Mao, X.W.; Byrum, S.; Nishiyama, N.C.; Pecaut, M.J.; Sridharan, V.; Boerma, M.; Tackett, A.J.; Shiba, D.; Shirakawa, M.; Takahashi, S.; Delp, M.D. Impact of Spaceflight and Artificial Gravity on the Mouse Retina: Biochemical and Proteomic Analysis. Int. J. Mol. Sci. 2018, 19, 2546.
Note that from the first issue of 2016, MDPI journals use article numbers instead of page numbers. See further details here.
Related Articles
Comments
[Return to top]