Differentiation of Human Tonsil-Derived Mesenchymal Stem Cells into Schwann-Like Cells Improves Neuromuscular Function in a Mouse Model of Charcot-Marie-Tooth Disease Type 1A
1
Department of Biochemistry, College of Medicine, Ewha Womans University, Seoul 07985, Korea
2
Department of Biological Sciences, Kongju National University, Gongju 32588, Korea
3
Department of Neurology, Samsung Medical Center, Sungkyunkwan University School of Medicine, Seoul 06351, Korea
*
Author to whom correspondence should be addressed.
†
These authors contributed equally to this work.
Received: 21 June 2018 / Revised: 6 August 2018 / Accepted: 10 August 2018 / Published: 14 August 2018
Abstract
Charcot-Marie-Tooth disease type 1A (CMT1A) is the most common inherited motor and sensory neuropathy, and is caused by duplication of
PMP22
, alterations of which are a characteristic feature of demyelination. The clinical phenotype of CMT1A is determined by the degree of axonal loss, and patients suffer from progressive muscle weakness and impaired sensation. Therefore, we investigated the potential of Schwann-like cells differentiated from human tonsil-derived stem cells (T-MSCs) for use in neuromuscular regeneration in trembler-J (Tr-J) mice, a model of CMT1A. After differentiation, we confirmed the increased expression of Schwann cell (SC) markers, including glial fibrillary acidic protein (GFAP), nerve growth factor receptor (NGFR), S100 calcium-binding protein B (S100B), glial cell-derived neurotrophic factor (GDNF), and brain-derived neurotrophic factor (BDNF), which suggests the differentiation of T-MSCs into SCs (T-MSC-SCs). To test their functional efficiency, the T-MSC-SCs were transplanted into the caudal thigh muscle of Tr-J mice. Recipients' improved locomotive activity on a rotarod test, and their sciatic function index, which suggests that transplanted T-MSC-SCs ameliorated demyelination and atrophy of nerve and muscle in Tr-J mice. Histological and molecular analyses showed the possibility of in situ remyelination by T-MSC-SCs transplantation. These findings demonstrate that the transplantation of heterologous T-MSC-SCs induced neuromuscular regeneration in mice and suggest they could be useful for the therapeutic treatment of patients with CMT1A disease.
View Full-Text
►

▼

Figures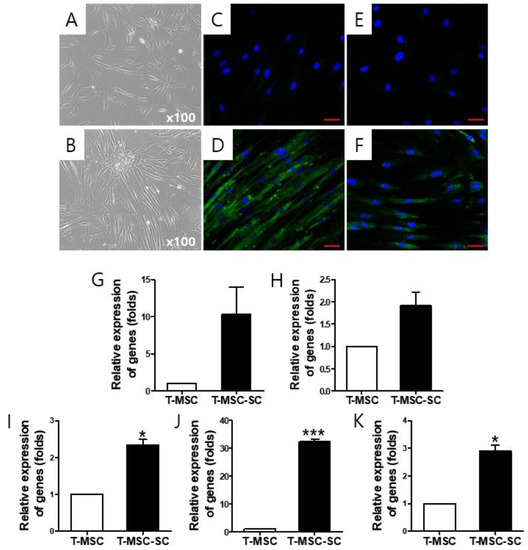 Figure 1
This is an open access article distributed under the
Creative Commons Attribution License
which permits unrestricted use, distribution, and reproduction in any medium, provided the original work is properly cited (CC BY 4.0).

Share & Cite This Article
MDPI and ACS Style
Park, S.; Jung, N.; Myung, S.; Choi, Y.; Chung, K.W.; Choi, B.-O.; Jung, S.-C. Differentiation of Human Tonsil-Derived Mesenchymal Stem Cells into Schwann-Like Cells Improves Neuromuscular Function in a Mouse Model of Charcot-Marie-Tooth Disease Type 1A. Int. J. Mol. Sci. 2018, 19, 2393.
Note that from the first issue of 2016, MDPI journals use article numbers instead of page numbers. See further details here.
Related Articles
Comments
[Return to top]