Prostanoid EP2 Receptors Are Up-Regulated in Human Pulmonary Arterial Hypertension: A Key Anti-Proliferative Target for Treprostinil in Smooth Muscle Cells
1
Institute of Cardiovascular Science, University College London, London WC1E 6JF, UK
2
Infectious Diseases and Immunity, University College London, London WC1N 1EH, UK
3
INSERM U1148, CHU X. Bichat, Paris Cedex 18, 75877 Paris, France
4
Respiratory Centre for Inflammation and Tissue Repair, University College London, London WC1E 6JF, UK
5
Paediatric Cardiology, Great Ormond Street Hospital, London WC1N 3JH, UK
6
United Therapeutics Corporation, Research Triangle Park, NC 27709, USA
7
William Harvey Research Institute, Queen Mary University of London, London EC1M 6BQ, UK
*
Author to whom correspondence should be addressed.
Received: 18 July 2018 / Revised: 8 August 2018 / Accepted: 9 August 2018 / Published: 12 August 2018
Abstract
Prostacyclins are extensively used to treat pulmonary arterial hypertension (PAH), a life-threatening disease involving the progressive thickening of small pulmonary arteries. Although these agents are considered to act therapeutically via the prostanoid IP receptor, treprostinil is the only prostacyclin mimetic that potently binds to the prostanoid EP
2
receptor, the role of which is unknown in PAH. We hypothesised that EP
2
receptors contribute to the anti-proliferative effects of treprostinil in human pulmonary arterial smooth muscle cells (PASMCs), contrasting with selexipag, a non-prostanoid selective IP agonist. Human PASMCs from PAH patients were used to assess prostanoid receptor expression, cell proliferation, and cyclic adenosine monophosphate (cAMP) levels following the addition of agonists, antagonists or EP
2
receptor small interfering RNAs (siRNAs). Immunohistochemical staining was performed in lung sections from control and PAH patients. We demonstrate using selective IP (RO1138452) and EP
2
(PF-04418948) antagonists that the anti-proliferative actions of treprostinil depend largely on EP
2
receptors rather than IP receptors, unlike MRE-269 (selexipag-active metabolite). Likewise, EP
2
receptor knockdown selectively reduced the functional responses to treprostinil but not MRE-269. Furthermore, EP
2
receptor levels were enhanced in human PASMCs and in lung sections from PAH patients compared to controls. Thus, EP
2
receptors represent a novel therapeutic target for treprostinil, highlighting key pharmacological differences between prostacyclin mimetics used in PAH.
View Full-Text
►

▼

Figures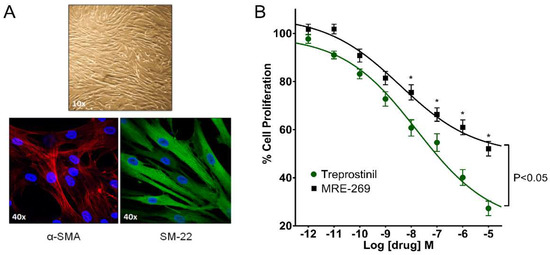 Figure 1
This is an open access article distributed under the
Creative Commons Attribution License
which permits unrestricted use, distribution, and reproduction in any medium, provided the original work is properly cited (CC BY 4.0).

Share & Cite This Article
MDPI and ACS Style
Patel, J.A.; Shen, L.; Hall, S.M.; Benyahia, C.; Norel, X.; McAnulty, R.J.; Moledina, S.; Silverstein, A.M.; Whittle, B.J.; Clapp, L.H. Prostanoid EP2 Receptors Are Up-Regulated in Human Pulmonary Arterial Hypertension: A Key Anti-Proliferative Target for Treprostinil in Smooth Muscle Cells. Int. J. Mol. Sci. 2018, 19, 2372.
Note that from the first issue of 2016, MDPI journals use article numbers instead of page numbers. See further details here.
Related Articles
Comments
[Return to top]