Differences in Functional Expression of Connexin43 and NaV1.5 by Pan- and Class-Selective Histone Deacetylase Inhibition in Heart
1
Department of Pharmacology, State University of New York (SUNY) Upstate Medical University, Syracuse, NY 13210, USA
2
Department of Cell and Molecular Biology, SUNY Upstate Medical University, Syracuse, NY 13210, USA
*
Author to whom correspondence should be addressed.
†
Current Address: Department of Psychiatry, Brain Research Center, The University of British Columbia, 2255 Wesbrook Mall, Vancouver, BC V6T 1Z3, Canada.
Received: 15 July 2018 / Revised: 1 August 2018 / Accepted: 2 August 2018 / Published: 4 August 2018
Abstract
Class-selective histone deacetylase (HDAC) inhibitors were designed to improve safety profiles and therapeutic effectiveness in the treatment of multiple cancers relative to pan-HDAC inhibitors. However, the underlying mechanisms for their therapeutic and cardiotoxic potentials remain poorly understood. Cardiac sodium currents (I
Na
) and gap junction conductance (g
j
) were measured by whole cell patch clamp techniques on primary cultures of neonatal cardiomyocytes. Cardiac Na
V
1.5 sodium channel and connexin43 (Cx43) gap junction protein levels were assessed by Western blot analyses. Panobinostat produced concentration-dependent reductions in ventricular g
j
, peak I
Na
density, and Na
V
1.5 protein expression levels. Membrane voltage (V
m
)-dependent activation of I
Na
was shifted by +3 to 6 mV with no effect on inactivation. Entinostat (1 μM) did not affect ventricular g
j
, peak I
Na
density, or I
Na
activation. However, the I
Na
half-inactivation voltage (V
½
) was shifted by −3.5 mV. Ricolinostat had only minor effects on ventricular g
j
and I
Na
properties, though I
Na
activation was shifted by −4 mV. Cx43 and Na
V
1.5 protein expression levels were not altered by class-selective HDAC inhibitors. The lack of effects of class-selective HDAC inhibitors on ventricular g
j
and I
Na
may help explain the improved cardiac safety profile of entinostat and ricolinostat.
View Full-Text
►

▼

Figures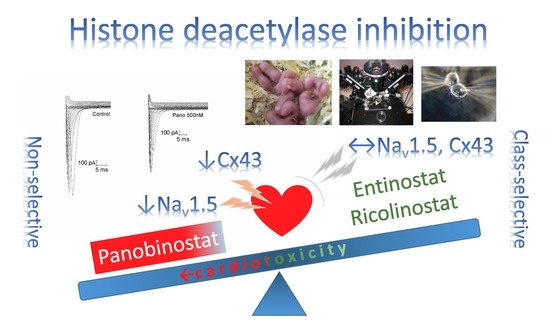 Graphical abstract
This is an open access article distributed under the
Creative Commons Attribution License
which permits unrestricted use, distribution, and reproduction in any medium, provided the original work is properly cited (CC BY 4.0).

Share & Cite This Article
MDPI and ACS Style
Zhang, X.; Patel, D.; Xu, Q.; Veenstra, R. Differences in Functional Expression of Connexin43 and NaV1.5 by Pan- and Class-Selective Histone Deacetylase Inhibition in Heart. Int. J. Mol. Sci. 2018, 19, 2288.
Note that from the first issue of 2016, MDPI journals use article numbers instead of page numbers. See further details here.
Related Articles
Comments
[Return to top]