The Effect of GPRC5a on the Proliferation, Migration Ability, Chemotherapy Resistance, and Phosphorylation of GSK-3β in Pancreatic Cancer
Department of Surgery, Universitätsklinikum Erlangen, Krankenhausstraße 12, 91054 Erlangen, Germany
*
Author to whom correspondence should be addressed.
Received: 29 April 2018 / Revised: 17 June 2018 / Accepted: 25 June 2018 / Published: 26 June 2018
Abstract
Pancreatic cancer (PaCa) is the fourth leading cause of cancer-related death, and personalized targeted cancer therapy is becoming a promising treatment strategy for PaCa. The central approach of targeted therapy is to find a targetable key and an effective targeting method. In this study, the importance of
GPRC5a
(the G-protein-coupled receptor family C, member 5, group A) was identified using data mining methods based on published datasets. After analysis of the basic expression of
GPRC5a
in normal pancreas tissue and various PaCa cell lines, gene editing of
GPRC5a
in the human PaCa cell line MIA PaCa-2 and the mouse PaCa cell line TB32047 was performed using CRISPR/Cas9 (Clustered Regularly Interspaced Short Palindromic Repeats/CRISPR-associated proteins 9) to investigate the influence of
GPRC5a
on the proliferation and migration of PaCa cells as well as its effects on chemotherapy drug resistance. The results showed that
GPRC5a
was upregulated in PaCa tissues and various PaCa cell lines. Knockout of
GPRC5a
reduced the proliferation and migration ability of PaCa cell lines and suppressed the chemotherapy drug resistance of gemcitabine, oxaliplatin, and fluorouracil in PaCa cells. The phosphorylation of GSK-3β (Glycogen synthase kinase-3β) was found to be upregulated in the MIA PaCa-2 and TB32047 cells after
GPRC5a
knockout. In conclusion,
GPRC5a
was upregulated in PaCa leading to an enhanced drug resistance in PaCa cells. These results provide for the first time a theoretical basis for the development of an improved PaCa targeted therapy.
View Full-Text
►

▼

Figures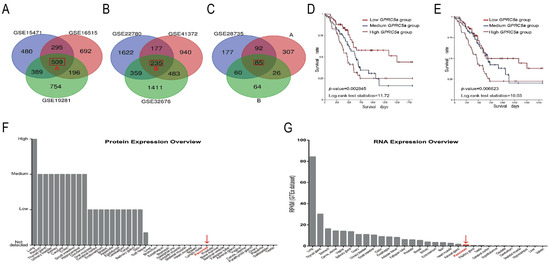 Figure 1
This is an open access article distributed under the
Creative Commons Attribution License
which permits unrestricted use, distribution, and reproduction in any medium, provided the original work is properly cited (CC BY 4.0).

Share & Cite This Article
MDPI and ACS Style
Liu, B.; Yang, H.; Pilarsky, C.; Weber, G.F. The Effect of GPRC5a on the Proliferation, Migration Ability, Chemotherapy Resistance, and Phosphorylation of GSK-3β in Pancreatic Cancer. Int. J. Mol. Sci. 2018, 19, 1870.
Note that from the first issue of 2016, MDPI journals use article numbers instead of page numbers. See further details here.
Related Articles
Comments
[Return to top]