Ethyl Acetate Fraction from Persimmon (
Diospyros kaki

) Ameliorates Cerebral Neuronal Loss and Cognitive Deficit via the JNK/Akt Pathway in TMT-Induced Mice

1

Division of Applied Life Science (BK21 plus), Institute of Agriculture and Life Science, Gyeongsang National University, Jinju 52828, Korea

2

Division of Special Forest Products, National Institute of Forest Science, Suwon 16631, Korea

*

Author to whom correspondence should be addressed.

Received: 23 April 2018 / Revised: 11 May 2018 / Accepted: 11 May 2018 / Published: 17 May 2018
Abstract
This study was conducted to assess the antioxidant capacity and protective effect of the ethyl acetate fraction from persimmon (
Diospyros kaki
) (EFDK) on H
2
O
2
-induced hippocampal HT22 cells and trimethyltin chloride (TMT)-induced Institute of Cancer Research (ICR) mice. EFDK had high antioxidant activities and neuroprotective effects in HT22 cells. EFDK ameliorated behavioral and memory deficits in Y-maze, passive avoidance and Morris water maze tests. Also, EFDK restored the antioxidant system by regulating malondialdehyde (MDA), superoxide dismutase (SOD) and reduced gluthathione (GSH), and the cholinergic system by controlling the acetylcholine (ACh) level and acetylcholinesterase (AChE) activity and expression. EFDK enhanced mitochondrial function by regulating reactive oxygen species (ROS) production, mitochondrial membrane potential (MMP), and adenosine triphosphate (ATP). Ultimately, EFDK regulated the c-Jun N-terminal kinase (JNK)/protein kinase B (Akt) pathway and apoptotic pathway by suppressing the expression of tumor necrosis factor-alpha (TNF-α), phosphorylated insulin receptor substrate 1 (IRS-1pSer), phosphorylated JNK (p-JNK), phosphorylated tau (p-tau), phosphorylated nuclear factor kappa-light-chain-enhancer of activated B cells (p-NF-κB), Bcl-2-associated X protein (BAX) and cytosolic cytochrome c, and increasing the expression of phosphorylated Akt (p-Akt) and mitochondrial cytochrome c. This study suggested that EFDK had antioxidant activity and a neuroprotective effect, and ameliorated cognitive abnormalities in TMT-induced mice by regulating the JNK/Akt and apoptotic pathway.
View Full-Text
►

▼

Figures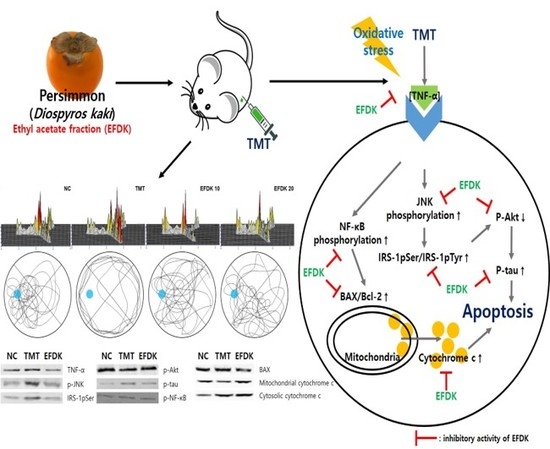 Graphical abstract
This is an open access article distributed under the
Creative Commons Attribution License
which permits unrestricted use, distribution, and reproduction in any medium, provided the original work is properly cited (CC BY 4.0).

Share & Cite This Article
MDPI and ACS Style
Kim, J.M.; Park, S.K.; Kang, J.Y.; Park, S.B.; Yoo, S.K.; Han, H.J.; Kim, C.-W.; Lee, U.; Kim, S.-H.; Heo, H.J. Ethyl Acetate Fraction from Persimmon (Diospyros kaki) Ameliorates Cerebral Neuronal Loss and Cognitive Deficit via the JNK/Akt Pathway in TMT-Induced Mice. Int. J. Mol. Sci. 2018, 19, 1499.
Note that from the first issue of 2016, MDPI journals use article numbers instead of page numbers. See further details here.
Related Articles
Comments
[Return to top]