Administration of Oxygen Ultra-Fine Bubbles Improves Nerve Dysfunction in a Rat Sciatic Nerve Crush Injury Model
1
Department of Orthopaedic Surgery, Osaka University Graduate School of Medicine, 2-2 Yamadaoka, Suita 565-0871, Osaka, Japan
2
Department of Orthopaedic Surgery, National Hospital Organization, Osaka Minami Medical Center, 2-1 Kidohigashi, Kawachinagano 586-8521, Osaka, Japan
3
Department of Orthopaedic Surgery, Kansai Rosai Hospital, 3-1-69, Inabaso, Amagasaki 660-0064, Hyogo, Japan
*
Author to whom correspondence should be addressed.
Received: 8 April 2018 / Revised: 29 April 2018 / Accepted: 3 May 2018 / Published: 7 May 2018
Abstract
Ultra-fine bubbles (<200 nm in diameter) have several unique properties and have been tested in various medical fields. The purpose of this study was to investigate the effects of oxygen ultra-fine bubbles (OUBs) on a sciatic nerve crush injury (SNC) model rats. Rats were intraperitoneally injected with 1.5 mL saline, OUBs diluted in saline, or nitrogen ultra-fine bubbles (NUBs) diluted in saline three times per week for 4 weeks in four groups: (1) control, (sham operation + saline); (2) SNC, (crush + saline); (3) SNC+OUB, (crush + OUB-saline); (4) SNC+NUB, (crush + NUB-saline). The effects of the OUBs on dorsal root ganglion (DRG) neurons and Schwann cells (SCs) were examined by serial dilution of OUB medium in vitro. Sciatic functional index, paw withdrawal thresholds, nerve conduction velocity, and myelinated axons were significantly decreased in the SNC group compared to the control group; these parameters were significantly improved in the SNC+OUB group, although NUB treatment did not affect these parameters. In vitro, OUBs significantly promoted neurite outgrowth in DRG neurons by activating AKT signaling and SC proliferation by activating ERK1/2 and JNK/c-JUN signaling. OUBs may improve nerve dysfunction in SNC rats by promoting neurite outgrowth in DRG neurons and SC proliferation.
View Full-Text
►

▼

Figures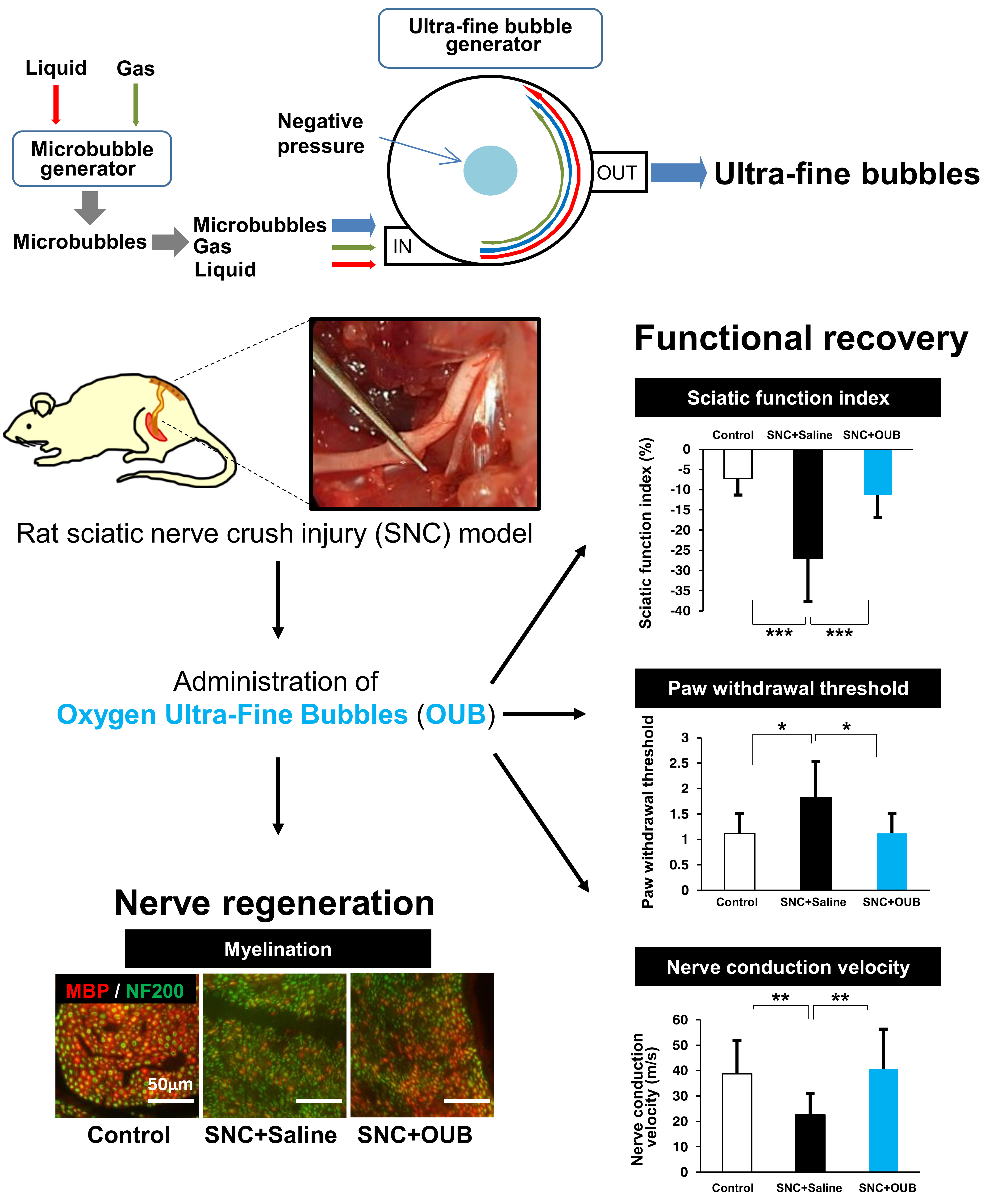 Graphical abstract
This is an open access article distributed under the
Creative Commons Attribution License
which permits unrestricted use, distribution, and reproduction in any medium, provided the original work is properly cited (CC BY 4.0).

Share & Cite This Article
MDPI and ACS Style
Matsuoka, H.; Ebina, K.; Tanaka, H.; Hirao, M.; Iwahashi, T.; Noguchi, T.; Suzuki, K.; Nishimoto, S.; Murase, T.; Yoshikawa, H. Administration of Oxygen Ultra-Fine Bubbles Improves Nerve Dysfunction in a Rat Sciatic Nerve Crush Injury Model. Int. J. Mol. Sci. 2018, 19, 1395.
Note that from the first issue of 2016, MDPI journals use article numbers instead of page numbers. See further details here.
Related Articles
Comments
[Return to top]