Open Access This article is
freely available
re-usable
Article
Dietary α-Mangostin Provides Protective Effects against Acetaminophen-Induced Hepatotoxicity in Mice via Akt/mTOR-Mediated Inhibition of Autophagy and Apoptosis
1
College of Chinese Medicinal Materials, Jilin Agricultural University, Changchun 130118, China
2
Institute of Special Wild Economic Animals and Plant, CAAS, Changchun 132109, China
3
College of Pharmacy, Guangxi University of Chinese Medicine, Nanning 530011, China
4
School of Biomedical Sciences, University of Queensland, Brisbane 4072, Australia
*
Author to whom correspondence should be addressed.
Received: 30 March 2018 / Accepted: 26 April 2018 / Published: 1 May 2018
Abstract
:
Acetaminophen overdose-induced hepatotoxicity is the most common cause of acute liver failure in many countries. Previously, alpha-mangostin (α-MG) has been confirmed to exert protective effects on a variety of liver injuries, but the protective effect on acetaminophen-induced acute liver injury (ALI) remains largely unknown. This work investigated the regulatory effect and underlying cellular mechanisms of α-MG action to attenuate acetaminophen-induced hepatotoxicity in mice. The increased serum aminotransferase levels and glutathione (GSH) content and reduced malondialdehyde (MDA) demonstrated the protective effect of α-MG against acetaminophen-induced hepatotoxicity. In addition, α-MG pretreatment inhibited increases in tumor necrosis factor (TNF-α) and interleukin-1β (IL-1β) caused by exposure of mice to acetaminophen. In liver tissues, α-MG inhibited the protein expression of autophagy-related microtubule-associated protein light chain 3 (LC3) and BCL2/adenovirus E1B protein-interacting protein 3 (BNIP3). Western blotting analysis of liver tissues also proved evidence that α-MG partially inhibited the activation of apoptotic signaling pathways via increasing the expression of Bcl-2 and decreasing Bax and cleaved caspase 3 proteins. In addition, α-MG could in part downregulate the increase in p62 level and upregulate the decrease in p-mTOR, p-AKT and LC3 II /LC3 I ratio in autophagy signaling pathways in the mouse liver. Taken together, our findings proved novel perspectives that detoxification effect of α-MG on acetaminophen-induced ALI might be due to the alterations in Akt/mTOR pathway in the liver.
Keywords:
α-mangostin; acetaminophen; acute liver injury; apoptosis; autophagy
2. Materials and Methods
2.1. Chemicals and Reagents
APAP was obtained from Sigma-Aldrich (St. Louis, MO, USA). The commercial assay kits for AST, ALT, MDA, GSH, and hematoxylin and eosin (H&E) dye kits were purchased from Nanjing Jiancheng Bioengineering Research Institute (Nanjing, China). ELISA kits for mouse TNF-α and IL-1β were obtained from R&D Systems (Minneapolis, MN, USA). The apoptosis detection kit of terminal dUTP nick-end labeling (TUNEL) staining was bought from Beyotime Biotechnology (Shanghai, China). Antibodies against rabbit proteins as anti-LC3, anti-cleaved caspase 3, anti-p-Akt, anti-p62, anti-BNIP3, and anti-mTOR were acquired from Cell Signaling Technology (Danvers, MA, USA). Antibody anti-mouse-β-actin was provided by Proteintech (Rosemont, IL, USA). Antibodies anti-mouse caspase 3, rabbit anti-Bax, and rabbit anti-Bcl-2 were obtained from Abcam (Cambridge, UK). SABC-DyLight 488 was purchased from BOSTER Biological Technology Co., Ltd. (Wuhan, China).
2.2. Plant Material and Preparation of α-MG from Mangosteen Pericarp
Mangosteen was purchased from Carrefour in Changchun and authenticated by Prof. Wei Li from College of Chinese Medicinal Materials, Jilin Agricultural University. Voucher specimens were deposited in the herbarium in the College of Chinese Medicinal Materials, Jilin Agricultural University, Changchun. α-MG was extracted from the pericarp of mangosteen and quantified in our laboratory. Briefly, the pericarp of the fruits was dried at 50 °C and then pulverized into a homogeneous size by a disintegrator (HX-200A, Yongkang Hardware and Medical Instrument Plant, China) and then sieved (30–40 mesh). The dried mangosteen pericarp powder (20 g) was extracted with 200 mL of 85% ethanol for 5 min, twice by smashing tissue extraction (STE). Then, the filtered solution was concentrated to dryness under a vacuum at 50 °C. The product was dissolved in 25 mL methanol, and then the supernatant was filtered through 0.45 μm nylon filter and analyzed for the quantification of α-MG content by the HPLC method. In the present study, ultrasound-assisted extraction (USE) and ultrasonic-assisted enzymatic extraction (UEE) were compared with STE on the extraction yield of α-mangostin from the pericarp of mangosteen. Under optimal conditions, the extraction yield of α-MG obtained using the above STE method was significantly higher than those using USE and UEE methods. The extraction yield of α-MG was 4.1% (
Figure 1
C). The purity of α-MG was determined by the HPLC method to be more than 98%.
2.3. Animals and Experimental Design
Male ICR mice (Body weight 26.2 ± 1.5 g, 8 weeks old) were obtained from YISI Experimental Animal Holding with a Certificate of Quality No. SCXK-JI-2017-0018 (Changchun, China) and maintained at 23.0 ±2.0 °C with 50–70% humidity on a 12 h light–dark cycle with free access to food and water. All experimental animals program were strictly performed according to the Guide for the Care and Use of Laboratory Animals (2016). All the animal experiments were approved by the Ethical Committee for Laboratory Animals of Jilin Agricultural University (Permit No.: ECLA-JLAU-17091).
After acclimation for one week, the mice were randomly divided into four groups (
n
= 8): normal group, APAP group, APAP and two doses of α-MG groups (100 and 200 mg/kg body weight, respectively). α-MG exact was suspended in 0.05% carboxymethylcellulose sodium (CMC-Na). α-MG was administered intragastrically to mice in α-MG groups for seven consecutive days. In the meantime, the normal and APAP groups were administered with 0.05% CMC-Na. On the sixth day, a single dose of APAP (250 mg/kg, dissolved in warm water) was injected into mice in APAP and α-MG groups after 1 h from the last administration to induce acute hepatotoxicity. All mice were killed 24 h after APAP exposure. And at the same time, the experimental mice in normal group were received with 0.05% CMC-Na. Serum samples were collected for analysis of biochemical parameters. Liver samples were collected and used for measurement of GSH content, MDA level, and Western blotting analysis. Parts of liver samples were fixed in formalin for histological examination and immunofluorescence analysis.
2.4. Determination of α-MG by HPLC
The detection of α-MG content was performed using HPLC assay method as described previously with minor modifications [
22
]. Briefly, HPLC analysis was performed using a Waters LC system (Milford Massachusetts, USA) equipped with a Waters TM600 pump and controller, and a Waters TM2487 intelligent UV-vis detector as well as Millennium 32 system software. Chromatographic separation was performed on YMC-C18 reverse-phase column (YMC-Pack ODS-A 150 mm × 6.0 mm I.D. S-5 μm, 12 nm). The mobile phase consisted of acetonitrile–water (85:15). The UV detector was set at a wavelength of 280 nm. The flow rate was 1.0 mL/min, injection volume was 5.0 μL, and column temperature was maintained at 30 °C.
2.5. Analysis of Histology Changes and TUNEL Assay
For the histology examination, liver samples were fixed immediately with neutral buffered formalin solution. Liver sections (5 μm thickness) were prepared from paraffin-embedded tissue and subjected to H&E staining for further histological analysis under a light microscope (100× and 400×) [
23
]. The necrotic degree (as a percentage of the total area) was assessed by the necrotic area, inflammatory cell infiltration degree, and congestion relative to the entire histological sections. The results were expressed as necrosis scores.
The TUNEL assay was performed by in situ apoptosis detection kits (Beyotime Biotechnology, China) to detect hepatocyte apoptosis in liver tissues according to the manufacturer's instructions. Firstly, the liver sections (5 μm thickness) were permeabilized by incubating with 100 μL of 20 µg/mL proteinase K solution for 15 min. Then, the sections were incubated with 100 μL of 0.3% H2O2 for 5 min and incubated by equilibration buffer and terminal deoxynucleotidyl transferase to inactivate endogenous peroxidase. Then, anti-digoxigenin–peroxidase conjugate was employed to incubate the sections. Finally, the utilization of diaminobenzidine demonstrated peroxidase activity and the slices were counterstained with hematoxylin. The results were scored semi-quantitatively at magnification ×400 with Image Pro Plus software.
2.6. Analysis of Immunofluorescence Staining
The tissue samples were deparaffinized and rehydrated, then treated with citrate buffer solution (0.01 M, pH 6.0) for 20 min [
24
]. After washing with PBS for three times, the sections were incubated with 1% bovine serum albumin (BSA) for 10 min to block non-specific binding at room temperature. Thereafter, the liver sections were incubated at 4°C overnight with primary antibodies including rabbit anti-BNIP3 antibody (1:200 dilution) and rabbit anti-LC3 antibody (1:200 dilution) followed by secondary antibody for 30 min. After washing with PBS for three times, the slices were incubated with DyLight 488 after 12 h at 37 °C. Then, nuclear structures were exposed to 4,6 diamidino-2-phenylindole (DAPI) staining. Images were captured by a Leica microscope (Leica TCS SP8, Solms, Germany).
2.7. Estimation of Lipid Peroxidation and Biochemical Parameters
The levels of GSH and MDA were analyzed using commercial reagent kits according to the manufacturer's protocols. Samples containing lipid peroxidation were mixed with Thibabituric Acid (TBA) to form red mixture. The absorbance of the sample was detected at 532 nm. Frozen tissues were homogenized and centrifuged (3500 r for 5 min) to separate the supernatant. Hepatic GSH were react with 5,5′-Dithiobis-(2-nitrobenzoic acid) (DTNB) solution to produce a yellow compound.
Serum ALT and AST were detected spectrophotomerically using commercial reagent kits (Jiancheng, Nanjing, China).
2.8. Measurement of Serum Inflammatory Markers TNF-α and IL-1β
The concentrations of TNF-α and IL-1β in serum were detected by commercial ELISA kits measured at 450 nm for absorbance following the manufacturer's instructions.
2.9. Western Blotting Analysis
The total protein of liver tissues was prepared using RIPA buffer (1:10, g/v). The protein concentration of liver tissues was quantitative using the tissue BCA protein assay kit (Beyotime Biotechnology, China) based on the manufacturer's instruction. The protein samples were loaded in 12% SDS-PAGE gel and transferred to PVDF membrane. After blocking in 5% non-fat dry milk in Tris-buffered saline-T (TBST, 0.1% Tween-20 in TBS) for 1 h, the membranes was incubated overnight at 4 °C with primary antibodies including Bax (1:2000 dilution), Bcl-2 (1:2000 dilution), caspase 3 (1:2000 dilution), cleaved caspase 3 (1:1000 dilution), mTOR (1:500 dilution), p-mTOR (1:1000 dilution), Akt (1:1000 dilution), p-Akt (1:1000 dilution), p62 (1:500 dilution), LC3 II / I (1:1000 dilution), and β-actin (1:1000 dilution). After washing with TBST three times, the membranes were incubated for 1.5 h with the secondary antibodies. The protein bands were measured using Quantity One software (Bio-Rad Laboratories, Hercules, CA, USA).
2.10. Statistical Analysis and Data Presentation
All data are expressed as mean ± SD. The statistical significance of mean values was assessed using Student
t
-test and one-way ANOVA, followed by a Bonferroni post hoc test. Statistics were performed using GraphPad Prism 6.0.4 software.
p
< 0.05,
p
< 0.01 or
p
< 0.001 were defined as statistically significant.
Author Contributions
W.L. conceived and designed the experiments; X.-t.Y. performed the experiments; S.R., L.-c.Z. and W.-c.L. contributed analysis tools; X.-t.Y. and Y.-s.S. wrote the paper. C.C. and Z.W. contributed to the improvement of the writing. All authors reviewed and approved the contents of the manuscript.
Acknowledgments
This work was funded by grants from the Scientific Research Foundation for the Returned Overseas Chinese Scholars (Jilin Province, 2015), Jilin Science & Technology Development Plan (No. 20160209008YY), and the Program for the Young Top-notch and Innovative Talents of Jilin Agricultural University (2016–2018).
Conflicts of Interest
The authors declare no conflict of interest.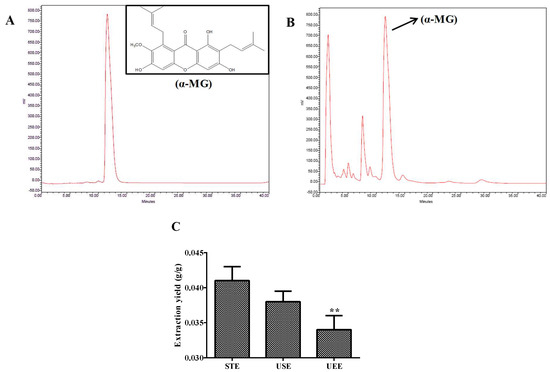 Figure 1.
HPLC analysis of an extract obtained by STE of mangosteen pericarp. (
A
) The standard of α-mangostin; (
B
) α-mangostin in the HPLC; (
C
) comparison of different extraction techniques. All data are expressed as mean ± S.D.,
n
= 3. **
p
< 0.01 vs. STE method.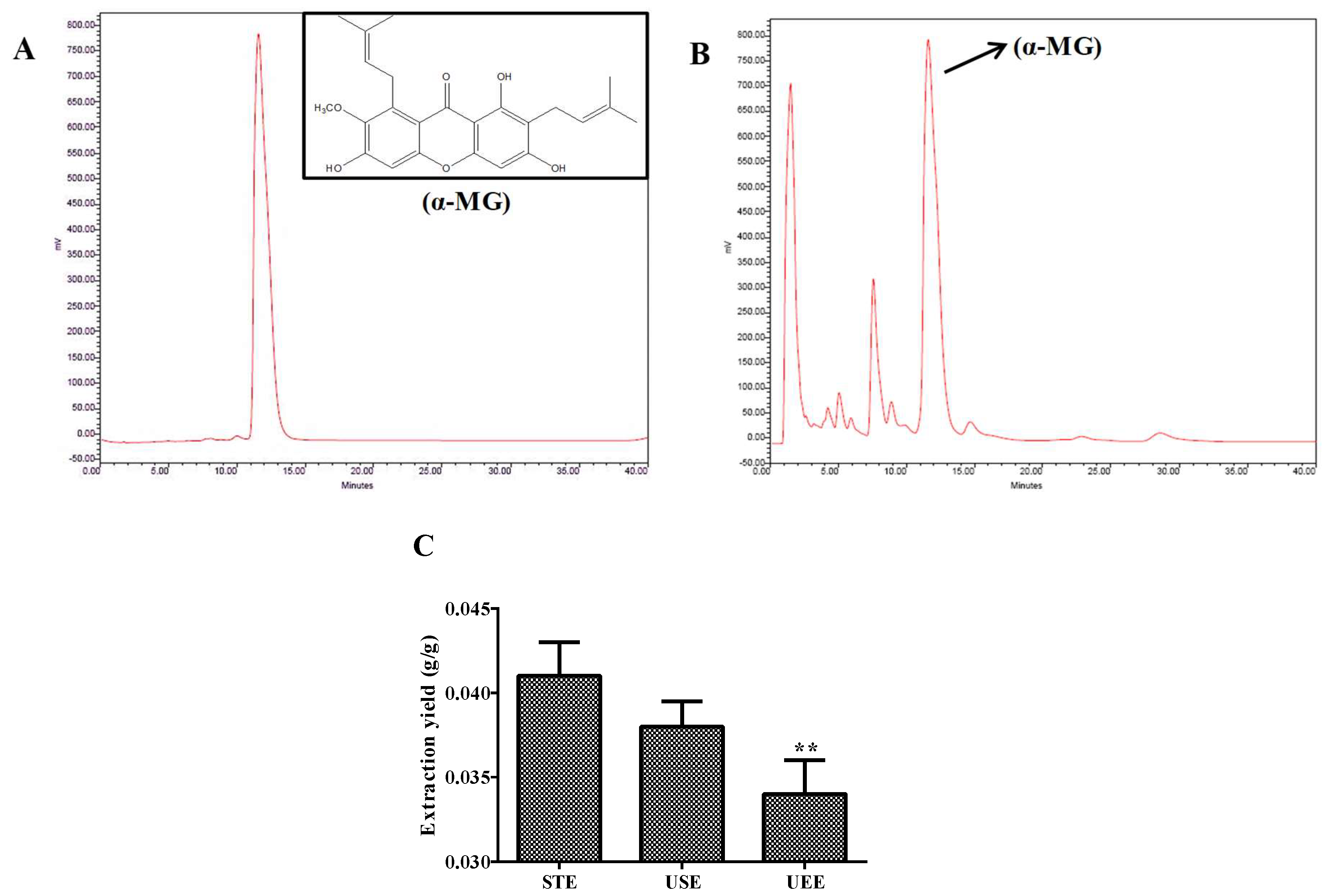 Figure 2.
Inhibition of APAP-induced acute liver injury by α-MG. Representative sections of liver stained with hematoxylin and eosin (H&E), (100×, 400×) for histopathological observations. Hepatocellular necrosis was marked by arrows (
A
). The degrees of damage were accessed by necrosis scores (
C
). Analysis of apoptosis in mice was evaluated by TUNEL staining (
B
). Representative liver sections were stained with TUNEL (400×). The TUNEL positive cells percentage is shown in (
D
); All data are expressed as mean ± S.D.,
n
= 8. **
p
< 0.01 vs. normal group; ##
p
< 0.01 or #
p
< 0.05 vs. APAP group.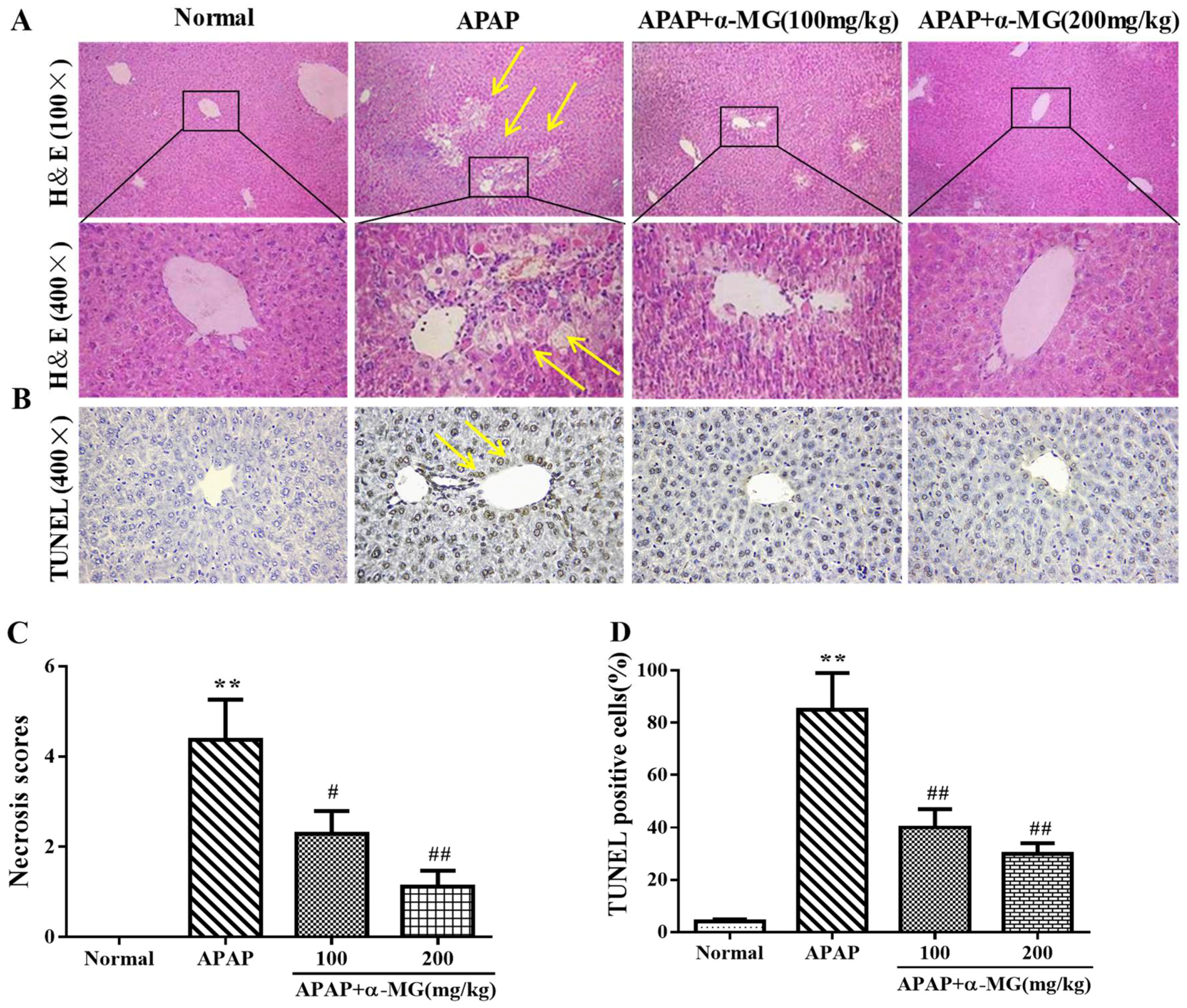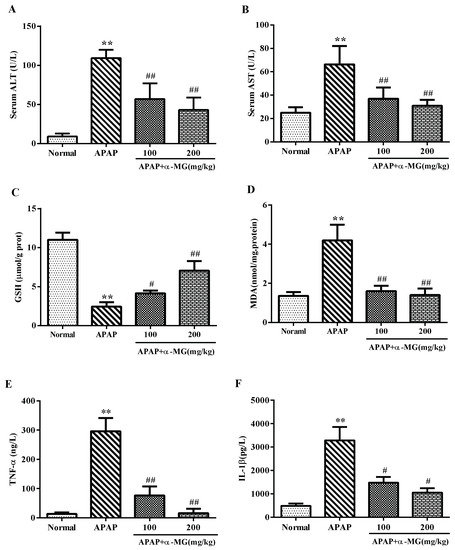 Figure 3.
Effects of α-MG on serum enzyme activity, oxidative stress, and inflammatory responses. ALT (
A
); AST (
B
); GSH (
C
); MDA (
D
); TNF-α (
E
) and IL-1β (
F
) levels from mice in each experimental group were determined by commercial kits. All data are expressed as mean ± S.D.,
n
= 8. ***
p
< 0.001 or **
p
< 0.01 vs. normal group; ###
p
< 0.01 or ##
p
< 0.01 vs. APAP group.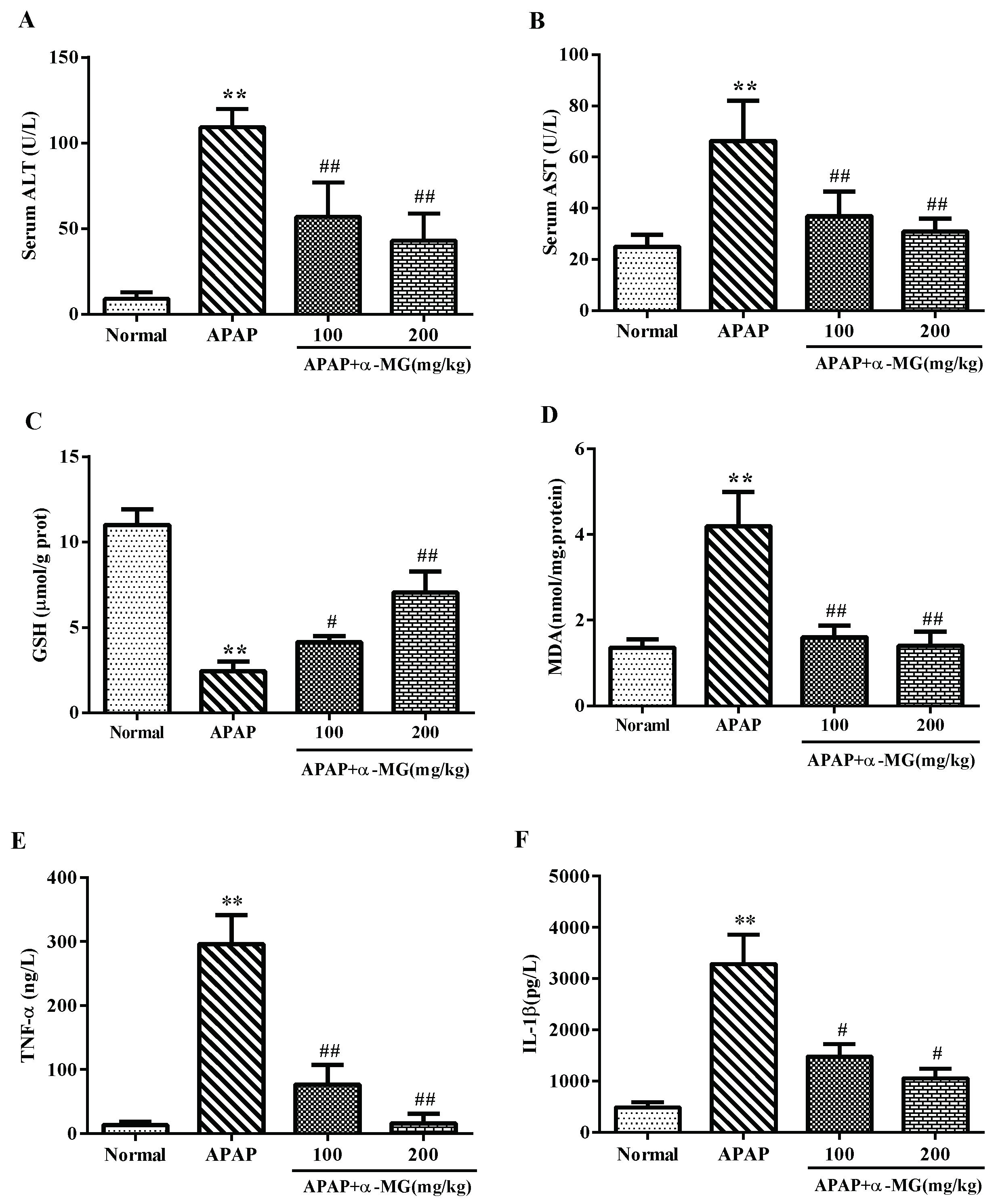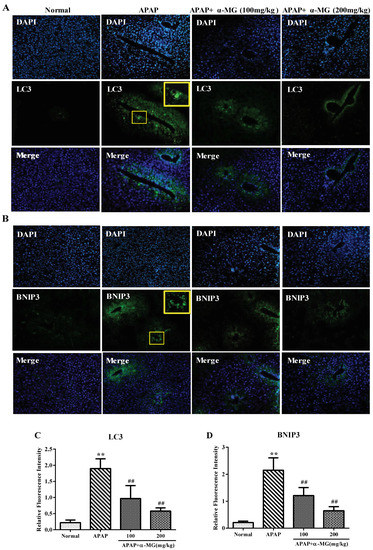 Figure 4.
Inhibition of APAP-induced autophagy by α-MG. The expression of LC3 (
A
) and BNIP3 (
B
) in liver tissues from each experimental group was determined by immunofluorescence; The fluorescence intensity of LC3 (
C
) and BNIP3 (
D
) (green fluorescent) was accessed by photodensitometry. Representative immunofluorescence images were taken at 200×. DAPI (4′,6-diamidino-2-phenylindole4, blue) was used as a nuclear counterstain. All data are expressed as mean ± S.D.,
n
= 8. **
p
< 0.01 vs. normal group; ##
p
< 0.01 vs. APAP group.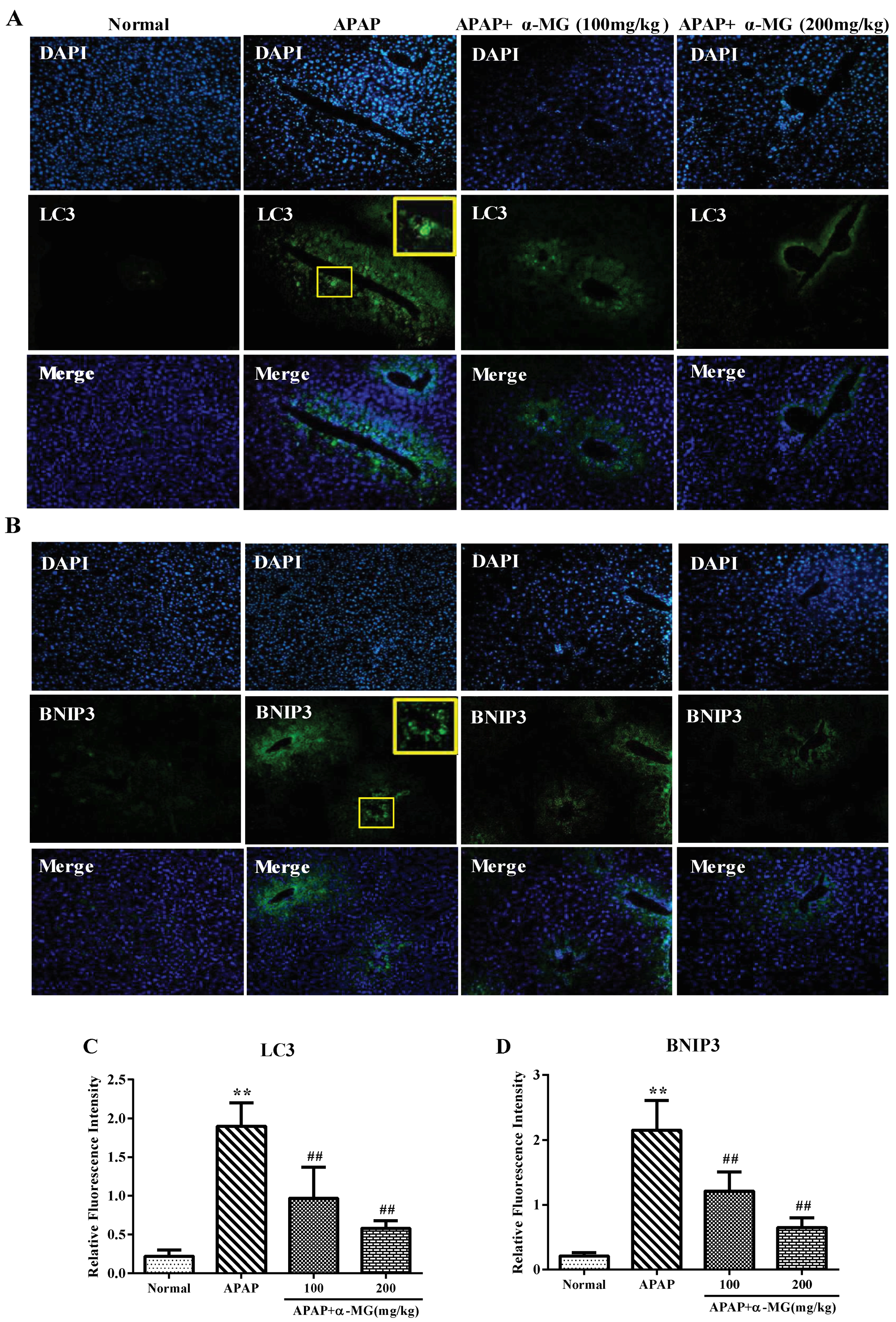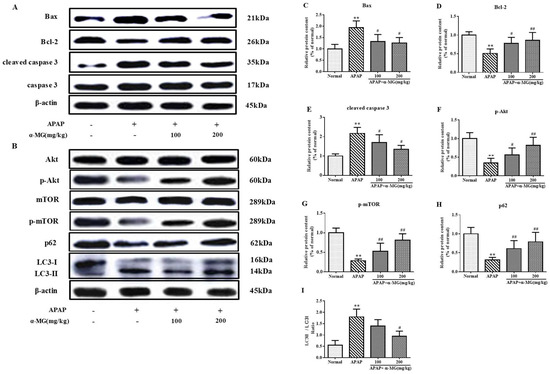 Figure 5.
Suppression of apoptotic and autophagic pathway by α-MG using Western blotting analysis. The intensity of Bax, Bcl-2, caspase 3, cleaved caspase 3, Akt, p-Akt, m-TOR, p-m-TOR, p62 and LC3 II /LC3 I ratio were standardized to that of β-actin (
A
,
B
); Quantitative analysis of scanning densitometry for Bax (
C
); Bcl-2 (
D
); cleaved caspase 3 (
E
); p-Akt (
F
); m-TOR (
G
); p62 (
H
) and LC3 II /LC3 I ratio (
I
); were performed. All data are expressed as mean ± S.D.,
n
= 8. **
p
< 0.01 vs. normal group; ##
p
< 0.01 or #
p
< 0.05 vs. APAP group.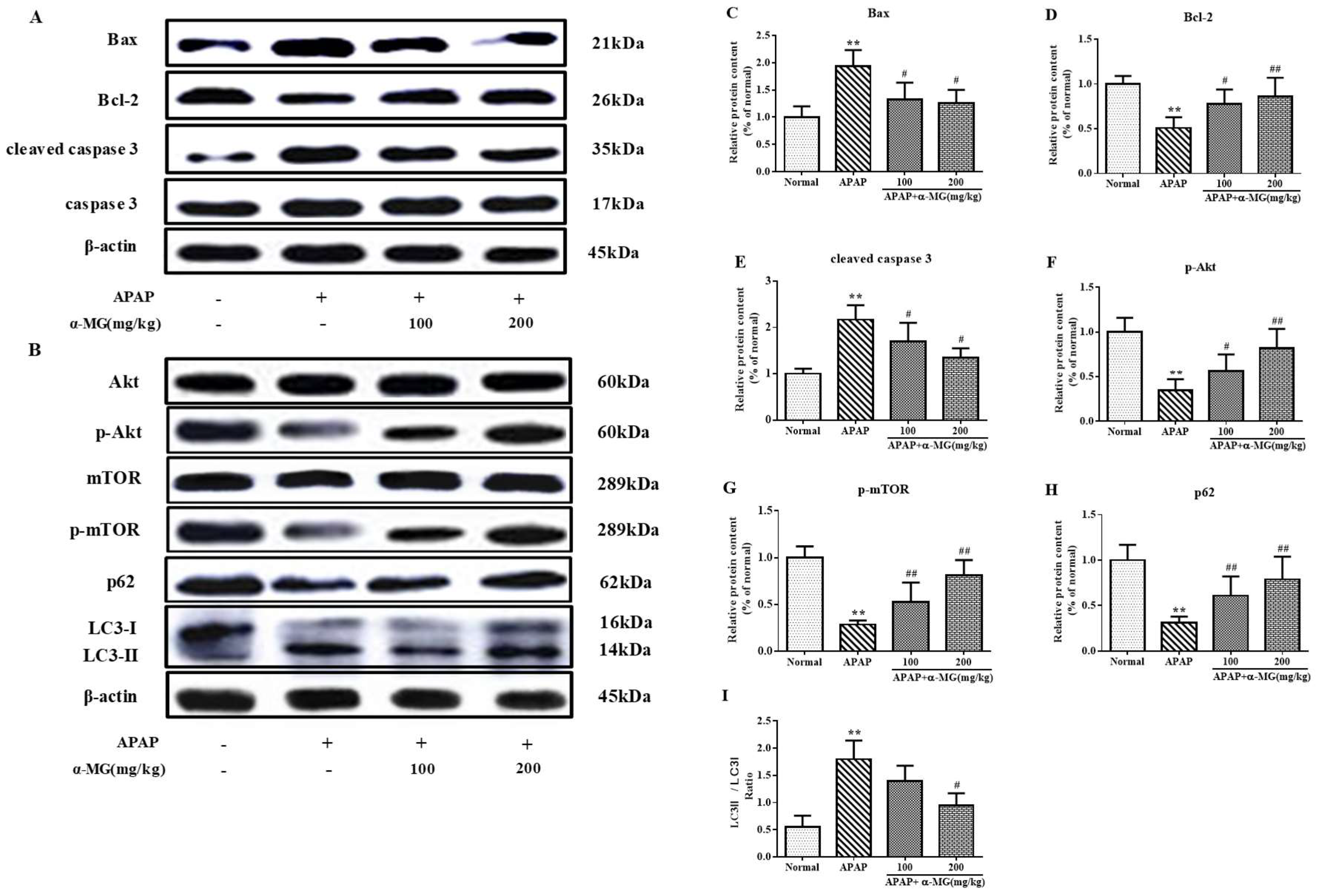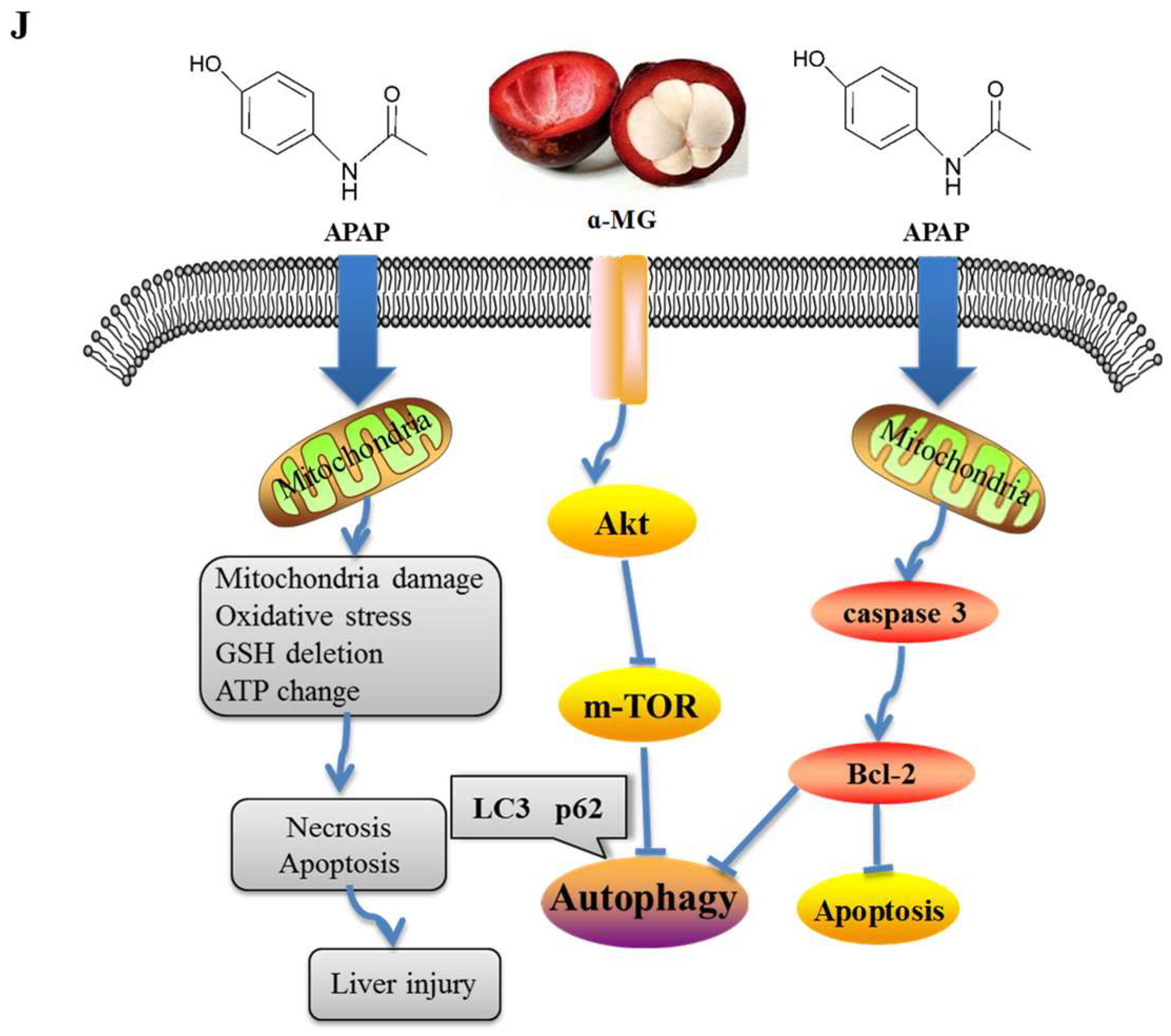 © 2018 by the authors. Licensee MDPI, Basel, Switzerland. This article is an open access article distributed under the terms and conditions of the Creative Commons Attribution (CC BY) license (http://creativecommons.org/licenses/by/4.0/).