Open Access This article is
freely available
re-usable
Review
The Novel Roles of Connexin Channels and Tunneling Nanotubes in Cancer Pathogenesis
1
Public Health Research Institute (PHRI), Newark, NJ 07103, USA
2
Department of Microbiology, Biochemistry and Molecular Genetics, Rutgers New Jersey Medical School, Rutgers the State University of NJ, Newark, NJ 07103, USA
3
Department of Medicine, Division of Hematology, Oncology and Transplantation, University of Minnesota, Minneapolis, MN 55455, USA
4
GlaxoSmithKline, In-Silico Drug Discovery Unit, 1250 South Collegeville Road, Collegeville, PA 19426, USA
5
GlaxoSmithKline, In-Silico Drug Discovery Unit, Stevenage SG1 2NY, UK
*
Author to whom correspondence should be addressed.
Received: 26 March 2018 / Accepted: 18 April 2018 / Published: 24 April 2018
Abstract
:
Neoplastic growth and cellular differentiation are critical hallmarks of tumor development. It is well established that cell-to-cell communication between tumor cells and "normal" surrounding cells regulates tumor differentiation and proliferation, aggressiveness, and resistance to treatment. Nevertheless, the mechanisms that result in tumor growth and spread as well as the adaptation of healthy surrounding cells to the tumor environment are poorly understood. A major component of these communication systems is composed of connexin (Cx)-containing channels including gap junctions (GJs), tunneling nanotubes (TNTs), and hemichannels (HCs). There are hundreds of reports about the role of Cx-containing channels in the pathogenesis of cancer, and most of them demonstrate a downregulation of these proteins. Nonetheless, new data demonstrate that a localized communication via Cx-containing GJs, HCs, and TNTs plays a key role in tumor growth, differentiation, and resistance to therapies. Moreover, the type and downstream effects of signals communicated between the different populations of tumor cells are still unknown. However, new approaches such as artificial intelligence (AI) and machine learning (ML) could provide new insights into these signals communicated between connected cells. We propose that the identification and characterization of these new communication systems and their associated signaling could provide new targets to prevent or reduce the devastating consequences of cancer.
Keywords:
intercellular communication; gap junctions; hemichannels; tumor microtubes; glioblastoma
1. Introduction
According to the American Cancer Society, 1,685,210 new cancer cases are detected and 595,690 cancer deaths are projected to occur in the USA each year, making this disease the second highest cause of death [
1
,
2
]. Even though there are several types of cancers that are potentially curable or have favored outcomes, there are numerous others—pancreatic carcinoma and glioblastoma (GB) among them—that are almost always incurable and have particularly poor prognoses, even with the most aggressive therapeutic interventions [
3
,
4
,
5
,
6
,
7
]. GB in particular is the most aggressive diffuse glioma of astrocytic lineage and remains incurable with a mean survival of 15 months after detection [
6
,
8
]. Thus, there is an urgent need to identify new mechanisms to design more effective and different therapeutic interventions against this cancer.
It is widely accepted that cancer is a genetic disease in which multiple genomic alterations result in the uncontrolled growth, dedifferentiation, and invasion of healthy tissues. However, recent advances in DNA sequencing, epigenetics, microscopy and radiologic imaging, proteomics, lipidomics, and metabolomics (OMICS) have all resulted in the identification of new pathways involved in carcinogenesis. Currently, there are large amounts of high-quality genomics and protein databases for a variety of cancers at different differentiation stages which clearly underscore the importance of cell-to-cell communication in tumor evolution and prognosis (see [
9
]). At this time, one of these novel approaches is artificial intelligence (AI). These in silico approaches are able to handle large datasets from multiple areas of research, including patient information, disease progression, treatments, genetics, pathology, and OMICS, to identify new affected pathways and potential drug targets. However, this exciting approach is still in its infancy [
10
].
2. Artificial Intelligence and Machine Learning: New Tools to Identify Drug Targets and Common Pathways of Disease
Artificial intelligence and machine learning (ML) are emerging in healthcare to help answer key questions in tumor biology and cell-to-cell communication [
11
]. The existing and emerging vast data on tumor biology and associated OMICS require integration at a multi-dimensional scale [
12
]. In non-healthcare sectors, AI methods have been developed to analyze multi-dimensional data to test hypotheses [
13
]. AI algorithms are emerging and can be used to interrogate biological mechanisms and dysregulated pathways associated with cancer phenotypes and cell-to-cell communication with intent to improve cancer treatments [
11
]. In this instance, AI inputs datasets (also called features or variables), processing them via classification algorithms (common examples include artificial neural networks, correlative analysis, and generative adversarial networks) to generate outputs (also called predictions) or hypotheses to be tested [
14
] (exemplified in
Figure 1
).
In the context of cell-to-cell communication in cancer, these variables could include normal versus diseased patient-derived cell clinical, treatment-based, metabololomic, proteomic, and transcriptomic data (any type of OMICs data) and genomic information; up- or downregulated pathways associated with different types or outputs of cancers; the response of patient-specific phenotypes to drug therapy at the molecular level; the modulation of metabolic pathways within cells; the transference of genetic information from cell-to-cell within a tumor; and the evolution of the tumor microenvironment during the progression of the disease in the patient, for example. Each of these variables can be considered a cluster, as indicated in
Figure 1
.
Growing in vitro evidence suggests that tunneling nanotubes (TNTs), hemichannels (HCs), and gap junctions (GJs) play a role in the tumor microenvironment [
15
]. The outputs of these (and other) analyses are highly interrelated and generate multivariate associated information, such as potential drug targets, signaling and biochemical pathways with intersection nodes, metabolic signatures, biochemical biomarkers of disease at a point in time, and increasingly image-based evidence of how the biology evolves in real time. The utility and relevance of ML is highly dependent on the following key factors: access to high-quality, well-curated, labeled datasets, which are required to both train the algorithm and allow it to rapidly and accurately distinguish between features and recognize patterns; access to high-performance computing capability, preferably cloud-based for the speed and computing power necessary to process large volumes of multivariate data; and the incorporation of disease domain expertise to provide scientific context to ensure the algorithm makes logical correlations (see flow in
Figure 1
). Correlative analytical algorithms (CAAs) are a good example of ML and have been applied in cancer biology [
11
]. CAAs use large quantities of text-based data sources to identify links and patterns amongst different datasets and differentiate the information into many hypotheses for further scrutiny by the domain expert. Also, these algorithms can help to elucidate intracellular mechanisms i.e., to connect the dots among gene interactions inside cellular networks longitudinally with time (so-called cause-and-effect cellular networks) as well as cell-to-cell interactions and the subsequent signaling pathways involved in TNTs, HCs, and GJs communication. This AI approach has been used in patients with somatic mutations in lung cancer to better classify the type of tumors using four large datasets and with focus on kRAS and epidermal growth factor receptor (EGFR), enabling a 75% prediction of mutations associated with these genes [
16
]. A similar correlative AI approach was used to build breast cancer models by combining transcriptomic and genomic signatures from healthy and breast cancer subjects with information from known patient medical histories to identify patterns or hot spots in their molecular signatures, leading to the discovery of biomarkers, drug targets, and subtypes of breast cancer [
17
]. Thus, the analysis of multiple variables and communication networks as well as particular communication systems (connexin (Cx)-mediated systems) can provide a unique platform to identify pathways and communication systems altered during the pathogenesis of cancer, including localized gap junctional and HC communication.
3. Connexins and Cancer
A critical feature observed in all OMICS studies is the lack of or reduced communication between cancer cells and non-cancer surrounding cells [
18
,
19
,
20
]. However, it only recently became clear that cancer cells regulate cell-to-cell communication to promote cancer cell invasion and spread to local and distant sites using GJs, HCs, and TNTs [
15
,
21
,
22
,
23
]. GJ channels are formed by two HCs, and each HC is formed of connexin (Cx) hexamers enabling the communication with the cytoplasm of neighboring cells [
24
,
25
,
26
,
27
]. Connexin-containing HCs can be formed by one (homomeric connexins) or several (heteromeric) types of Cxs. GJs can be docked by two identical (homotypic) or different (heterotypic) subunits of HCs. These multiple combinations produce channels that differ in their biophysical properties and permeability [
28
,
29
]. The large internal diameter of the pore of these channels is around 12 Å. The pore enables ions and intracellular messengers less than 1.2 kDa, including IP
3
, calcium, cyclic nucleotides, metabolites, toxic molecules, neurotransmitters, viral peptides, and electrical signals, to diffuse between connected cells [
24
,
25
,
26
,
27
]. Through the diffusion of these second messengers among connected cells, GJs coordinate physiological functions including cell proliferation, differentiation, and homeostasis maintenance [
26
].
In general, it is well accepted that the loss of Cx expression and downregulation of GJ communication is associated with cancer progression [
30
,
31
,
32
,
33
], and it is hypothesized that this lack of communication enables pre-cancerous cells to proliferate without the cell-to-cell control of neighboring cells. There are several outstanding reviews and primary manuscripts describing the downregulation of Cxs in cancer [
33
,
34
,
35
]. Thus, we will not be describing these well-accepted mechanisms. Here, we will describe the new roles of localized GJs, HCs, and TNTs in tumor progression and spread.
4. Mechanisms of Cancer Initiation and Spread: Potential Implications of the Intercellular Transfer of Genetic Alterations
It is well accepted that a major cause of carcinogenesis is the generation of irreversible mutations or DNA alterations that create "cancer-like" or "cancer stem" cells. However, the mechanism of how these cells are generated is poorly understood. It has been proposed that a single cell containing a pro-carcinogenic mutation proliferates uncontrollably to create a tumor. A different, but not exclusive, hypothesis posits that this irreversible genetic aberration(s) and associated metabolic/genetic behavior can be spread into neighboring cells by GJs, HCs, and TNTs, as well as exosomes.
5. Cancer and Metabolic Compromise: Focus on Central Nervous System Malignancies
6. Metabolism of Aggressive Glioblastoma
Glioblastomas are the most aggressive, heterogeneous, and treatment-resistant forms of primary brain cancers. Currently, very few treatment options are available for GB cancers [
176
,
177
]. The median five-year survival rate for GB patients over 45 years old is <10% [
178
]. Recurrence is often a major issue in GB tumors, where residual cancer cells can cause the disease to return within the original tissue site even after concurrent temozolomide (TMZ) and radiation therapy [
177
]. The recent detection of intercellular TMs is entering the discussion as an additional identifiable characteristic of GBs that may elucidate the interaction of tumor cells with their microenvironment and explain their aggressive clinical behavior [
21
]. The full extent of the function of these conduits is actively being investigated, but their morphology and functionality are different from neuronal connections found in healthy brain cells [
21
]. These differences may be important for the exchange of cancer-causing materials, which may explain why GB cancers can proliferate uncontrollably, destroying the surrounding brain tissue, causing severe neurological damage, and rendering any surgical intervention ineffective.
There is growing evidence that TNT-like signaling occurs in cancer and is more common than previously thought [
15
,
179
,
180
]. TNTs are involved in "crosstalk" between cancer stem cells (GB primary cells) and their microenvironment (mesenchymal cells) [
129
] via GJs and HCs (see
Figure 3
). For example, as described in
Figure 3
, TNTs mediate the transfer of metabolites and/or organelles that provide resistance to radiation and TMZ treatment. To perform these studies, two GB cell lines were used: T98G (radioresistant) and U87MG (radiosensitive). As shown in
Figure 3
A, the cells were co-cultured, but separated by a silicon barrier to prevent contact. Upon removal of the silicon barrier, they readily established TNT connections. Both cell lines were treated with various doses of radiation (from 0 to 12 Gy), and cell survival was assessed after 72 h. As expected, we found that pure cultures of U87 cells were more sensitive to radiation than T98G (
Figure 3
B black line). Notably, when U87 and T98G were cocultured, the formation of TNTs transmitted a protective factor(s) against radiation from T98G to U87 cells, increasing their survival (
Figure 3
B blue line). When both cell lines were cocultured in the presence of 1 nM of latrunculin (an actin destabilizing agent that is commonly used to prevent the formation of TNTs in vitro), the transfer of the protective factors by TNTs was inhibited, and the survival of U87 cells was decreased following exposure to radiation (
Figure 3
B pink line). These results indicate that TNTs are able to transfer a protective factor from radiation-resistant to radiation-susceptible cells, altering the phenotype of the latter to make them resistant to radiation.
7. Connexin Channels: Novel Roles in Cancer
8. Future Directions and Conclusions
We believe that localized GJs, HCs, and TNTs all play key roles in carcinogenesis and cancer spread. Blocking these communication systems could therefore prevent cancer progression by compromising critical underlying mechanisms of intercellular communication. The current paradigms regarding the functions of local GJs, HCs, and TNTs are that these channels participate in a wide range of processes, including but not limited to the targeted self-renewal of cancer stem cells, differentiation, metabolism, proliferation, and metastasis.
Acknowledgments
This work was funded by The National Institute of Mental Health grant, MH096625, the National Institute of Neurological Disorders and Stroke, NS105584, Public Health Research Institute (PHRI) funding (to Eliseo Eugenin), and GlaxoSmithKline (GSK) contributions (to Eliseo Eugenin and George Okafo).
Conflicts of Interest
The authors declare no conflict of interest.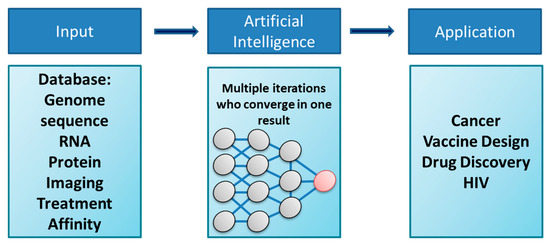 Figure 1. Cartoon denoting the main aspects of deep learning algorithms and artificial intelligence (AI) in biology. As described in the text, critical points include the input information, the features selected for analysis, the training of the AI, the numbers of layers or variables or classifiers, as well as the desired output. The unbiased connection between the different clusters or layers of the AI system will provide the best predictors for associated gene/mRNA/protein for a particular biomarker. If this biomarker is unknown, the clusters can select the dysregulated pathways or better treatments based on the input information. Thus, the possibilities are endless.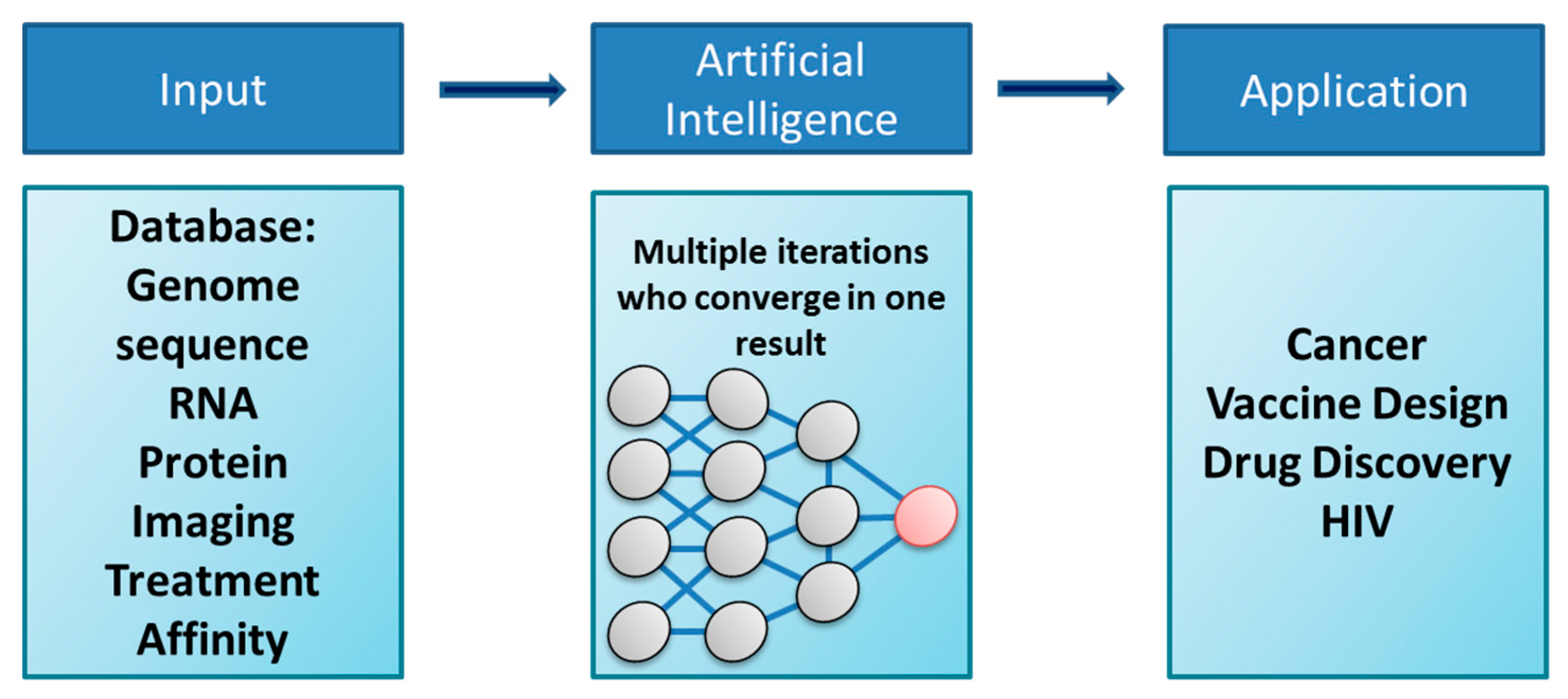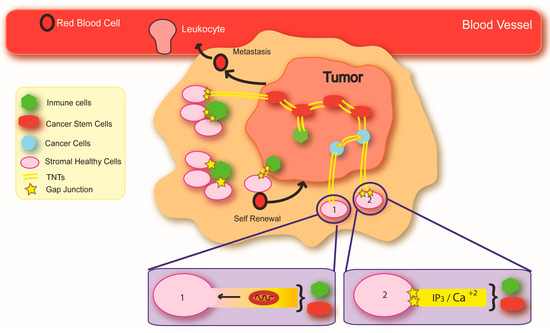 Figure 2. Representation of the potential role of gap junctions (GJs), hemichannels (HCs), and tunneling nanotubes (TNTs) in carcinogenesis. GJs and TNTs are expressed in a localized manner to help the tumor to invade neighboring tissues. Tumor cells (stem cells and cancer cells) communicate between them and surrounding cells (stromal healthy cells, immune cells) through TNTs and GJs, transferring organelles and metabolic agents from cancer stem cells and immune cells to stromal healthy cells. (1) An open-ended TNT allows the exchange of organelles (mitochondria), vesicles, and small molecules between the connected cells. (2) The open-ended TNT contains Cx protrusions that allow the exchange of small molecules, such as Ca2+ or inositol triphosphate (IP3), between connected cells.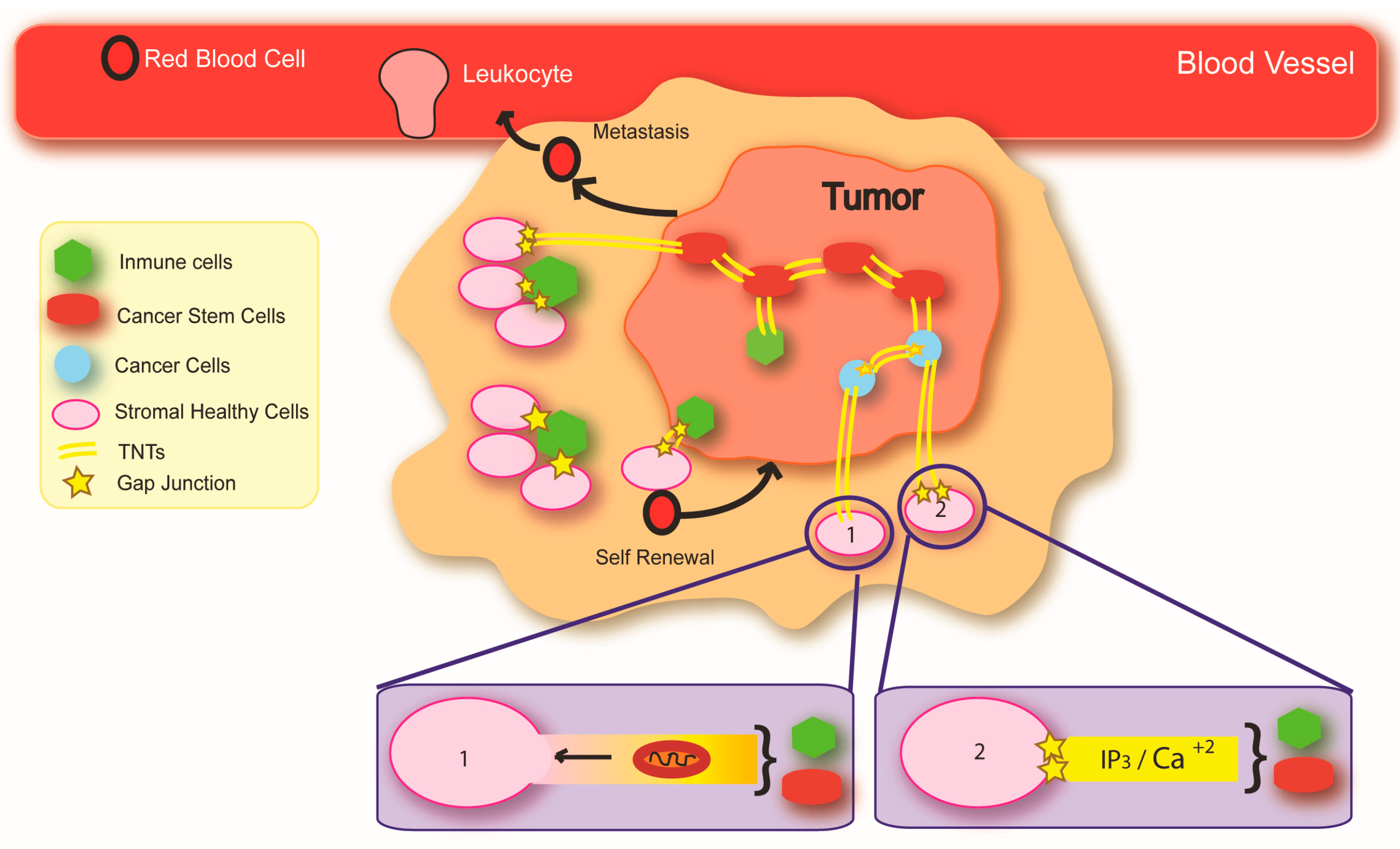 Figure 3. TNTs enable the transfer of protective agents to cancer cells that are susceptible to radiation and chemical treatment. (A) Using a silicon coculture system as described, T98G (glioblastoma, resistant to radiation and temozolomide (TMZ) treatment) and U87MG cells (glioblastoma, sensible to radiation and TMZ treatment) were cocultured to examine survival. Upon removal of the silicon barrier, both cell types could form TNTs and communicate with each other. (B) Quantification of the survival of T98G and U87 cells alone (back line and red line, respectively) and cocultured U87 cells (blue line). In this case, T98G cells are more resistant to radiation than U87 cells (0 to 12 Gy). However, upon coculturing and the subsequent formation of TNTs, T98G cells transfer the radiation resistance to U87 cells (blue line). The transfer of resistance was dependent on TNT formation, because the use of latrunculin (latrun), a TNT blocker, prevented the transfer of resistance into U87 cells (pink line). Thus, the TNT formation transfers a protective agent against radiation treatment from T98G to U87 cells. Thus, TNTs are essential to spreading chemical and radiation resistance into surrounding cells.


© 2018 by the authors. Licensee MDPI, Basel, Switzerland. This article is an open access article distributed under the terms and conditions of the Creative Commons Attribution (CC BY) license (http://creativecommons.org/licenses/by/4.0/).