Open Access This article is
freely available
re-usable
Review
Prostate Cancer Genomics: Recent Advances and the Prevailing Underrepresentation from Racial and Ethnic Minorities
Center for Prostate Disease Research, Department of Surgery, Uniformed Services University of the Health Sciences and the Walter Reed National Military Medical Center, Rockville, MD 20852, USA
*
Author to whom correspondence should be addressed.
Received: 9 April 2018 / Accepted: 15 April 2018 / Published: 22 April 2018
Abstract
:
Prostate cancer (CaP) is the most commonly diagnosed non-cutaneous cancer and the second leading cause of male cancer deaths in the United States. Among African American (AA) men, CaP is the most prevalent malignancy, with disproportionately higher incidence and mortality rates. Even after discounting the influence of socioeconomic factors, the effect of molecular and genetic factors on racial disparity of CaP is evident. Earlier studies on the molecular basis for CaP disparity have focused on the influence of heritable mutations and single-nucleotide polymorphisms (SNPs). Most CaP susceptibility alleles identified based on genome-wide association studies (GWAS) were common, low-penetrance variants. Germline CaP-associated mutations that are highly penetrant, such as those found in
HOXB13
and
BRCA2
, are usually rare. More recently, genomic studies enabled by Next-Gen Sequencing (NGS) technologies have focused on the identification of somatic mutations that contribute to CaP tumorigenesis. These studies confirmed the high prevalence of
ERG
gene fusions and
PTEN
deletions among Caucasian Americans and identified novel somatic alterations in
SPOP
and
FOXA1
genes in early stages of CaP. Individuals with African ancestry and other minorities are often underrepresented in these large-scale genomic studies, which are performed primarily using tumors from men of European ancestry. The insufficient number of specimens from AA men and other minority populations, together with the heterogeneity in the molecular etiology of CaP across populations, challenge the generalizability of findings from these projects. Efforts to close this gap by sequencing larger numbers of tumor specimens from more diverse populations, although still at an early stage, have discovered distinct genomic alterations. These research findings can have a direct impact on the diagnosis of CaP, the stratification of patients for treatment, and can help to address the disparity in incidence and mortality of CaP. This review examines the progress of understanding in CaP genetics and genomics and highlight the need to increase the representation from minority populations.
Keywords:
prostate cancer; cancer genomics; hereditary prostate cancer; cancer health disparities
1. Introduction
Carcinoma of the prostate (CaP) is the second most frequently diagnosed cancer in men worldwide and the fifth leading cause of cancer death in men [
1
]. Among the 1.1 million new cases of CaP diagnosed, about two-thirds occur among men in developed countries, where 17% of the world's male population resides. Despite the higher incidence in developed countries, CaP mortality is highest among men of African ancestry residing in the Caribbean and in Southern and Central Africa [
1
]. In the United States, CaP is the most common non-cutaneous cancer and the second leading cause of male cancer deaths in the US [
2
]. In comparison to Caucasian Americans (CA), African American (AA) men have 1.7 times higher incidence, and 2.4 times higher mortality rate [
3
]. Disparities in the diagnosis, treatment, and survival of CaP patients are often attributed to socio-economic status and access to healthcare [
4
,
5
]. However, even after adjusting for the effects of socio-economic factors, racial disparities in CaP incidence and mortality rates remain significant, suggesting for a greater contribution from molecular and genetic factors [
6
]. Among diverse ethnic populations, distinct interaction between genetic factors may contribute to the differential propensity for mutations in oncogenic drivers that contribute to the initiation and progression of aggressive cancers [
7
,
8
,
9
,
10
]. The stratification of patients based on the higher frequencies of specific oncogenic drivers that are associated with ancestry can lead to more effective treatments. For example, a higher prevalence of epidermal growth factor receptor (EGFR) mutation among female non-small-cell lung cancer (NSCLC) patients of East Asian descent who are non-smokers often results in dramatic responses to EGFR tyrosine kinase inhibitors, leading to a more favorable prognosis for overall survival [
9
,
11
].
The initial breakthrough in sequencing DNA by chain terminating method [
12
] opened a path of discovery that led to the Human Genome Project and the successful mapping of the human genome [
13
,
14
]. This milestone event transformed genetic and genomic discoveries by establishing a standard reference genome to which diseased samples can be compared, and thus enable the identification of putative genetic defects. The completion of the human genome also fostered the HapMap [
15
] and the 1000 Genomes projects [
16
], which produced extensive catalogs of human genetic variations that facilitated the study of multifactorial diseases, including cancer, using genome-wide association studies (GWAS) [
17
]. The progress in Next-generation sequencing technologies further accelerated the discovery of genomic alterations, allowing for the grouping of some cancers into subtypes, and placed personalized or precision medicine within reach of most cancer patients. Since the heterogeneity in the molecular basis of CaP across different ethnic or racial population groups is poorly understood, the under-representation of ethnic or racial minorities in most large scale genomic analyses of CaP will delay the discovery of unique genomic alterations and prevent the generalizability of findings from these studies [
18
]. This review will examine the progress in our understanding of the genetics and genomics of CaP, from the discovery of CaP susceptibility alleles, through identification of germline mutations, to recent developments in the detection of somatic gene alterations in localized and metastatic CaP genomes, in the context of existing CaP disparity between AA and CA men.
2. Assessing the Contribution of Mendelian Inheritance to Prostate Cancer Risk by Segregation and Linkage Analyses Studies
Early quantitative genetic analyses of monozygotic and dizygotic twins estimated that germline mutations contribute approximately 42–58% to CaP risk, which is higher than for any other malignancies [
19
,
20
,
21
]. The relative risks for lethal CaP for men with one first-degree relative with CaP, selected from a National Cancer Institute (NCI) Surveillance, Epidemiology, and End Results (SEER) cancer registry in the state of Utah, was assessed at approximately 2.5, which increased to 5.3 for those with three or more affected first-degree relatives [
22
]. A population-based case control study of Caucasians, Blacks, and Asians reported that a family history of two or more affected first-degree relatives with CaP was associated with a higher relative risk of 9.7 in men of African ancestry, compared to 3.9 in Caucasians, and 1.6 in Asians [
23
]. Segregation analyses studies based on statistical methods were then used to establish models of predisposition to CaP linked to Mendelian patterns of inheritance, such as autosomal dominant, recessive, or X-linked [
24
,
25
,
26
,
27
]. Mendelian inheritance patterns are largely due to DNA alterations that give rise to pathogenic germline variants, or mutations in highly penetrant cancer predisposition genes such as in
HOXB13
[
28
,
29
] and
BRCA2
[
30
]. Mutations in these genes are responsible for hereditary cancer syndromes that are estimated to account for at least 5% of CaP [
24
,
31
,
32
] (
Figure 1
). However, since CaP is a relatively common disease, it is less likely to develop from a few rare inherited alleles with strong penetrance but more likely to have arisen from the interaction between multiple common alleles of low and intermediate penetrance and environmental factors, such as infection or inflammation, which are likely to account for a large proportion of familial prostate cancers [
32
,
33
,
34
,
35
]. The ability to further identify and assess the role of CaP susceptibility genes will benefit from advances in genome-wide association studies (GWAS) and incorporating family history of cancer in the genomic sequencing of germline DNA.
3. Identification of Prostate Cancer Susceptibility Loci by Genome-Wide Association Studies (GWAS)
GWAS are usually case-control studies that examine the entire genome for association between single-nucleotide polymorphisms (SNPs) with a trait or a disease. "Causal variants" are variants that confer a biological effect on the phenotype and are responsible for the signal in association studies [
36
]. Causal variants that have been validated in large matched control cohorts are useful for predicting clinical risk, but they account for a very small fraction of the underlying genetic contribution to CaP and fewer still are able to predict aggressiveness or survival [
37
,
38
]. While rare genetic variants have been shown to contribute significantly to increase risk of prostate and other cancers, they are often neglected or understudied because their low frequency precluded them from being tagged by conventional genome-wide genotyping arrays, which presents a drawback for GWAS efforts [
39
,
40
]. Larger populations of cases and controls are required to detect rare variants with lower minor allele frequencies. The high-fidelity of NGS has enabled the development of haplotype reference panels, established from low-coverage whole genome sequencing (WGS) datasets of large numbers of samples. This has allowed the imputation of genotypes of as low as 0.1% and extended the utility of GWAS to decode the allelic structure of cancer susceptibility [
16
,
41
,
42
,
43
]. Genotype imputation allows the prediction of genotypes that are not directly identified in the study sample. By combining a reference panel of individuals genotyped for a set of SNPs at a much higher density with a study sample derived from a genetically similar population but genotyped at only a subset of these sites, unobserved genotypes in the study sample can be imputed by extrapolation of allelic correlations measured in the reference panel [
44
].
3.1. The 8q24 Locus and Other Prostate Cancer Risk Alleles Associated with African Americans
Motivated by the aim to identify common germline variants contributing to the underlying risk of CaP, Amundadottir et al. [
45
] conducted a genome-wide linkage analysis in an Icelandic population. A variant at the 8q24 locus was found to contribute an attributable risk for CaP at approximately 8% increased risk among men of European ancestry, and 16% among men of African ancestry, suggesting a higher contribution to the incidence of CaP in the latter. Subsequent GWAS and an admixture mapping study replicated this association in different cohorts of AA men [
46
,
47
,
48
]. The rs1447295 variant at the 8q24 locus was found to be associated with both an earlier age of diagnosis and with an increased risk for CaP among AA men [
49
]. A later evaluation of seven SNPs that were sufficient to account for the admixture association signal identified three variants (rs16901979, rs7000448, and rs6983267) with the strongest associations and conferred significant risk for CaP in men of African ancestry [
50
]. Additional variants, including at least nine near 8q24 were later found to be independently associated risk for CaP among AA men [
51
]. A meta-analyses of risk variants on 8q24 confirmed that while there was a significant association of six variants with a higher risk of CaP for at least one race, the degree of association and frequency of the causative allele varied among men of different races [
52
]
In the search for inherited variants that confer increased susceptibility to CaP among men of African descent, a case-control GWAS performed in over 3500 samples assembled from a consortium of CaP studies identified the rs7210100 SNP at 17q21, which was found to occur at 5% frequency in AA men, compared to <1% in other populations [
53
]. A meta-analysis of the
CYP17
gene polymorphism (rs743572) in men of African ancestry found an association of the SNP with 60% increased risk of CaP in sub-group of AA men [
54
]. In a search for risk alleles associated with CaP aggressiveness in AA men, Whitman and colleagues [
55
] genotyped six risk SNPs within 8q24, against clinical variables. Patients harboring the Broad11934905A allele were found to have a higher pathologic stage (pT3-4) and showed a trend toward earlier biochemical recurrence, compared to individuals with the wild type allele. More recently, Koboldt et al. [
56
] analyzed genomic DNA from 150 CA and 122 AA CaP patients and 300 race-matched controls by whole exome sequencing (WES), followed by targeted sequencing of 800 genes in 652 aggressive CaP patients and 752 controls, of both AA and CA men. A rare deleterious variant of
TET2
associated with aggressive disease was detected at 24.4% among AA patients compared with 9.6% of controls.
GWAS has identified more than 100 common variants that account for up to 38% of the risk of familial CaP [
38
,
57
,
58
,
59
] (
Figure 1
). As of December 2017, a search on the National Human Genome Research Institute (NHGRI) and European Molecular Biology Laboratory - European Bioinformatics Institute (EMBL-EBI) GWAS Catalog database (Available online:
www.ebi.ac.uk/gwas
), retrieved a total of 63 "prostate carcinoma" GWAS, which identified 587 associations with CaP, located at more than 400 different loci. While most GWAS were performed using cohorts of Caucasian populations, there were efforts to conduct studies that comprise of more diverse racial, ethnic or geographical populations, either in the initial samples [
59
,
60
,
61
], or in the replicate populations [
46
,
62
,
63
,
64
]. Studies that included men of AA ancestry in the initial samples or in the replicate samples has allowed the detection of CaP susceptibility variants associated with African ancestry [
46
,
53
,
59
,
65
,
66
,
67
,
68
,
69
,
70
]. GWAS conducted among men from different populations, such as Latino [
60
], South Asian [
71
], Japanese, [
60
,
72
], and Chinese [
73
,
74
,
75
] ancestries have further identified potential race-specific differences. A large contribution to this list comes from a meta-analysis of >10 million SNPs from GWAS in populations of European, African, Japanese, and Latino ancestry [
59
]. This combined analysis across racial groups identified 12 new susceptibility loci, of which seven were identified in the multi-ancestry analyses. An examination of the generalizability of 82 established CaP risk variants in 4500 CaP cases and equal number of controls of African ancestry found that 68 variants (83%) had effects that were directionally consistent in their association with CaP risk, indicating that common functional alleles are shared across populations [
68
]. Similar studies that combine the data across populations are beneficial as they not only have increased sample size and study power, but also form independent replication sample sets that promote the discovery of rare variants [
46
,
64
,
66
].
3.2. Potential Mechanisms Contributing to the Association with Prostate Cancer Risk
The realization that CaP risk alleles identified in GWAS studies are consistently located in introns or intergenic regions of DNA raised the question of possible mechanisms that may regulate the association with CaP risk. Whether the perceived association has a direct cause or is pathogenic for the disease may need to be experimentally tested [
76
]. One hypothesis proposed that the identified variant or SNP is in linkage disequilibrium with a yet to be identified causative variant that lies within a coding sequence [
77
]. Another premise suggested that the risk allele may disrupt a transcription factor binding site of a gene promoter and affect its expression [
78
]. The second model is exemplified by the rs10993994 SNP, found 5′ to the
MSMB
gene at 10q11 [
79
,
80
].
MSMB
encodes for the prostate secreted seminal plasma protein, PSP94, the expression of which is downregulated in CaP cells [
81
,
82
]. The association of rs10993994:C > T variant with decreased PSP94 expression observed in radical prostatectomy derived tissue specimens [
83
] was confirmed by functional studies that mutated the rs10993994 allele [
84
]. Homozygous rs10993994 T-allele carriers were later found to have the most significant association with DNA double strand repair capacity in blood lymphocytes after ionizing irradiation, which suggests that besides regulating
MSMB
, the rs10993994 genotype may affect genes associated with DNA repair and apoptosis [
85
].
The gain of 8q24 region frequently occurs in prostate tumors, and it is associated with aggressive tumors, hormone independence, and poor prognosis [
86
]. However, there was no consistent correlation between copy number amplification with mRNA or protein expression [
87
,
88
]. Since the 8q24 locus lies within a 1.2 megabase region largely devoid of genes, the location of the
c-MYC
proto-oncogene towards its telomeric end has prompted searches for an association between 8q24 risk variants and
c-MYC
[
89
,
90
]. An evaluation of the association between six 8q24 risk variants and the transcription of multiple genes in prostatectomy specimens from CA and AA men found no association between the expression of these genes and risk allele status [
89
]. Wasserman et al. [
90
] found a risk variant (rs6983267) located in an enhancer within 8q24 that was transcribed in synchrony with
c
-
MYC
during prostate development and proposed that it may confer CaP risk by acting in an early event before tumorigenesis. The hypothesis that the 8q24 risk locus may act as an enhancer element by being in contact with
MYC
[
91
] was demonstrated by Ahmadiyeh et al. [
92
] through the detection of long-range chromatin loops by using the chromosome conformation capture (3C) assay. Further experiments using 3C or circularized chromosome conformation capture (4C) coupled with next-generation sequencing may offer clues to interaction between 8q24 variants and
c-MYC
expression and subsequent CaP initiation and progression [
92
,
93
,
94
].
4. Germline Mutations Associated with Hereditary Prostate Cancer
The patterns of inheritance based on allele frequency and penetrance estimates established by segregation analyses were subsequently used in linkage analysis to localize chromosomal regions that are inherited together with the cancer causing gene [
95
]. Linkage analysis was used with positional cloning to successfully identify susceptibility genes in breast cancer, colon cancer, and renal cell carcinoma. Applying this strategy, several CaP susceptibility loci were successfully mapped: HPC1 at 1q23-25, PCAP at 1q42, CAPB at 1p36, linkage at 8p22–23, HPC2 at 17p11, and HPCX at Xq27 [
32
]. Candidate familial CaP susceptibility genes were identified for three of these linkages:
RNASEL
(mapping to the HPC1) [
96
],
ELAC2
(mapping to the HPC2) [
97
] and
MSR1
(mapping to 8p22–23 [
98
]. These CaP predisposition genes were found to harbor low- to moderate-penetrance alleles and affect pathways that influence prostate function. Highly penetrant mutations were also detected in genes that regulate critical steps in developmental program, such as
HOXB13
[
28
,
29
], DNA replication, such as
BRCA2
[
30
], DNA mismatch repair (MMR), such as
MSH2
[
99
], or DNA damage repair, such as
CHEK2
and
ATM
[
100
] (
Figure 2
).
5. Somatic Mutations in the Genome of Localized Primary Prostate Cancer
6. Somatic Mutations in the Genome of Prostate Cancers from African American Men
7. Genomic Landscape of Advanced and Metastatic Castrate Resistant Prostate Cancer (mCRPC)
8. Impact of Prostate Cancer Genomics on the Prognosis, Treatment, and Ethnic Disparity of Prostate Cancer
9. Addressing the Under-Representation of Minority Populations in CaP Genomic Studies
Conflicts of Interest
The authors declare no conflict of interest.
Disclaimer
The views, opinions or assertions expressed in this article represent those of the authors and do not reflect the views or the official policy of the Department of Army, Navy or Air Force, Department of Defense, the Uniformed Services University of the Health Sciences or any other agency of the U.S. Government. The identification of specific products or scientific instrumentation is considered an integral part of the scientific endeavor and does not constitute endorsement or implied endorsement on the part of the author, DoD, or any component agency.
Abbreviations
3C
chromosome conformation capture
4C
circularized chromosome conformation capture
AR
Androgen Receptor
CNAs
Copy Number Alterations
CPC-GENE
Canadian CaP Genome Network
CR-NEPC
castration resistant neuroendocrine prostate cancer
CRPC
castration resistant prostate adenocarcinoma
DDR
Damage Repair
DSB
double-strand break
EGFR
epidermal growth factor receptor
FA
Fanconi anemia
FISH
fluorescent in-situ hybridization
HBOC
hereditary breast and ovarian cancer
HBOC
ovarian cancer
HPC
hereditary Prostate Cancer
HR
homologous recombination
HR
homologous recombination
ICGC
International Cancer Genome Consortium
LS
MAPK
Lynch Syndrome
Mitogen-activated protein kinase
MATCH
Molecular Analysis for Therapy Choice
mCRPC
metastatic castrate resistant prostate cancer
MMR
Mismatch Repair
MSI
microsatellite instability
NCI
National Cancer Institute
NGS
NIH
Next-Gen sequencing
National Institutes of Health
NHEJ
Non-homologous end joining
NSCLC
non-small-cell lung cancer
OMB
PARP
PI3K
Office of Management and Budget
Poly (ADP-ribose) polymerase
Phosphatidylinositol 3- kinase
PCF
Prostate Cancer Foundation
SEER
SNPs
Surveillance, Epidemiology, and End Results
single-nucleotide polymorphisms
SSA
single-strand annealing
SU2C
Stand Up to Cancer
TCGA
The Cancer Genome Atlas
TSG
tumor suppressor genes
WES
Whole exome sequencing

Figure 1. Approximate contribution of germline mutations, low penetrance alleles and sporadic somatic mutations to prostate cancer incidence. While most prostate cancer arise from sporadic somatic mutations, about 5% of prostate cancers develop from autosomal dominant highly penetrant germline mutations, and approximately 30% of cases of prostate cancer occur as a result of interaction between genes with low penetrance alleles and the environment.


Figure 2.
Hereditary cancer syndromes and prostate cancer. Men from families with hereditary cancer syndromes, including Hereditary Prostate Cancer (HPC), Hereditary Breast and Ovarian Cancer (HBOC) and Lynch Syndrome (LS), which are associated with defects in
HOXB13
,
BRCA1/2
and DNA Mismatch Repair genes, respectively, may benefit from genetic testing (
A
). Frequency of pathogenic germline alterations in DDR genes [
30
,
100
,
101
] and in genes associated with hereditary cancer syndromes (HPC [
29
,
102
], HBOC [
103
], and LS [
104
,
105
,
106
]) detected in metastatic prostate cancers (
B
).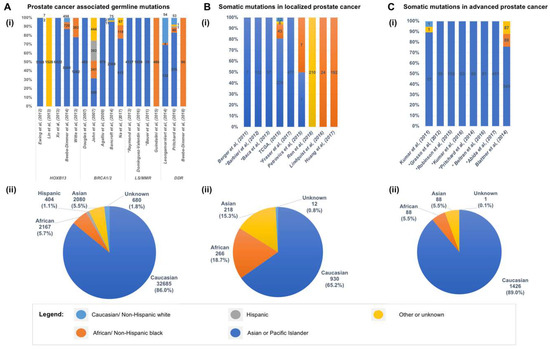 Figure 3. Racial and ethnic disparity in genomic studies of prostate cancer. The distribution of race and ethnicity of cohorts analyzed for germline mutations (A), somatic mutations in localized prostate cancers (B), and somatic mutations in advanced or metastatic castrate resistant prostate cancers (C), in each study reviewed (i), and when grouped together (ii). * In studies which the race or ethnicity of cohort were not specified, the cohort were assumed to be largely Caucasian based on the population of the locale where the study was conducted.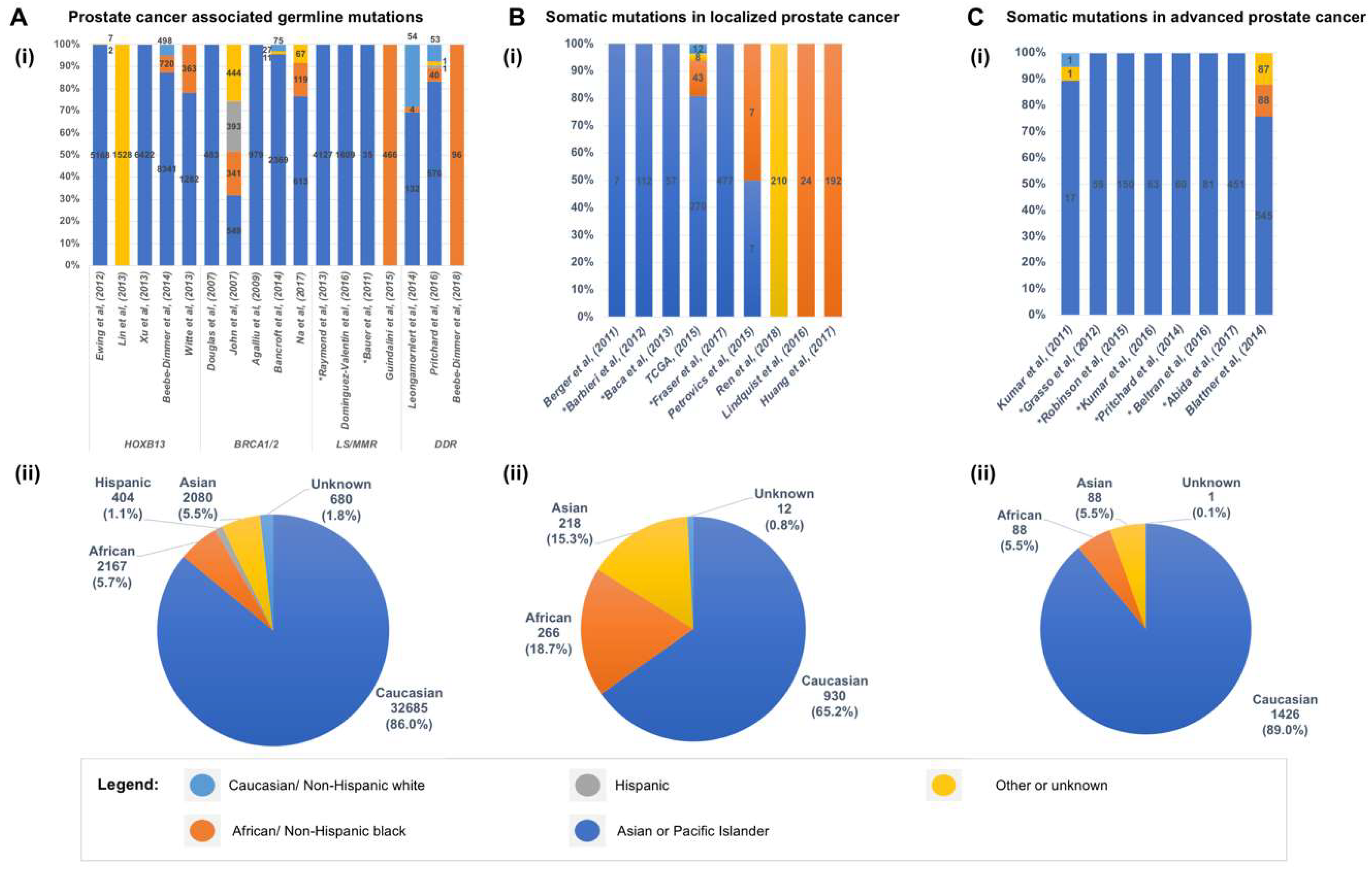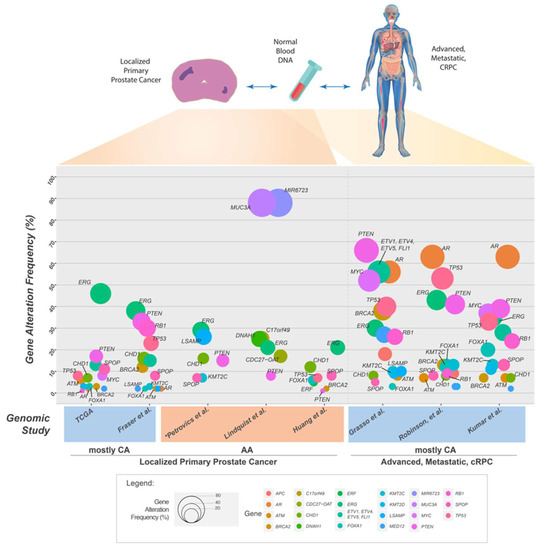 Figure 4. Frequency of somatic gene alteration events reported in selected genomic studies of localized primary prostate cancer and in advanced, metastatic, and/or castrate resistant prostate cancer. Size of circle is proportional to the frequency of gene alteration events (point mutations, deletions, amplifications or gene fusions). * Only gene alteration events in African American cases are shown.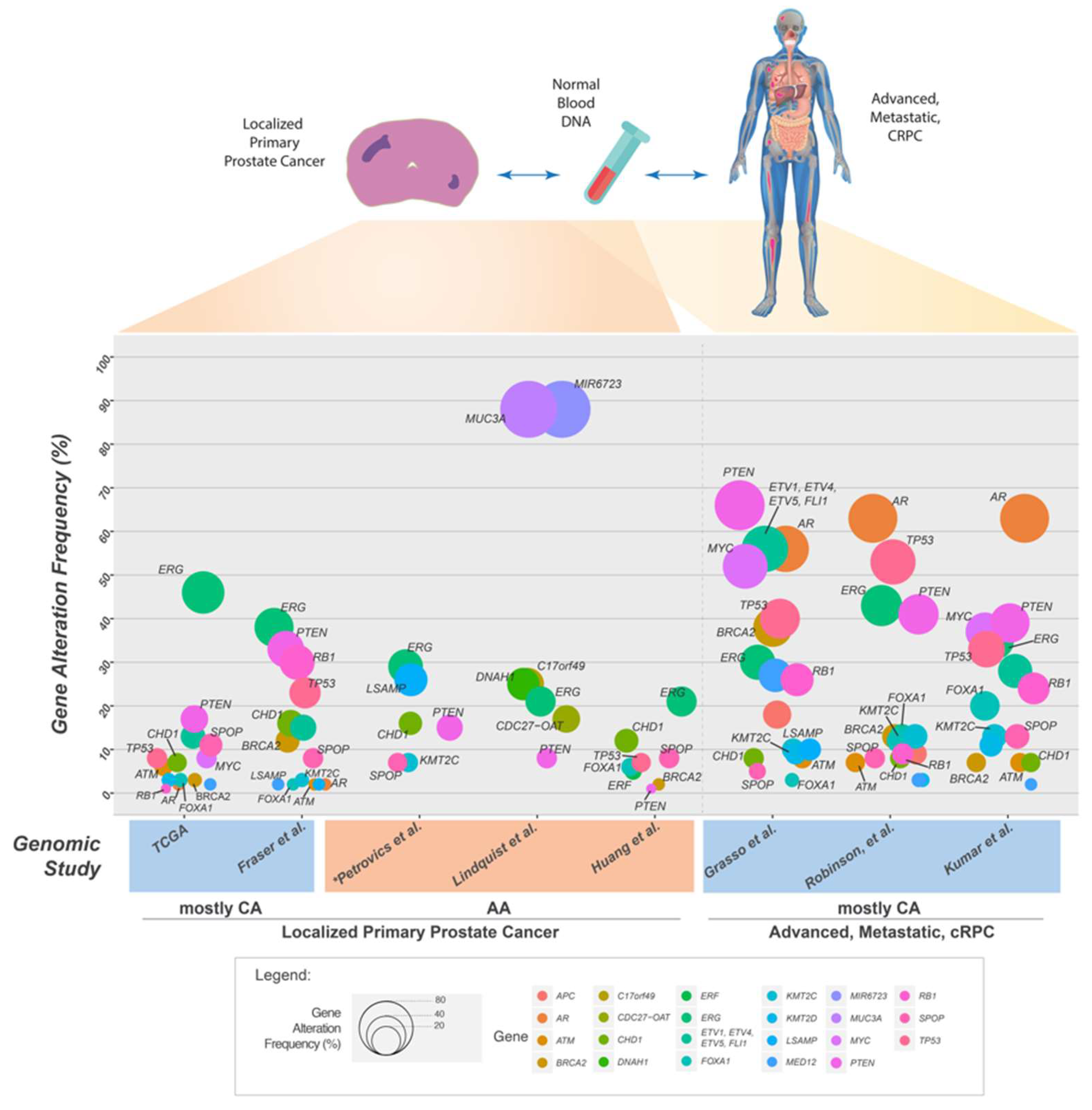 © 2018 by the authors. Licensee MDPI, Basel, Switzerland. This article is an open access article distributed under the terms and conditions of the Creative Commons Attribution (CC BY) license (http://creativecommons.org/licenses/by/4.0/).