Profiling Prostate Cancer Therapeutic Resistance
1
Departments of Urology, University of Kentucky College of Medicine, Lexington, Kentucky, KY 40536, USA
2
Department of Molecular and Cellular Biochemistry, University of Kentucky College of Medicine, Lexington, Kentucky, KY 40536, USA
3
Department of Toxicology & Cancer Biology, University of Kentucky College of Medicine, Lexington, Kentucky, KY 40536, USA
*
Author to whom correspondence should be addressed.
Received: 1 March 2018 / Revised: 16 March 2018 / Accepted: 16 March 2018 / Published: 19 March 2018
Abstract
The major challenge in the treatment of patients with advanced lethal prostate cancer is therapeutic resistance to androgen-deprivation therapy (ADT) and chemotherapy. Overriding this resistance requires understanding of the driving mechanisms of the tumor microenvironment, not just the androgen receptor (AR)-signaling cascade, that facilitate therapeutic resistance in order to identify new drug targets. The tumor microenvironment enables key signaling pathways promoting cancer cell survival and invasion via resistance to anoikis. In particular, the process of epithelial-mesenchymal-transition (EMT), directed by transforming growth factor-β (TGF-β), confers stem cell properties and acquisition of a migratory and invasive phenotype via resistance to anoikis. Our lead agent DZ-50 may have a potentially high efficacy in advanced metastatic castration resistant prostate cancer (mCRPC) by eliciting an anoikis-driven therapeutic response. The plasticity of differentiated prostate tumor gland epithelium allows cells to de-differentiate into mesenchymal cells via EMT and re-differentiate via reversal to mesenchymal epithelial transition (MET) during tumor progression. A characteristic feature of EMT landscape is loss of E-cadherin, causing adherens junction breakdown, which circumvents anoikis, promoting metastasis and chemoresistance. The targetable interactions between androgens/AR and TGF-β signaling are being pursued towards optimized therapeutic regimens for the treatment of mCRPC. In this review, we discuss the recent evidence on targeting the EMT-MET dynamic interconversions to overcome therapeutic resistance in patients with recurrent therapeutically resistant prostate cancer. Exploitation of the phenotypic landscape and metabolic changes that characterize the prostate tumor microenvironment in advanced prostate cancer and consequential impact in conferring treatment resistance are also considered in the context of biomarker discovery.
View Full-Text
►

▼

Figures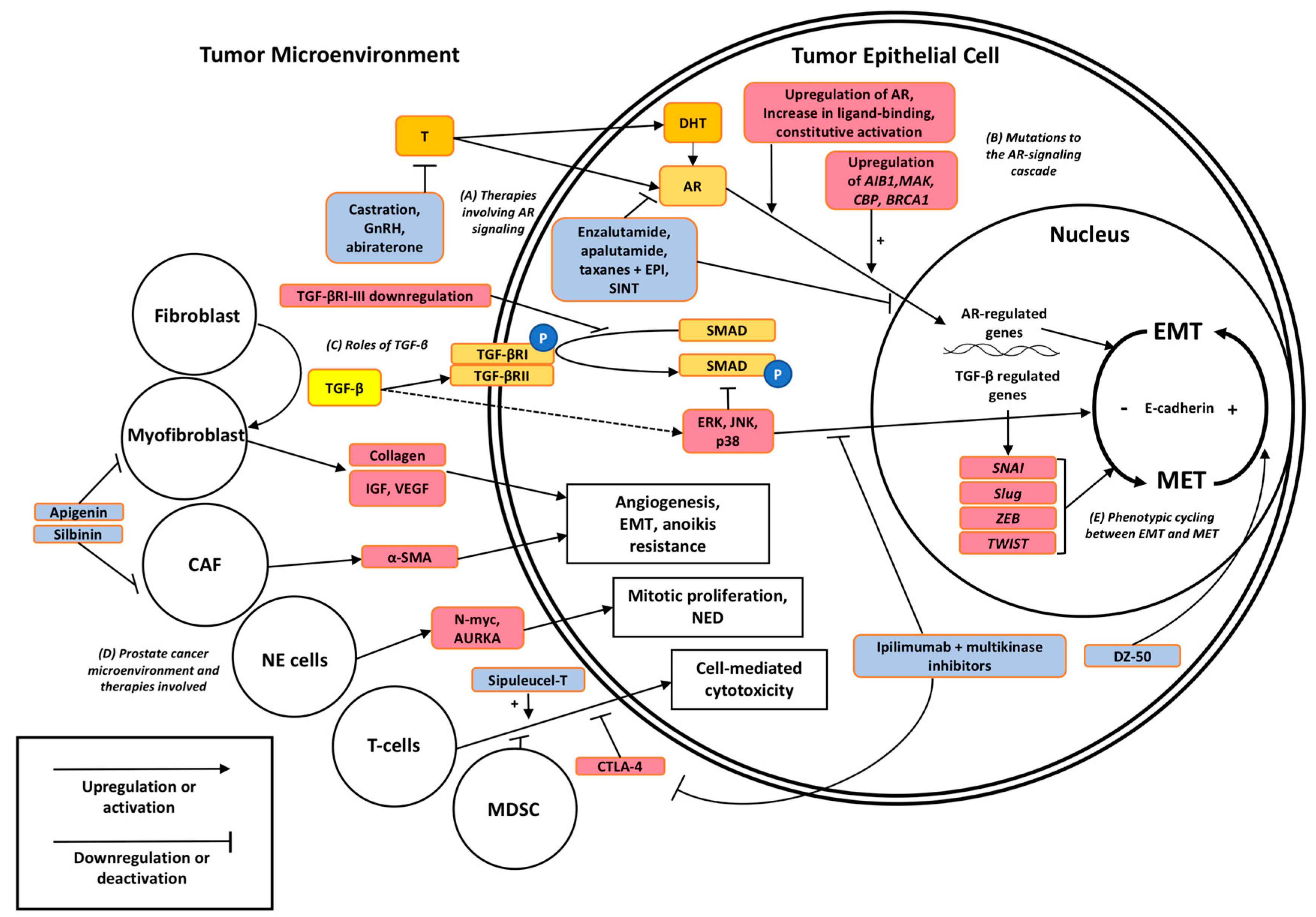 Figure 1
This is an open access article distributed under the
Creative Commons Attribution License
which permits unrestricted use, distribution, and reproduction in any medium, provided the original work is properly cited (CC BY 4.0).

Share & Cite This Article
MDPI and ACS Style
Wade, C.A.; Kyprianou, N. Profiling Prostate Cancer Therapeutic Resistance. Int. J. Mol. Sci. 2018, 19, 904.
Note that from the first issue of 2016, MDPI journals use article numbers instead of page numbers. See further details here.
Related Articles
Comments
[Return to top]