Molecular and Ultrastructural Mechanisms Underlying Yellow Dwarf Symptom Formation in Wheat after Infection of Barley Yellow Dwarf Virus
1
Institute of Crop Sciences, National Key Facility for Crop Gene Resources and Genetic Improvement, Chinese Academy of Agricultural Sciences, Beijing 100081, China
2
Laboratory of Integrated and Urban Phytopathology, Gembloux Agro-Bio Tech-University of Liège, Passage des déportés, 2, 5030 Gembloux, Belgium
3
Institute of Plant Protection, Chinese Academy of Agricultural Sciences, Beijing 100193, China
*
Authors to whom correspondence should be addressed.
Received: 16 March 2018 / Revised: 5 April 2018 / Accepted: 6 April 2018 / Published: 13 April 2018
Abstract
Wheat (
Tritium aestivum
L.) production is essential for global food security. Infection of barley yellow dwarf virus-GAV (BYDV-GAV) results in wheat showing leaf yellowing and plant dwarfism symptom. To explore the molecular and ultrastructural mechanisms underlying yellow dwarf symptom formation in BYDV-GAV-infected wheat, we investigated the chloroplast ultrastructure via transmission electron microscopy (TEM), examined the contents of the virus, H
2
O
2
, and chlorophyll in Zhong8601, and studied the comparative transcriptome through microarray analyses in the susceptible wheat line Zhong8601 after virus infection. TEM images indicated that chloroplasts in BYDV-GAV-infected Zhong8601 leaf cells were fragmentized. Where thylakoids were not well developed, starch granules and plastoglobules were rare. Compared with mock-inoculated Zhong8601, chlorophyll content was markedly reduced, but the virus and H
2
O
2
contents were significantly higher in BYDV-GAV-infected Zhong8601. The transcriptomic analyses revealed that chlorophyll biosynthesis and chloroplast related transcripts, encoding chlorophyll a/b binding protein, glucose-6-phosphate/phosphate translocator 2, and glutamyl-tRNA reductase 1, were down-regulated in BYDV-GAV-infected Zhong8601. Some phytohormone signaling-related transcripts, including abscisic acid (ABA) signaling factors (phospholipase D alpha 1 and calcineurin B-like protein 9) and nine ethylene response factors, were up-regulated. Additionally, reactive oxygen species (ROS)-related genes were transcriptionally regulated in BYDV-GAV infected Zhong8601, including three up-regulated transcripts encoding germin-like proteins (promoting ROS accumulation) and four down-regulated transcripts encoding peroxides (scavenging ROS). These results clearly suggest that the yellow dwarf symptom formation is mainly attributed to reduced chlorophyll content and fragmentized chloroplasts caused by down-regulation of the chlorophyll and chloroplast biosynthesis related genes, ROS excessive accumulation, and precisely transcriptional regulation of the above-mentioned ABA and ethylene signaling- and ROS-related genes in susceptible wheat infected by BYDV-GAV.
View Full-Text
►

▼

Figures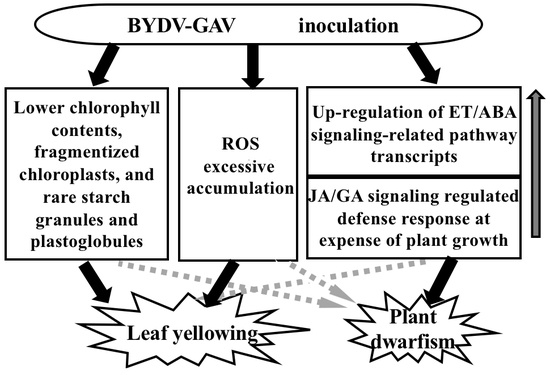 Graphical abstract
This is an open access article distributed under the
Creative Commons Attribution License
which permits unrestricted use, distribution, and reproduction in any medium, provided the original work is properly cited (CC BY 4.0).

Share & Cite This Article
MDPI and ACS Style
Rong, W.; Wang, X.; Wang, X.; Massart, S.; Zhang, Z. Molecular and Ultrastructural Mechanisms Underlying Yellow Dwarf Symptom Formation in Wheat after Infection of Barley Yellow Dwarf Virus. Int. J. Mol. Sci. 2018, 19, 1187.
Note that from the first issue of 2016, MDPI journals use article numbers instead of page numbers. See further details here.
Related Articles
Comments
[Return to top]