Open Access This article is
freely available
re-usable
Review
Nanocoatings for Chronic Wound Repair—Modulation of Microbial Colonization and Biofilm Formation
1
Department of Oncologic Dermatology and Allergology, "Carol Davila" University of Medicine and Pharmacy, 030167 Bucharest, Romania
2
Department of Dermatology, "Elias" University Emergency Hospital, 011461 Bucharest, Romania
3
Department of Microbiology, Faculty of Medicine, "Carol Davila" University of Medicine and Pharmacy, 030167 Bucharest, Romania
4
Cantacuzino National Medico-Military Research and Development Institute, 050096 Bucharest, Romania
5
Department of Biomaterials and Medical Devices, Faculty of Medical Engineering, University Politehnica of Bucharest, 060042 București, Romania
6
Department of Infectious Diseases, College of Veterinary Medicine, University of Georgia, Athens, Georgia, GA 30602, USA
7
Department of Microbiology, Faculty of Biology, University of Bucharest, 030018 București, Romania
8
Research Institute of the University of Bucharest (ICUB), 050107 Bucharest, Romania
*
Author to whom correspondence should be addressed.
Received: 18 March 2018 / Accepted: 9 April 2018 / Published: 12 April 2018
Abstract
:
Wound healing involves a complex interaction between immunity and other natural host processes, and to succeed it requires a well-defined cascade of events. Chronic wound infections can be mono- or polymicrobial but their major characteristic is their ability to develop a biofilm. A biofilm reduces the effectiveness of treatment and increases resistance. A biofilm is an ecosystem on its own, enabling the bacteria and the host to establish different social interactions, such as competition or cooperation. With an increasing incidence of chronic wounds and, implicitly, of chronic biofilm infections, there is a need for alternative therapeutic agents. Nanotechnology shows promising openings, either by the intrinsic antimicrobial properties of nanoparticles or their function as drug carriers. Nanoparticles and nanostructured coatings can be active at low concentrations toward a large variety of infectious agents; thus, they are unlikely to elicit emergence of resistance. Nanoparticles might contribute to the modulation of microbial colonization and biofilm formation in wounds. This comprehensive review comprises the pathogenesis of chronic wounds, the role of chronic wound colonization and infection in the healing process, the conventional and alternative topical therapeutic approaches designed to combat infection and stimulate healing, as well as revolutionizing therapies such as nanotechnology-based wound healing approaches.
Keywords:
chronic wound; biofilm formation; tolerance; antimicrobial nanoparticles; nanocoatings
1. Introduction
Chronic wounds, such as venous or arterial ulcers, diabetic foot ulcers, pressure sores, and non-healing surgical wounds, have a significant impact on a patient's quality of life, and are an important economic burden. Chronic wounds are associated with chronic mono- or polymicrobial biofilm infections and are characterized by tolerance and resistance to antimicrobials. Within biofilms, microbial species can establish relationships of cooperation and competition; finally evolving into an elaborate and functional adapted communities. Their interaction with the host's immune system or with therapeutic agents contributes to the complexity of the wound ecosystem and modulates the healing potential.
Wound debridement and the topical application of antibiotics or other antimicrobial substances are the conventional methods usually considered to eradicate wound infection. The main disadvantage of recurrent antibiotic use in the context of delayed wound healing and frequent hospitalizations is exacerbated by the rising risk of therapeutic resistance. Alternative treatments to be considered include immune-based antimicrobial molecules (polypeptides like defensins), the use of microorganisms (probiotics and bacteriophages), phototherapy (blue light, ultraviolet light, and others), and photodynamic therapy (light exposure after locally applied photosensitizing dyes) [
1
].
Based on current knowledge, the ideal therapeutic agent should achieve multiple objectives, including antimicrobial, immunomodulatory, and regenerative effects [
2
]. Nanotechnology reveals promising openings, either by the intrinsic antimicrobial properties of nanoparticles or by their function as drug carriers. However, nanotechnology is also important for the development of nanostructured bioactive dressings and coatings [
2
]. Nanoparticles are active at low concentrations toward a large variety of infectious agents. Importantly, they are unlikely to provoke the emergence of resistance and have the ability to modulate microbial colonization and biofilm formation [
2
].
In this review, we compile the latest literature starting with wound pathogenesis, with special emphasis on biofilms, and describe both the conventional approaches and new approaches in wound healing, emphasizing the novel nano-technological approaches that are not only cutting edge but also are promising in the field. We finalize with our perspectives and remarks.
2. Pathogenesis of Chronic Wounds
2.1. Pathophysiology of Acute Wound Repair
2.2. Pathophysiology of Chronic Wound Repair
2.3. Microbial Colonization and Wound Healing
2.4. Bacterial Biofilms and Wound Healing
3. Limitations of Current Wound Therapy
4. Advanced Wound Dressings and Coatings
Although in recent years numerous materials were developed to create better wound dressings, the ideal coating has not been created yet. Current trends in wound dressing design rely on some particular traits that should be fulfilled by an advanced dressing: (i) creates a moist, clean, warm environment; (ii) provides hydration to dry skin; (iii) removes excess exudates; (iv) prevents desiccation and is atraumatic; (v) allows for gaseous exchange; (vi) is impermeable to microorganisms; (vii) is free of toxic or irritant particles; (viii) can conform to wound shape; and (ix) is easy to use with minimal pain during application and removal [
60
].
Since microbial contamination represents one of the major risks for delayed wound healing, recent studies are investigating efficient methods to prevent microbial colonization and biofilm formation at the wound.
Significant research was made in the last decade to develop bioactive polymeric coatings and dressings for difficult-to-heal wounds.
Currently, collagen-based wound dressings are the most investigated solutions to obtain efficient coatings and to facilitate healing for both acute and chronic wounds. They can be in various forms, from hydrogels to solid dressings, and are applied directly on most wounds. The main advantages of such dressings rely on the fact that they facilitate wound repair by maintaining a suitable local environment. Numerous pharmaceutical companies are currently producing collagen and other polymeric dressings that contain various nanoparticles with antimicrobial effect and that are considered to support wound healing by avoiding microbial colonization and biofilm formation [
61
,
62
]. Such nanosystems embedded into the bioactive coatings may trigger intrinsic antimicrobial effects (i.e., silver nanoparticles) or are represented by nanosized shuttles able to deliver and specifically release antimicrobial agents (including antibiotics, plant-derived antimicrobial compounds, natural and synthetic virulence modulators, and biofilm inhibitory agents) [
63
]. The schematic representation of an ideal bioactive wound dressing is given in
Figure 2
.
5. Nano-Solutions for Wound Management
Nanotechnology offers unprecedented opportunities and cutting-edge solutions to designing efficient biomedical approaches. Numerous nanomaterials have been developed for application in wound care and healing. Nanostructures are revolutionary compounds that aim to enhance the therapeutic delivery of growth factors, antimicrobial agents, gene therapy vectors, and others to the wound [
7
].
The most explored approaches for the management of wounds refer to the development of nano-devices for (i) inflammation control, (ii) cellular proliferation and re-epithelization, and (iii) tissue remodeling [
64
]. For all of the above-mentioned strategies, the proposed nanosystems include a variety of nanomaterials, starting with simple nanoparticles (inorganic and organic), functionalized nanoparticles, bioactive fibrous nanosystems (nanoscaffolds), and sphere-like nanoparticle embedding systems. Moreover, in chronic wounds, the main solutions refer to the optimization of nanomaterials able to avoid chronic microbial contamination of the wound and to also inhibit/disrupt the biofilms that usually form at the site of chronic wounds and delay or reduce significantly the healing chances (
Figure 3
). Recent advances made in the development of nanostructured wound coatings are presented in
Table 2
.
6. Antimicrobial Nanoparticles
Nanoparticles have been widely used as promising candidates for wound treatment. In the last years, nanotechnology has gained a lot of attention in the biomedical field. As an example, metallic silver nanoparticles have been used as antimicrobial agents against pathogenic bacteria that have exhibited resistance to multiple antibiotics [
73
]. As a result, nanotechnology has several advantages in the treatment of bacterial infections. Nanoparticles can be used in different forms to fight bacterial infections, such as coatings on implantable devices or biomaterials that not only have antibacterial properties but also enhance wound healing, antibiotic delivery systems, microbial diagnosis through bacterial detection systems, and vaccines. Even though the antimicrobial mechanisms of nanoparticles are not fully understood, there are several accepted processes, which include induction of oxidative stress, metal ion release, and non-oxidative means. It has been observed that these three mechanisms occur at the same time. Studies have suggested that silver nanoparticles (AgNPs) effectively neutralize the electric charge on the surface of the bacterial membranes, which disrupts its permeability, therefore resulting in bacterial death. Furthermore, the cell membrane can also be affected by the generation of reactive oxygen species (ROS) that suppress the antioxidant defense system [
74
].
Bacterial membrane damage is attained by electrostatic binding of the NPs with the bacterial cell wall. This process damages the integrity, potential, and, therefore, the depolarization of the membrane, resulting in the loss of the primary functions of the cell such as respiration, lysis, and energy conversion, which ultimately leads to cell death. It is considered that the production of ROS is the most effective way to induce cytotoxicity by NPs; it can be obtained either indirectly by a perturbation in the respiratory chain or directly by the NPs. High concentrations of ROS cause cell death and can even damage DNA or induce mutations [
75
].
6.1. Inorganic Nanoparticles
Silver nanoparticles (AgNPs) have been known for decades to have strong bactericidal effects, broad-spectrum antimicrobial activity, and, importantly, they are currently utilized for the therapy of both acute and chronic wounds in various preparations.
Such nanostructured coatings have the potential to fight against resistant wound infections, both in chronic and acute patients.
Although Ag and ZnO nanoparticles are the most investigated for advanced wound dressings and coatings, recent trends are considering other nanoparticles in the design of polymeric matrices for promoting wound healing of particular types of wounds. Magnetite, silica, and copper nanoparticles are being intensively investigated for their great biomedical potential and antimicrobial properties.
6.2. Organic Nanoparticles
Organic NPs have several antimicrobial properties including releasing antibiotic and antimicrobial agents or penetrating cell membranes using cationic groups. The latter requires certain specifications regarding the length of the hydrophobic chain in order to effectively penetrate the bacterial membrane. However, the antimicrobial effect can also be attained by a highly positive surface charge, irrespective of the chain length. At high temperatures, organic materials have exhibited less stability compared to inorganic materials. This can lead to manufacturing issues especially when the required material needs to be stable and tolerate severe manufacturing conditions. Thus, inorganic materials in the nanometer scale are generally used in antimicrobial applications [
75
].
Polymeric antibacterial agents in the nanometer range are known for their long-lasting antimicrobial activity. Some of their advantages include chemical stability, non-volatility, and non-toxicity to biological membranes, e.g., skin. Polycationic antimicrobial agents exhibit antimicrobial activity due to their active groups and high surface density. Quaternary ammonium compounds have been reported to effectively act against Gram-positive and Gram-negative bacteria. For example, quaternary ammonium polyethylenimine (QPEI) NPs, when integrated into different polymeric matrices, display antimicrobial activity against several bacterial targets. Interestingly, QPEI NPs have the ability to induce cell death through an intracellular death signal. Even though this signal has not been identified yet, it determines cell death in layers of the biofilm that are not even in direct connection with the NPs [
75
].
Among several organic NPs, chitosan NPs have exhibited antimicrobial, antiviral, and antifungal action. The advantages of using chitosan include its biocompatibility, antimicrobial features, and low immunogenicity. The antimicrobial activity of chitosan NPs depends on various factors such as pH and solvent. It has been reported that it inhibits the activity of metallic NPs; therefore, it is used mainly with antibiotics. The antimicrobial activity of chitosan NPs is not yet fully understood [
94
].
7. Conclusions
With the increasing incidence of chronic biofilm infections, characterized by tolerance and resistance to antimicrobials, there is an imperative need for alternative therapeutic agents. An ideal approach to defeating polymicrobial wound infections should be based on a better understanding of the interbacterial and host–microbiome complex interactions, aiming to disrupt the pathogenic mechanisms and to enhance a beneficial environment. This approach should combine multiple complementary therapies with antimicrobial, immunomodulatory, and regenerative effects.
Innovative approaches in the areas of nanomedicine and nanotechnology could change the future of chronic wound management. Next generation wound dressings include nanocoatings that contain nanoparticles with intrinsic antimicrobial properties, active at low concentrations toward a large variety of infectious agents, and that are unlikely to provoke the emergence of resistance. Moreover, nanoparticles can act as drug carriers for other antimicrobial agents (such as plant-derived compounds, bacteriophages, antimicrobial peptides), microbiome regulators (probiotics, prebiotics), or agents that could accelerate wound healing (i.e., growth factors, stem cells etc.).
The coming years will be critical for the development of novel therapies and strategies for wound healing. Now there are opportunities to explore novel approaches and design new coating systems that will lead to further discoveries.
Acknowledgments
This work was supported by a grant from the Romanian National Authority for Scientific Research and Innovation, UEFISCDI, code PN-III-P2-2.1-PTE-2016-0177, project number 52PTE/06 October 2016. We are grateful to leading Laurentiu Leica and veterinary technician Andrei Daniel Bobocea from VetZone Hospital, Constanta, Romania, for providing photos and observations from their clinical cases.
Conflicts of Interest
The authors declare no conflict of interest.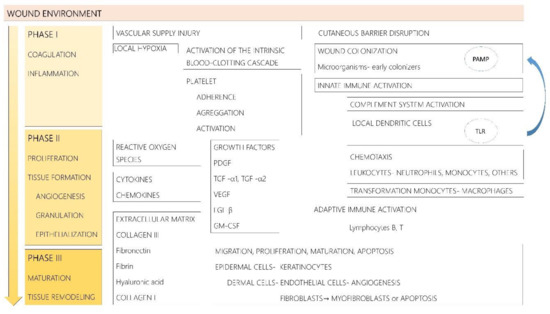 Figure 1. Acute wound healing consists of the coagulation and inflammatory phase, the proliferation and tissue formation phase, and the maturation and remodeling phase. Abbreviations: PDGF—platelet-derived growth factor; TGF-α1, TGF-α2—transforming growth factors alpha 1 and alpha 2; VEGF—vascular endothelial growth factor; FGF-β—fibroblast growth factor beta; GM-CSF—granulocyte-macrophage colony-stimulating factor; TLR—Toll-like receptor; PAMP—pathogen-associated molecular pattern.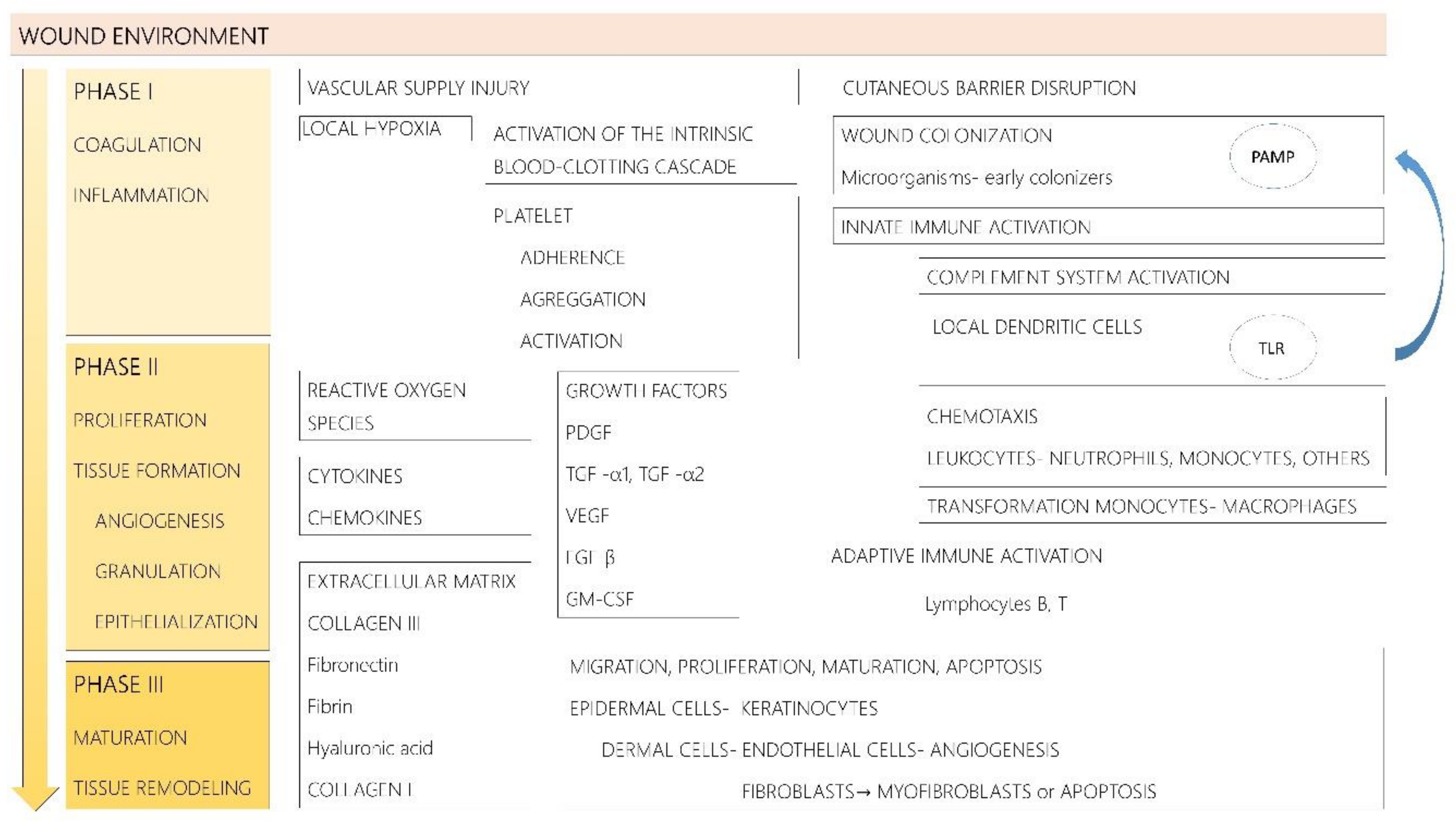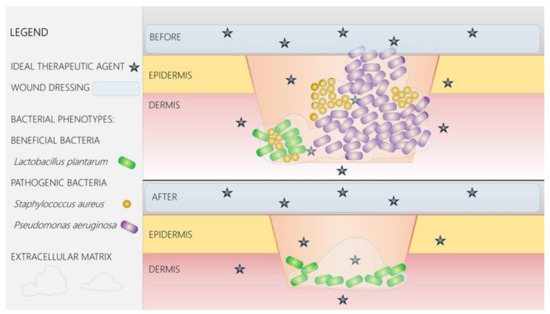 Figure 2. Nanoparticles embedded within bioactive wound dressings could enhance the delivery to the target of beneficial molecules with antimicrobial, immunomodulatory, and regenerative effects. In regard to the antimicrobial action, an ideal therapeutic agent should destroy pathogenic bacteria but also modulate microbial colonization, attachment, and biofilm development; modulate and promote beneficial bacterial phenotypes; modulate inter-bacterial and host-microbiome interactions. The agent should achieve immunomodulatory action by supporting the host's defense mechanisms, as well as regenerative effects, by the enhancement of wound healing and tissue regeneration.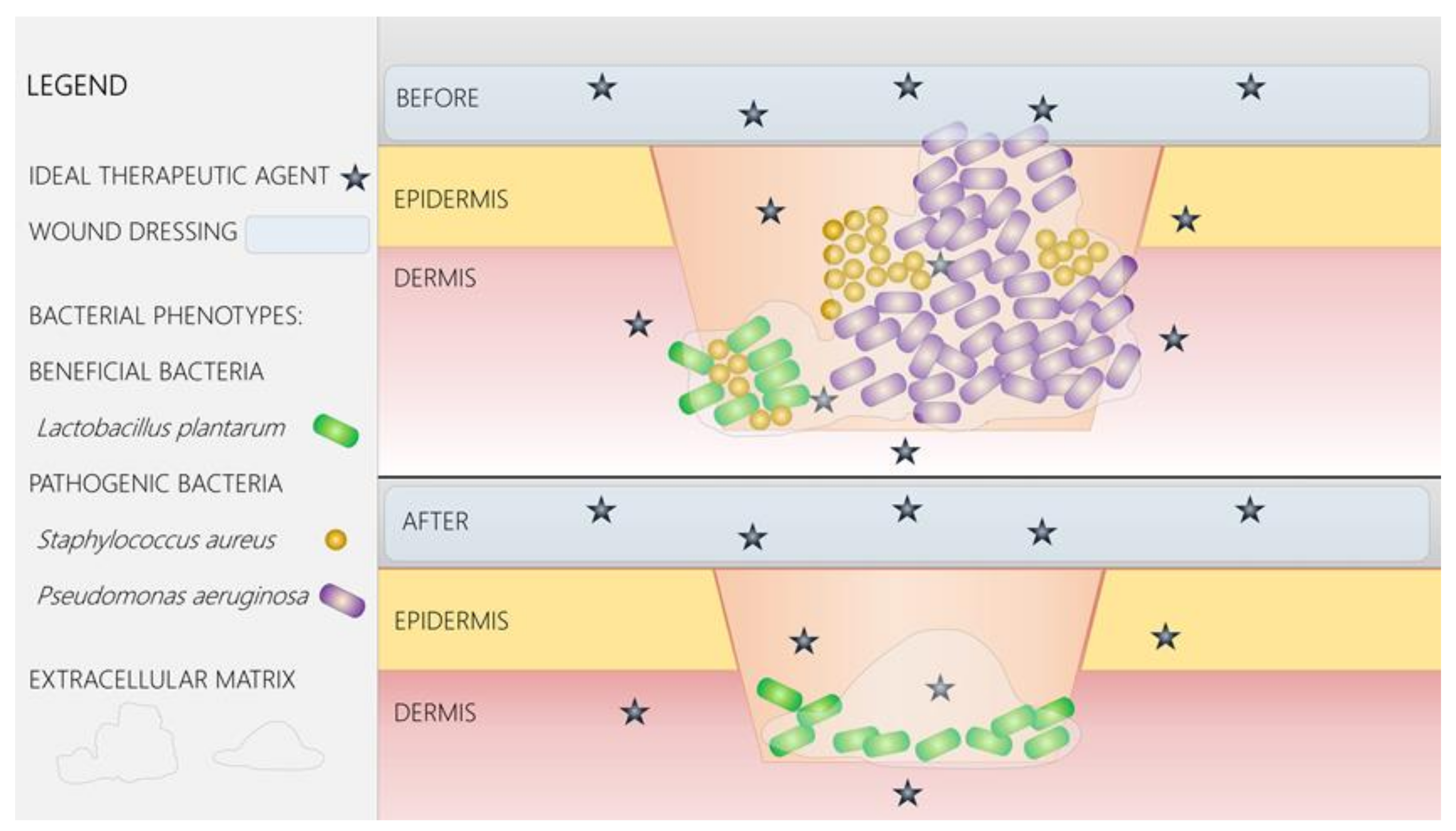 Figure 3. Clinical application of silver-containing impregnated dressing for wound healing. (A) Initial stage in which the wound is highly infected, a stage at which Dr. Laurentiu Leica took into consideration the possibility of skin grafting; (B) The use of a silver-containing impregnated polyamide dressing; (C,D) The beneficial effect of the dressing at 2 weeks and at one month, respectively, of follow-up. It was observed that the dressing not only exhibited antimicrobial effects but also promoted wound healing.

Therapeutic Approach
Advantages
Disadvantages
Indication
Examples
Wound debridement

-

disruption of the mucopolysaccharide matrix

-

destabilizes the biofilm's architecture

-

promotes bacterial detachment

-

increases antimicrobial delivery

-

may promote the inoculation of infection in deeper tissues

-

chronic wounds

-

mechanical

-

enzymatic

-

biological

Topical or systemic antibiotic therapy

-

low cost

-

efficient in acute infections

-

eradication of planktonic bacteria

-

biofilm disruption

-

development of antibiotic resistance

-

development of antibiotic tolerance in biofilms

-

microbial imbalance (target both pathogenic and beneficial bacteria)

-

multiple side effects

-

acute wounds

-

fluoroquinolones, tetracycline, rifampin, daptomycin, and vancomycin

Topical antiseptic therapy

-

cytotoxic toward bacteria, fungi, and other microorganisms

-

might damage host cells and adversely affect wound healing

-

acute wounds

-

chronic wounds

-

povidone-iodine, chlorhexidine, hydrogen peroxide, boric acid, silver sulfadiazine or nitrate, sodium hypochlorite, mafenide acetate, octenidine dihydrochloride, polyhexamethylene biguanide (polyhexanide)

Bacteriophage therapy

-

maybe efficient against polymicrobial biofilm-mediated infections

-

very specific for targeted bacterial species

-

biological-associated risks

-

unknown side effects

-

high production costs

-

applied in low amount as a topic treatment

-

chronic wounds

-

monophage preparations (staphylococcal bacteriophages, pyocianic bacteriophages)

-

multiple phage preparations

Antimicrobial peptides

-

antimicrobial properties

-

used in small amounts

-

low stability

-

increased volatility

-

chronic wounds

-

defensins, magainins, cecropins

Probiotic therapy

-

accelerates wound healing

-

prevents wound colonization, biofilm development

-

interferes with the quorum sensing of

P. aeruginosa

-

insufficient data

-

chronic wounds

-
Type
Nanostructure(s)
Application
Mode of Action
Reference
Bioactive wound coating
Magnetite (Fe3O4) nanoparticles (NPs) and patchouli essential oil
Acute and chronic wound dressing
Inhibition of microbial colonization and biofilm formation
[65]
Nanophyto-modified wound dressing
Nanofluid-based Fe3O4 doped with eugenol and limonene
Fixed layer on a regular external wound cover
Anti-adherence and anti-biofilm properties against bacterial pathogens
[66]
Layer-by-layer (LBL) electrostatic self-assembled antimicrobial nanocoating
Chemically modified cotton substrate and copper-based NP layer
Metal-based wound care and inhibition of pathogenic bacterial infections
Inhibition of

A. baumannii

(multidrug resistant bacterial wound pathogen)
[67]
Bioactive wound coating
Silver NPs for polyester–nylon wound dressing
Reduction of exogenous microbial colonization of wound dressing
Inhibition of microbial colonization, attachment, and biofilm growth
[68]
Bioactive wound coating
Nano bacterial cellulose and sesame oil
Modern wound dressing
Improved healing properties and inhibition of bacterial infections
[69]
Nano-coated wound dressing
Fe3O4 and

Satureja hortensis

(SO) essential oil
Cutaneous wound dressing
Inhibition of fungal biofilm development and adherence of

C. albicans

[70]
Nano-coated wound dressing
Silver nanocoating on cotton gauzes
Acute and chronic wound dressing
Reduction of bacterial growth and biofilm proliferation
[71]
Bioactive wound coating
Nano-silver-coated microfibrous eggshell membrane
Cutaneous wound dressing
Antibacterial and anti-inflammatory activity, and also acceleration of wound healing
[72]

© 2018 by the authors. Licensee MDPI, Basel, Switzerland. This article is an open access article distributed under the terms and conditions of the Creative Commons Attribution (CC BY) license (http://creativecommons.org/licenses/by/4.0/).