Mitochondrial Biogenesis in Diverse Cauliflower Cultivars under Mild and Severe Drought. Impaired Coordination of Selected Transcript and Proteomic Responses, and Regulation of Various Multifunctional Proteins
1
Department of Molecular and Cellular Biology, Institute of Molecular Biology and Biotechnology, Adam Mickiewicz University, Poznań, Umultowska 89, 61-614 Poznań, Poland
2
Institute of Dendrology, Polish Academy of Sciences, Parkowa 5, 62-035 Kórnik, Poland
3
Present address: Department of Plant Physiology, Institute of Biology, Faculty of Biology and Chemistry, University of Białystok, Ciołkowskiego 1J, 15-245 Białystok, Poland
4
Molecular Biology Techniques Laboratory, Faculty of Biology, Adam Mickiewicz University, Poznań, Umultowska 89, 61-614 Poznań, Poland
5
Department of Vegetable Crops, Poznan University of Life Sciences, Dąbrowskiego 159, 60-594 Poznań, Poland
*
Author to whom correspondence should be addressed.
Received: 29 January 2018 / Revised: 9 March 2018 / Accepted: 4 April 2018 / Published: 10 April 2018
Abstract
Mitochondrial responses under drought within
Brassica
genus are poorly understood. The main goal of this study was to investigate mitochondrial biogenesis of three cauliflower (
Brassica oleracea
var.
botrytis
) cultivars with varying drought tolerance. Diverse quantitative changes (decreases in abundance mostly) in the mitochondrial proteome were assessed by two-dimensional gel electrophoresis (2D PAGE) coupled with liquid chromatography-tandem mass spectrometry (LC-MS/MS). Respiratory (e.g., complex II, IV (CII, CIV) and ATP synthase subunits), transporter (including diverse porin isoforms) and matrix multifunctional proteins (e.g., components of RNA editing machinery) were diversely affected in their abundance under two drought levels. Western immunoassays showed additional cultivar-specific responses of selected mitochondrial proteins. Dehydrin-related tryptic peptides (found in several 2D spots) immunopositive with dehydrin-specific antisera highlighted the relevance of mitochondrial dehydrin-like proteins for the drought response. The abundance of selected mRNAs participating in drought response was also determined. We conclude that mitochondrial biogenesis was strongly, but diversely affected in various cauliflower cultivars, and associated with drought tolerance at the proteomic and functional levels. However, discussed alternative oxidase (AOX) regulation at the RNA and protein level were largely uncoordinated due to the altered availability of transcripts for translation, mRNA/ribosome interactions, and/or miRNA impact on transcript abundance and translation.
View Full-Text
►

▼

Figures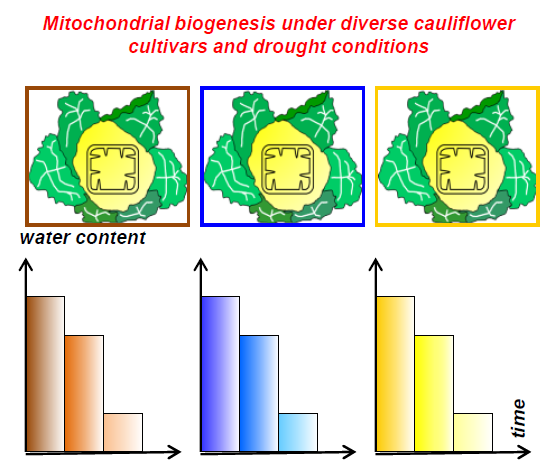 Graphical abstract
This is an open access article distributed under the
Creative Commons Attribution License
which permits unrestricted use, distribution, and reproduction in any medium, provided the original work is properly cited (CC BY 4.0).

Share & Cite This Article
MDPI and ACS Style
Rurek, M.; Czołpińska, M.; Pawłowski, T.A.; Staszak, A.M.; Nowak, W.; Krzesiński, W.; Spiżewski, T. Mitochondrial Biogenesis in Diverse Cauliflower Cultivars under Mild and Severe Drought. Impaired Coordination of Selected Transcript and Proteomic Responses, and Regulation of Various Multifunctional Proteins. Int. J. Mol. Sci. 2018, 19, 1130.
Note that from the first issue of 2016, MDPI journals use article numbers instead of page numbers. See further details here.
Related Articles
Comments
[Return to top]