Instillation of Sericin Enhances Corneal Wound Healing through the ERK Pathway in Rat Debrided Corneal Epithelium
1
Faculty of Pharmacy, Kindai University, 3-4-1 Kowakae, Higashi-Osaka, Osaka 577-8502, Japan
2
Department of Ophthalmology, Kindai University Faculty of Medicine, 377-2 Ohno-Higashi, Osaka-Sayama, Osaka 589-8511, Japan
*
Author to whom correspondence should be addressed.
Received: 24 March 2018 / Revised: 4 April 2018 / Accepted: 6 April 2018 / Published: 9 April 2018
Abstract
Sericin is a major constituent of silk produced by silkworms. We previously found that the instillation of sericin enhanced the proliferation of corneal epithelial cells, and acted to promote corneal wound healing in both normal and diabetic model rats. However, the mechanisms by which sericin promotes the proliferation of corneal cells have not been established. In this study, we investigated the effects of sericin on Akt and ERK activation in a human corneal epithelial cell line (HCE-T cells) and rat debrided corneal epithelium. Although Akt phosphorylation was not detected following the treatment of HCE-T cells with sericin, ERK1/2 phosphorylation was enhanced. The growth of HCE-T cells treated with sericin was significantly increased, with the cell growth of sericin-treated HCE-T cells being 1.7-fold higher in comparison with vehicle-treated HCE-T cells. On the other hand, both of an ERK inhibitor U0126 (non-specific specific inhibitor) and SCH772984 (specific inhibitor) attenuated the enhanced cell growth by sericin, and the growth level in the case of co-treatment with sericin and ERK1/2 inhibitor was similar to that of cells treated with ERK1/2 inhibitor alone. In an in vivo study using rat debrided corneal epithelium, the corneal wound healing rate was enhanced by the instillation of sericin, and this enhancement was also attenuated by the instillation of U0126. In addition, the corneal wound healing rate in rats co-instilled with sericin and U0126 was similar to that following the instillation of U0126 alone. In conclusion, we found that the instillation of sericin enhanced cell proliferation via the activation of the MAPK/ERK pathway, resulting in the promotion of corneal wound healing in rat eyes. These findings provide significant information for designing further studies to develop potent corneal wound-healing drugs.
View Full-Text
►

▼

Figures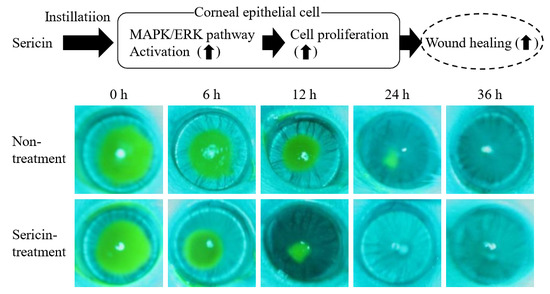 Graphical abstract
This is an open access article distributed under the
Creative Commons Attribution License
which permits unrestricted use, distribution, and reproduction in any medium, provided the original work is properly cited (CC BY 4.0).

Share & Cite This Article
MDPI and ACS Style
Nagai, N.; Fukuoka, Y.; Ishii, M.; Otake, H.; Yamamoto, T.; Taga, A.; Okamoto, N.; Shimomura, Y. Instillation of Sericin Enhances Corneal Wound Healing through the ERK Pathway in Rat Debrided Corneal Epithelium. Int. J. Mol. Sci. 2018, 19, 1123.
Note that from the first issue of 2016, MDPI journals use article numbers instead of page numbers. See further details here.
Related Articles
Comments
[Return to top]