Distribution of Glutathione-Stabilized Gold Nanoparticles in Feline Fibrosarcomas and Their Role as a Drug Delivery System for Doxorubicin—Preclinical Studies in a Murine Model
1
Department of Small Animal Diseases with Clinic, Faculty of Veterinary Medicine, Warsaw University of Life Sciences, Nowoursynowska 159c, 02-787 Warsaw, Poland
2
Laboratory of Animal Models, Nencki Institute of Experimental Biology, Polish Academy of Sciences, Pasteura 3, 02-093 Warsaw, Poland
3
Postgraduated School of Molecular Medicine, Warsaw Genomics, Żwirki i Wigury 93, 02-089 Warsaw, Poland
4
Department of Pathology and Veterinary Diagnostics, Faculty of Veterinary Medicine, Warsaw University of Life Sciences, Nowoursynowska 159, 02-787 Warsaw, Poland
5
Faculty of Non-Ferrous Metals, AGH University of Science and Technology, Mickiewicza 30, 30-059 Kraków, Poland
6
Faculty of Chemistry, University of Warsaw, Pasteura 1, 02-093 Warsaw, Poland
7
Department of Nanomedicine, Houston Methodist Hospital Research Institute, 6670 Bertner Ave., Houston, TX 77030, USA
8
Department of Medicine, Weill Cornell Medicine, 1320 York Avenue, New York, NY 10065, USA
*
Author to whom correspondence should be addressed.
Received: 2 March 2018 / Revised: 19 March 2018 / Accepted: 20 March 2018 / Published: 29 March 2018
Abstract
Feline injection site sarcomas (FISS) are malignant skin tumors with high recurrence rates despite the primary treatment of radical surgical resections. Adjunctive radiotherapy or chemotherapy with doxorubicin is mostly ineffective. Cellular and molecular causes of multidrug resistance, specific physio-chemical properties of solid tumors impairing drug transport, and the tumor microenvironment have been indicated for causing standard chemotherapy failure. Gold nanoparticles are promising imaging tools, nanotherapeutics, and drug delivery systems (DDS) for chemotherapeutics, improving drug transport within solid tumors. This study was conducted to assess the distribution of 4-nm glutathione-stabilized gold nanoparticles in FISS and their influence on kidney and liver parameters in nude mice. The role of gold nanoparticles as a doxorubicin DDS in FISS was examined to determine the potential reasons for failure to translate results from in vitro to in vivo studies. Grade III tumors characterized by a large area of necrosis at their core displayed positive immuneexpression of tumor-associated macrophages (TAM) at both the periphery and within the tumor core near the area of necrosis. Gold nanoparticles did not cause necrosis at the injection site and had no negative effect on liver and kidney parameters in nude mice. Gold nanoparticles accumulated in the tumor core and at the periphery and co-internalized with TAM—an important observation and potential therapeutic target warranting further investigation. The large area of necrosis and high immunoexpression of TAM, indicating "pro-tumor macrophages", may be responsible for FISS tumor progression and therapeutic failure. However, further studies are required to test this hypothesis.
View Full-Text
►

▼

Figures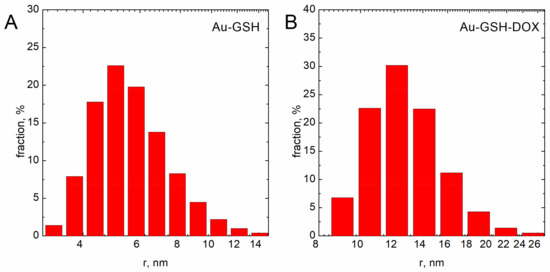 Figure 1
This is an open access article distributed under the
Creative Commons Attribution License
which permits unrestricted use, distribution, and reproduction in any medium, provided the original work is properly cited (CC BY 4.0).

Share & Cite This Article
MDPI and ACS Style
Zabielska-Koczywąs, K.; Wojtalewicz, A.; Użarowska, E.; Klejman, A.; Wojtkowska, A.; Dolka, I.; Wojnicki, M.; Sobczak, K.; Wójcik, M.; Shen, H.; Ferrari, M.; Lechowski, R. Distribution of Glutathione-Stabilized Gold Nanoparticles in Feline Fibrosarcomas and Their Role as a Drug Delivery System for Doxorubicin—Preclinical Studies in a Murine Model. Int. J. Mol. Sci. 2018, 19, 1021.
Note that from the first issue of 2016, MDPI journals use article numbers instead of page numbers. See further details here.
Related Articles
Comments
[Return to top]