Open Access This article is
freely available
re-usable
Review
CRISPR/Cas9 Technology as an Emerging Tool for Targeting Amyotrophic Lateral Sclerosis (ALS)
1
Department of Pathophysiology, School of Medicine, Collegium Medicum, University of Warmia and Mazury, 10-900 Olsztyn, Poland
2
Department of Neurology and Neurosurgery, School of Medicine, Collegium Medicum, University of Warmia and Mazury, 10-900 Olsztyn, Poland
3
Laboratory for Regenerative Medicine, School of Medicine, Collegium Medicum, University of Warmia and Mazury, 10-900 Olsztyn, Poland
*
Authors to whom correspondence should be addressed.
Received: 13 February 2018 / Accepted: 16 March 2018 / Published: 19 March 2018
Abstract
:
The clustered regularly interspaced short palindromic repeats (CRISPR)/CRISPR-associated protein-9 nuclease (Cas9) is a genome editing tool that has recently caught enormous attention due to its novelty, feasibility, and affordability. This system naturally functions as a defense mechanism in bacteria and has been repurposed as an RNA-guided DNA editing tool. Unlike zinc-finger nucleases (ZFNs) and transcription activator-like effector nucleases (TALENs), CRISPR/Cas9 takes advantage of an RNA-guided DNA endonuclease enzyme, Cas9, which is able to generate double-strand breaks (DSBs) at specific genomic locations. It triggers cellular endogenous DNA repair pathways, contributing to the generation of desired modifications in the genome. The ability of the system to precisely disrupt DNA sequences has opened up new avenues in our understanding of amyotrophic lateral sclerosis (ALS) pathogenesis and the development of new therapeutic approaches. In this review, we discuss the current knowledge of the principles and limitations of the CRISPR/Cas9 system, as well as strategies to improve these limitations. Furthermore, we summarize novel approaches of engaging the CRISPR/Cas9 system in establishing an adequate model of neurodegenerative disease and in the treatment of SOD1-linked forms of ALS. We also highlight possible applications of this system in the therapy of ALS, both the inherited type as well as ALS of sporadic origin.
Keywords:
CRISPR/Cas9; ALS; ALS models; ALS therapy
1. Introduction
The clustered regularly interspaced short palindromic repeats (CRISPR)/CRISPR-associated protein-9 nuclease (Cas9) is a novel genome editing tool that has recently revolutionized the field of human genetic engineering. This system naturally serves as an adaptive defense mechanism in bacteria and archaea against foreign nucleic acids such as plasmids and bacteriophages [
1
]. The CRISPR/Cas9 system belongs to a programmable nuclease-based genome editing technology together with zinc-finger nucleases (ZFNs) and transcription activator-like effector nucleases (TALENs) [
2
,
3
,
4
]. The programmable nucleases are able to generate mutations at a specific genomic location. These endonucleases serve as genomic scissors, creating double-strand breaks (DSBs) and, therefore, assure precise genome editing [
5
]. The disruption in the DNA sequence triggers various repair mechanisms, such as non-homologous end joining (NHEJ) and homology-directed repair (HDR), leading to the induction of specific knock-outs or knock-ins [
6
]. Scientists can exploit the cell's endogenous DNA repair pathways to generate mutations at the desired genome sites. However, ZFNs and TALENs operate through protein–DNA interactions and targeting new genomic loci requires engineering and cloning a new protein, which makes both of these methods laborious and difficult [
7
]. In contrast, CRISPR/Cas9 is categorized as a type II system of CRISPR/Cas, utilizing guide RNA (gRNA) to target specific DNA sequences and engages Cas9 as a nuclease [
8
]. The specificity of both ZFNs and TALENs can be improved by increasing the number of zinc fingers or TALE proteins while the specificity of CRISPR/Cas9 is determined by a 20 bp guide RNA. Furthermore, since the targeting specificity of ZFNs and TALENs is dependent only on protein–DNA interaction, the off-target effects cannot be fully predicted based on DNA sequence homology. In contrast, the off targets of CRISPR/Cas9 can be more earnestly predicted based on sequence homology due to the fact that CRISPR/Cas9 recognizes targets according to Watson–Crick base-pairing rules. To sum up, compared to traditional programmable nuclease-based genome editing technologies, the CRISPR/Cas9 system has numerous benefits such as ease in target design, the facility to target multiple sites in one step, and predictable off-target sites [
9
]. Thus, since CRISPR/Cas9 is based on an RNA-guided mechanism, it is better for high-throughput applications and is being applied in various research fields such as biotechnology and medicine. As the pace of CRISPR/Cas9 research has accelerated, its potential has also been explored in both disease modeling and gene therapy tailored treatment of incurable diseases with pathomechanisms that have not yet been fully uncovered, including amyotrophic lateral sclerosis (ALS). ALS is characterized as having a relatively slow progression towards being fully explained in terms of the factors and mechanisms that are implicated in the neurodegeneration [
10
]. Moreover, there is still a lack of an effective treatment that would significantly prolong the lifespan of ALS-affected people. These arguments make it important to develop systemic models that faithfully mimic this disorder in order to help in the development of effective therapeutics.
3. Limitations of the CRISPR/Cas9 System
The simplicity of the CRISPR/Cas9 system encourages the exploration of its potential to generate animal models or to treat severe and incurable human diseases. However, potential users need to consider several issues that limit the feasibility of this system.
The guide RNA of the system does not need to fully match the target sequence for its recognition and cleavage [
14
]. This characteristic feature of the system indicates the existence of off-target effects, which constitute its major hurdle. Off-target events include off-target recognition and digestion as well as other uncontrollable consequences that may lead to the generation of unpredictable mutations. Thus, the off-target activity of Cas9 depends on the uniqueness of the target sequence since Cas9 is able to tolerate a few nucleotide mismatches [
25
]. Numerous studies have been conducted to evaluate the potential off-target effects. It was revealed that the mismatches at the 5′-end are better tolerated since the sequence at the 3′-end is significant for target identification [
26
]. Moreover, the frequency of off-target cleavage can be similar to on-target mutation and, therefore, the application of the system for therapeutic purposes might be questionable [
25
]. Hence, various approaches should be undertaken to verify possible off-target events in order to reduce undesirable mutations.
The other concern is the delivery of sgRNA and Cas9. Different strategies involve viral and non-viral vectors to introduce components of the system. Lentiviral (LV) or adenoviral vectors (AV) are common and effective tools used as delivery systems for sequence-specific sgRNA and Cas9 nucleases [
27
,
28
,
29
]. Nevertheless, viral vectors have several drawbacks such as limited cargo capacity and tissue tropism confined to specific organs. For example, adeno-associated vectors (AAVs) possess a tropism to muscle, liver, brain, and eye [
30
]. Certainly, recent advances in genome editing tools have focused on overcoming this issue. Furthermore, novel approaches such as the generation of off-target effects have been developed to circumvent the main disadvantage of the entire system. Consequently, pre-packaging of the Cas9 protein simultaneously with sgRNA into a lentivirus can diminish these side effects [
31
]. Viral vectors used for therapeutic applications are rearranged to impede replication and avoid virulence. Nevertheless, even after rearrangement, undesirable harmful consequences may occur [
31
]. Non-viral approaches can be used as a safer alternative to deliver the tools for gene editing. These approaches include electroporation, nucleofection or microinjection using glass microcapillaries, and Lipofectamine [
32
,
33
,
34
]. Li et al. [
35
] have recently discovered an artificial virus that enables the effective loading of the CRISPR/Cas9 system in mice. Additionally, this newly found delivery strategy is even more reliable than lipofectamine, assuring precise gene cleavage.
Although the immunogenicity of viral vectors used for in vivo delivery has been taken into consideration, little is known about the ability of the bacterial Cas9 protein to trigger an immune response in humans [
36
]. Certainly, the potential adverse effects of Cas9 derived from bacteria need to be fully elucidated and circumvented in order to develop therapeutics based on CRISPR/Cas9. For example, humanizing the intrinsic peptide fragments is a potential strategy to reduce the immunogenicity of Cas9 [
5
].
4. Improving the Specificity and Efficiency of the CRISPR/Cas9 System
5. The Application of CRISPR/Cas9 for Modeling Neurodegenerative Disease
6. The Application of the CRISPR/Cas9 System for Amyotrophic Lateral Sclerosis Therapy
The fatal outcome of ALS accelerates the urgent need for the discovery of novel therapeutic approaches that may lead to the development of a cure for this devastating disease. Conventional therapies are focused on symptoms and are not able to eliminate the pathology underlying the clinical manifestation. The potential of gene therapy to permanently affect the intracellular processes is promising for the treatment of incurable neurodegenerative diseases. Genome engineering tools are used to target other inherited movement disorders such as Parkinson's disease both in preclinical studies [
60
] and in clinical trials [
61
]. Although most cases of ALS are of a sporadic origin with multiple etiologic factors, there are currently over 20 genes underlying the ALS neuropathology, among which more than seven have been discovered recently. Hence, the question arises of whether modifications of a causative gene can result in impaired progression of the disease in humans. The studies conducted on a SOD1
G93A
mouse model have revealed that silencing of the mutant
SOD1
gene using both interfering RNA (iRNA) [
62
] and artificial microRNA (miR-SOD1) [
63
] delayed the onset of ALS and prolonged the lifespan of these mice. Both of these studies have used viral vectors as vehicles to carry gene silencing "devices." Similar to iRNA and microRNA, CRISPR-mediated genome editing has recently revealed its enormous potential to treat ALS. Gaj et al. [
64
] demonstrated that the CRISPR/Cas9 can be applied to modify mutant expression in the G93A-SOD1 mouse model of ALS following in vivo delivery using an adeno-associated virus vector (AAV). Gene disruption contributed to the reduced expression of mutant SOD1 protein in the lumbar and thoracic spinal cord leading to enhanced motor function and diminished muscle atrophy. Importantly, ALS mice treated by CRISPR/Cas9 had increased survivability of motor neurons, delayed disease onset, and a prolonged lifespan compared to controls. This study has significantly confirmed the potential of CRISPR/Cas9 as a successful tool for the treatment of SOD1-linked forms of ALS and other neurodegenerative diseases.
The application of the CRISPR/Cas9 system in the therapy of ALS currently has a dual purpose: gene therapy for inherited ALS and the expression of genes encoding neurotrophic factors (NTFs). Recently, the University of Massachusetts Medical School received a grant to develop two gene therapies to target the mutant
C9orf72
gene, the common cause of familial ALS. One of these approaches involves the
CRISPR
/
Cas9
gene editing tool to remove the mutant gene through enzymatic cleavage; the other strategy is focused on delivering RNA in order to reduce C9orf72 expression [
65
].
The second approach of using CRIPSR/Cas9 technology in ALS therapy is based on the meaningful potential of neurotrophic factors to exert neuroprotective effects on damaged motor neurons in both familial and sporadic ALS cases. Although NTFs emerged as promising candidates for ALS treatment in the early 1990s, initial treatments proved to be ineffective especially due to delivery issues [
66
]. More controlled and targeted delivery of neurotrophins is required to avoid side effects including unknown interactions of these proteins. The innovative NTF delivery tools such as neurotrophic factor protein supply through an engineered viral vector or the transplantation of cells modified to express NTFs might help to circumvent some obstacles [
67
]. Nevertheless, the safety and efficacy of using viral vectors should be fully elucidated before clinical translation. The genetically engineered stem cells represent a promising vehicle to deliver NTFs. Using genetically modified mesenchymal stem cells (MSCs) to express neurotrophic factors might be a less invasive method of administration and may enhance the neuroprotective effects of MSCs on impaired motor neurons. Thus, engrafting such cells can be dually beneficial. Preliminary findings from The Netherlands, obtained by van den Akker and coworkers [
68
] highlight the potential of the CRISPR/Cas9 system in modifying MSCs. They revealed that MSCs are able to steadily express CRISPR/Cas9 components along with the standard differentiation features of these cells. However, the studies should be extended to confirm the possibility for a knock-in of the desired gene into these stem cells. Once the expression of a gene is evaluated and optimized, the cells can be engrafted into the central nervous system regions to act locally in providing neurotrophic factors. Since the combination of several growth factors might be more successful in the context of ALS treatment, stem cells equipped with multiple
NTFs
genes would be another possibility [
69
].
7. Conclusions and Challenges
The CRISPR/Cas9 system makes genome engineering technology feasible for application in many fields including human diseases. Current research on this innovative genome editing tool and strategies to improve its drawbacks has laid the groundwork for future clinical work in neurodegenerative diseases. It has opened new avenues for studying the complexity of neurodegeneration in both in vivo and in vitro model systems. The ability of the system to establish large animal models that recapitulate specific human diseases improves our understanding of complex mechanisms involved in disease pathology. Lessons learned from modeling neurodegenerative diseases in large animals using CRISPR/Cas9 give a confirmation that despite several limitations of the system, this new technology is able to effectively modify animal genomes with the absence of off-target mutagenesis. Targeting multiple genes in the same cell by CRISPR/Cas9 technology enables the study of synergistic effects due to the loss of crucial genes. Although in the context of ALS research the CRISPR/Cas9 system is still rather limited to generating small animal models or improving the in vitro models, results obtained from studies mentioned in this review may facilitate the field of modeling ALS.
Moreover, the feasibility of the CRISPR/Cas9 technology to treat ALS revealed recently in mice gives enormous hope to patients suffering from ALS. Although such approaches are currently restricted to reducing the expression of mutant proteins in inherited cases of ALS in mice, the system might bring breakthroughs in both the familial and the sporadic origin of the disease in the future.
The possibilities of CRISPR-mediated genome editing summarized in this review both in modeling and possible treatment of ALS have begun a new era in ALS research and the CRISPR/Cas9 system has emerged as a feasible tool to achieve what has seemed impossible for decades.
Acknowledgments
The paper was supported by the National Centre for Research and Development Grant STRATEGMED1/234261/2NCBR/2014, the Polish National Science Center (NCN; no. 2017/25/B/NZ4/00435) and the statutory grant School of Medicine, the University of Warmia and Mazury in Olsztyn, Poland.
Author Contributions
Wojtkiewicz Joanna conceived the idea of this paper, Kruminis-Kaszkiel Ewa wrote the paper; Wojtkiewicz Joanna, Judyta Juranek corrected the last version; Wojtkiewicz Joanna received funding for publication.
Conflicts of Interest
The authors declare no conflict of interest.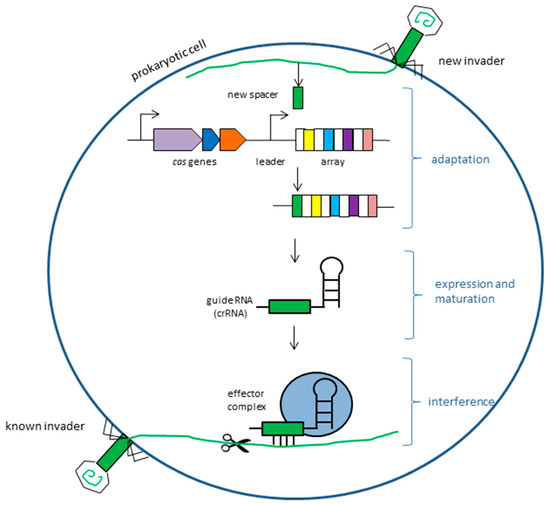 Figure 1. The three steps of CRISPR/Cas (clustered regularly interspaced short palindromic repeats/CRISPR-associated protein-9 nuclease) immunity.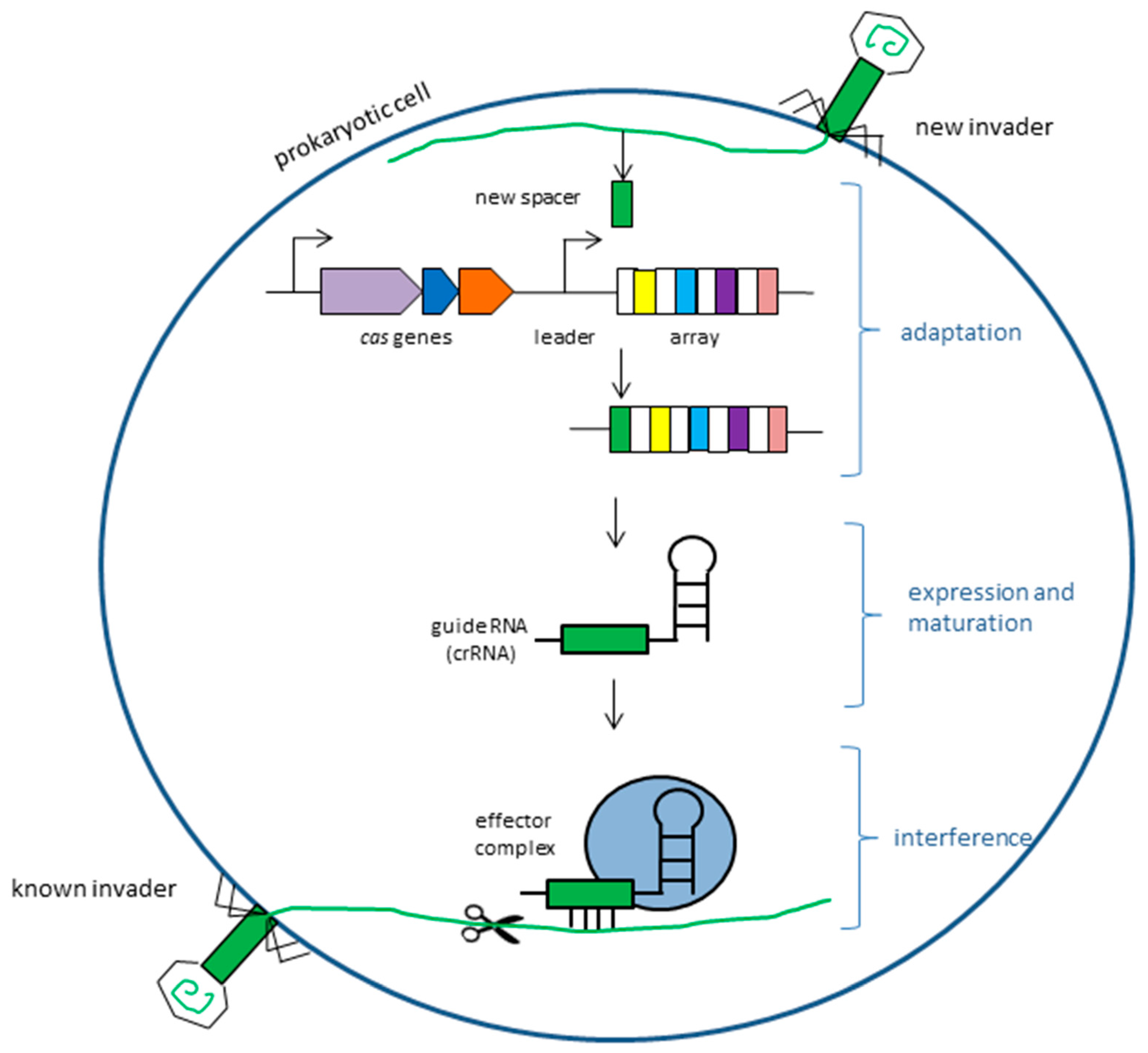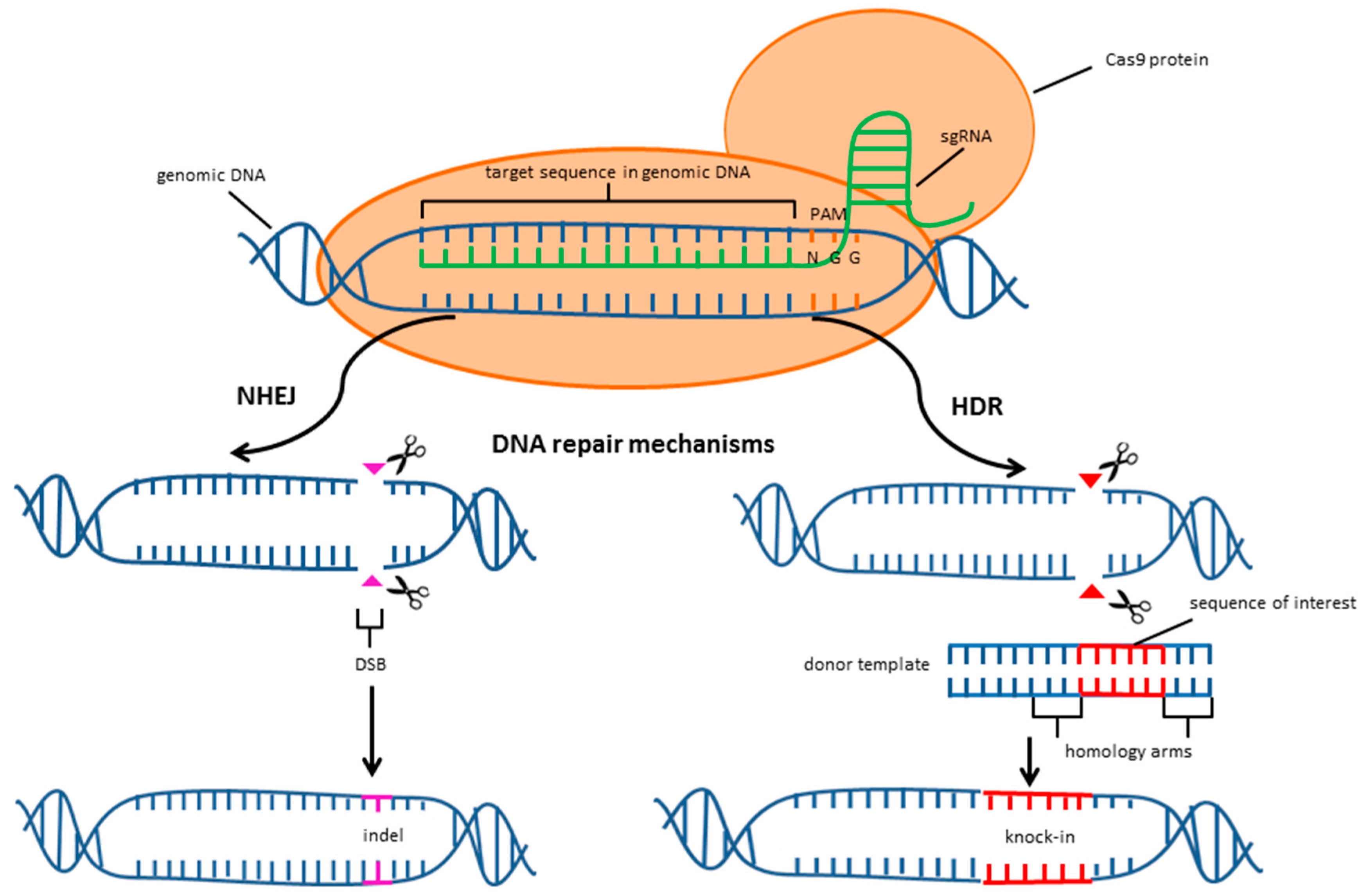 © 2018 by the authors. Licensee MDPI, Basel, Switzerland. This article is an open access article distributed under the terms and conditions of the Creative Commons Attribution (CC BY) license (http://creativecommons.org/licenses/by/4.0/).