Organ and Tissue-Specific Localisation of Selected Cell Wall Epitopes in the Zygotic Embryo of
Brachypodium distachyon
1
Department of Plant Anatomy and Cytology, Faculty of Biology and Environmental Protection, University of Silesia in Katowice, 28 Jagiellonska Street, 40-032 Katowice, Poland
2
Department of Cell Biology, Faculty of Biology and Environmental Protection, University of Silesia in Katowice, 28 Jagiellonska Street, 40-032 Katowice, Poland
3
Department of Animal Histology and Embryology, Faculty of Biology and Environmental Protection, University of Silesia in Katowice, 28 Jagiellonska Street, 40-032 Katowice, Poland
*
Author to whom correspondence should be addressed.
Received: 26 January 2018 / Revised: 27 February 2018 / Accepted: 1 March 2018 / Published: 3 March 2018
Abstract
The plant cell wall shows a great diversity regarding its chemical composition, which may vary significantly even during different developmental stages. In this study, we analysed the distribution of several cell wall epitopes in embryos of
Brachypodium distachyon
(Brachypodium). We also described the variations in the nucleus shape and the number of nucleoli that occurred in some embryo cells. The use of transmission electron microscopy, and histological and immunolocalisation techniques permitted the distribution of selected arabinogalactan proteins, extensins, pectins, and hemicelluloses on the embryo surface, internal cell compartments, and in the context of the cell wall ultrastructure to be demonstrated. We revealed that the majority of arabinogalactan proteins and extensins were distributed on the cell surface and that pectins were the main component of the seed coat and other parts, such as the mesocotyl cell walls and the radicula. Hemicelluloses were localised in the cell wall and outside of the radicula protodermis, respectively. The specific arrangement of those components may indicate their significance during embryo development and seed germination, thus suggesting the importance of their protective functions. Despite the differences in the cell wall composition, we found that some of the antibodies can be used as markers to identify specific cells and the parts of the developing Brachypodium embryo.
View Full-Text
►

▼

Figures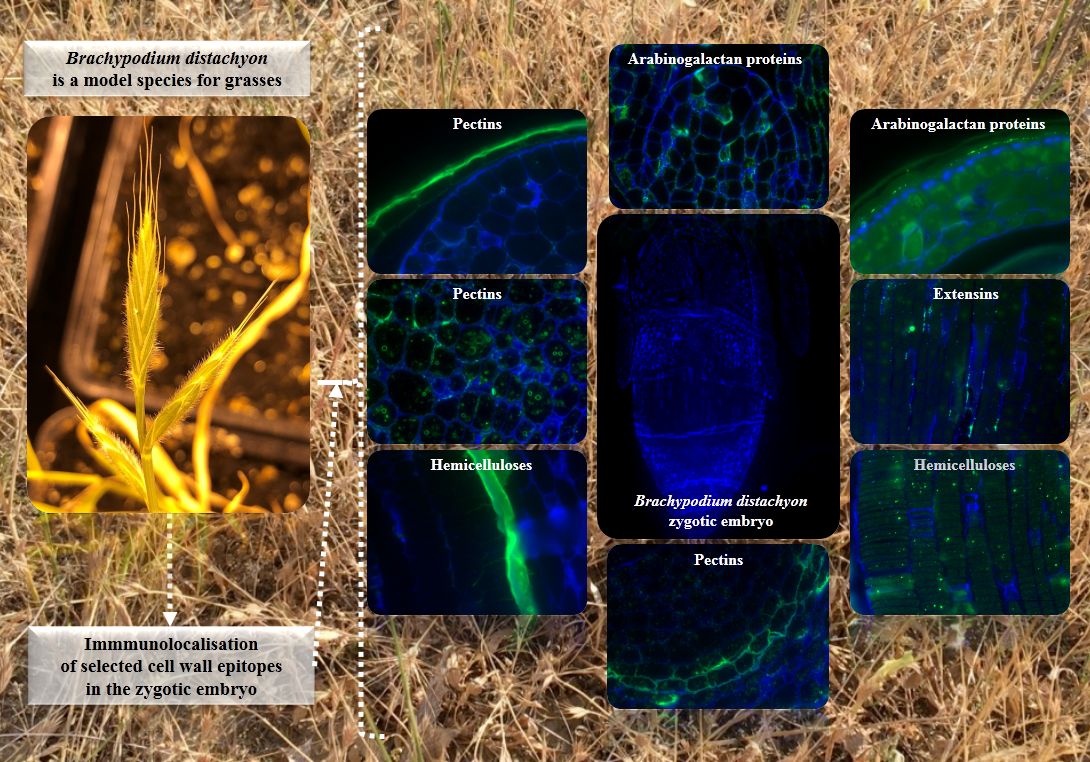 Graphical abstract
This is an open access article distributed under the
Creative Commons Attribution License
which permits unrestricted use, distribution, and reproduction in any medium, provided the original work is properly cited (CC BY 4.0).

Share & Cite This Article
MDPI and ACS Style
Betekhtin, A.; Milewska-Hendel, A.; Lusinska, J.; Chajec, L.; Kurczynska, E.; Hasterok, R. Organ and Tissue-Specific Localisation of Selected Cell Wall Epitopes in the Zygotic Embryo of Brachypodium distachyon. Int. J. Mol. Sci. 2018, 19, 725.
Note that from the first issue of 2016, MDPI journals use article numbers instead of page numbers. See further details here.
Related Articles
Comments
[Return to top]