Hypoxia Enhances Differentiation of Adipose Tissue-Derived Stem Cells toward the Smooth Muscle Phenotype
1
Laboratory for Stem Cell Research, Aalborg University, Fredrik Bajers Vej 3B, 9220 Aalborg, Denmark
2
Sir Alan Parks Physiology Unit, St. Mark's Hospital, Northwick Park, Watford Road, Harrow HA1 3UJ, UK
*
Author to whom correspondence should be addressed.
Received: 22 January 2018 / Revised: 31 January 2018 / Accepted: 1 February 2018 / Published: 8 February 2018
Abstract
Smooth muscle differentiated adipose tissue-derived stem cells are a valuable resource for regeneration of gastrointestinal tissues, such as the gut and sphincters. Hypoxia has been shown to promote adipose tissue-derived stem cells proliferation and maintenance of pluripotency, but the influence of hypoxia on their smooth myogenic differentiation remains unexplored. This study investigated the phenotype and contractility of adipose-derived stem cells differentiated toward the smooth myogenic lineage under hypoxic conditions. Oxygen concentrations of 2%, 5%, 10%, and 20% were used during differentiation of adipose tissue-derived stem cells. Real time reverse transcription polymerase chain reaction and immunofluorescence staining were used to detect the expression of smooth muscle cells-specific markers, including early marker smooth muscle alpha actin, middle markers calponin, caldesmon, and late marker smooth muscle myosin heavy chain. The specific contractile properties of cells were verified with both a single cell contraction assay and a gel contraction assay. Five percent oxygen concentration significantly increased the expression levels of α-smooth muscle actin, calponin, and myosin heavy chain in adipose-derived stem cell cultures after 2 weeks of induction (
p <
0.01). Cells differentiated in 5% oxygen conditions showed greater contraction effect (
p <
0.01). Hypoxia influences differentiation of smooth muscle cells from adipose stem cells and 5% oxygen was the optimal condition to generate smooth muscle cells that contract from adipose stem cells.
View Full-Text
►

▼

Figures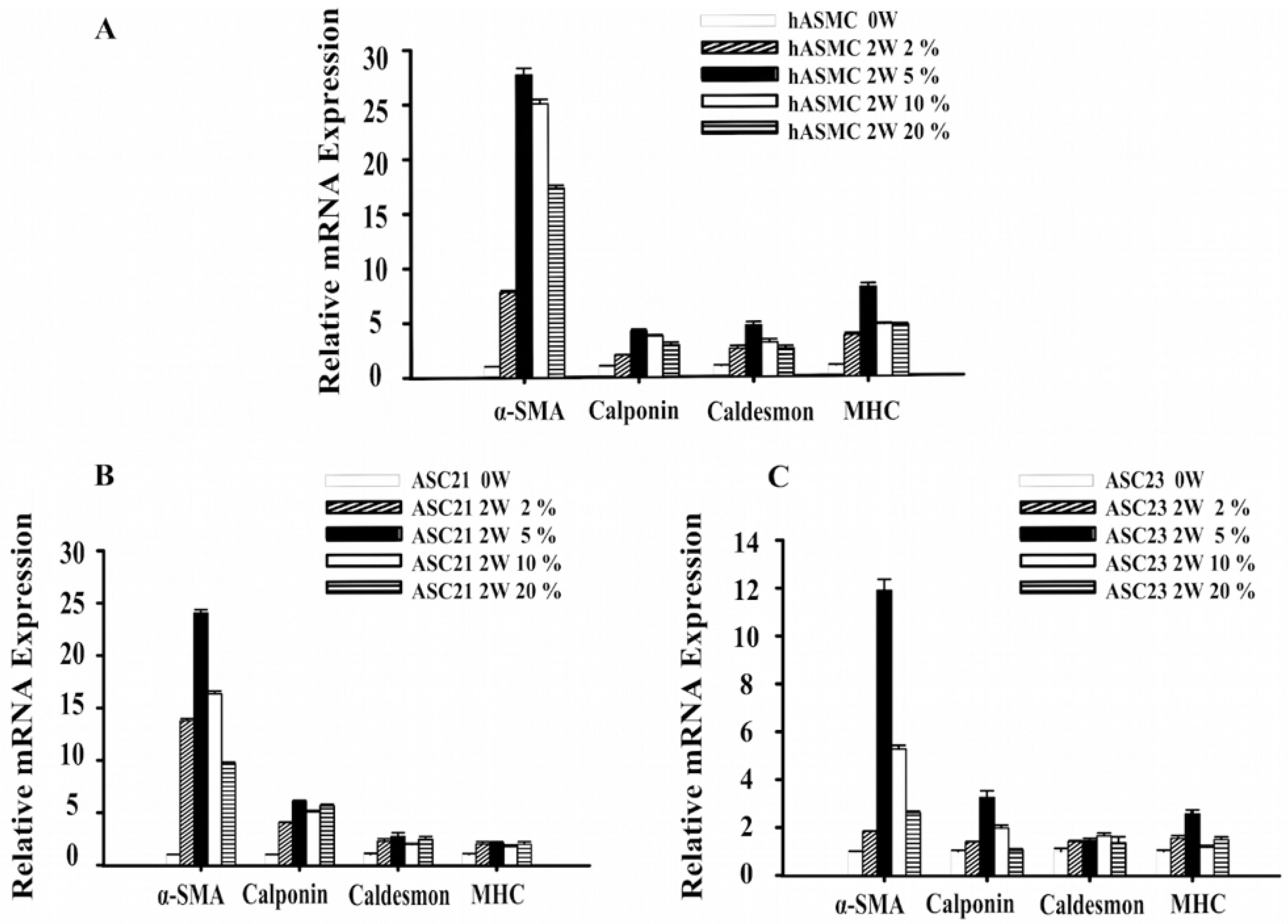 Figure 1
This is an open access article distributed under the
Creative Commons Attribution License
which permits unrestricted use, distribution, and reproduction in any medium, provided the original work is properly cited (CC BY 4.0).

Share & Cite This Article
MDPI and ACS Style
Wang, F.; Zachar, V.; Pennisi, C.P.; Fink, T.; Maeda, Y.; Emmersen, J. Hypoxia Enhances Differentiation of Adipose Tissue-Derived Stem Cells toward the Smooth Muscle Phenotype. Int. J. Mol. Sci. 2018, 19, 517.
Note that from the first issue of 2016, MDPI journals use article numbers instead of page numbers. See further details here.
Related Articles
Comments
[Return to top]