Genetic Mapping of Loci for Resistance to Stem Rust in a Tetraploid Wheat Collection
1
Council for Agricultural Research and Economics, Research Centre for Cereal and Industrial Crops, 71122 Foggia (FG), Italy
2
Department of Plant Pathology, University of Minnesota, Saint Paul, MN 55108, USA
3
Council for Agricultural Research and Economics, Research Centre for Genomics and Bioinfomatics, 29017 Fiorenzuola d'Arda (PC), Italy
4
Department of Agricultural & Environmental Science, Research Unit of "Genetics and Plant Biotechnology", University of Bari, 70126 Bari, Italy
5
Council for Agricultural Research and Economics, Research Centre for Cereal and Industrial Crops, 24126 Bergamo (BG), Italy
*
Author to whom correspondence should be addressed.
†
These authors contributed equally to this work.
Received: 7 November 2018 / Revised: 4 December 2018 / Accepted: 4 December 2018 / Published: 6 December 2018
Abstract
Stem rust, caused by
Puccinia graminis
f. sp.
tritici
(
Pgt
), is a major biotic constraint to wheat production worldwide. Disease resistant cultivars are a sustainable means for the efficient control of this disease. To identify quantitative trait loci (QTLs) conferring resistance to stem rust at the seedling stage, an association mapping panel consisting of 230 tetraploid wheat accessions were evaluated for reaction to five
Pgt
races under greenhouse conditions. A high level of phenotypic variation was observed in the panel in response to all of the races, allowing for genome-wide association mapping of resistance QTLs in wild, landrace, and cultivated tetraploid wheats. Twenty-two resistance QTLs were identified, which were characterized by at least two marker-trait associations. Most of the identified resistance loci were coincident with previously identified rust resistance genes/QTLs; however, six regions detected on chromosomes 1B, 5A, 5B, 6B, and 7B may be novel. Availability of the reference genome sequence of wild emmer wheat accession Zavitan facilitated the search for candidate resistance genes in the regions where QTLs were identified, and many of them were annotated as NOD (nucleotide binding oligomerization domain)-like receptor (NLR) genes or genes related to broad spectrum resistance.
View Full-Text
►

▼

Figures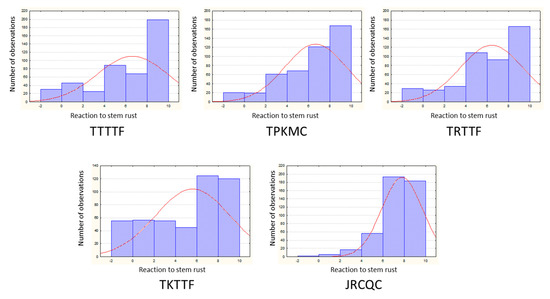 Figure 1
This is an open access article distributed under the
Creative Commons Attribution License
which permits unrestricted use, distribution, and reproduction in any medium, provided the original work is properly cited (CC BY 4.0).

Share & Cite This Article
MDPI and ACS Style
Saccomanno, A.; Matny, O.; Marone, D.; Laidò, G.; Petruzzino, G.; Mazzucotelli, E.; Desiderio, F.; Blanco, A.; Gadaleta, A.; Pecchioni, N.; De Vita, P.; Steffenson, B.; Mastrangelo, A.M. Genetic Mapping of Loci for Resistance to Stem Rust in a Tetraploid Wheat Collection. Int. J. Mol. Sci. 2018, 19, 3907.
Note that from the first issue of 2016, MDPI journals use article numbers instead of page numbers. See further details here.
Related Articles
Comments
[Return to top]